¡Si hubiera una lista de cómo ser el anfitrión perfecto, seguro que esa lista mencionaría a Sami! El anfitrión ha sido calificado con cinco estrellas y ha sido elogiado muchas veces por ser muy amigable y amable. Sami vive en Washington D. C. y solo lleva misterb&b unos cuantos meses, pero ha aprendido rápidamente cómo dar una buena bienvenida a sus visitantes LGBT. Te presentamos su experiencia hasta ahora...

¿Cómo es ser anfitrión de la comunidad gay?
Vivo en una calle de casas adosadas, que es algo muy típico de Washington D.C. Lo que no es tan típico de D.C. es que mi calle tenga un alto porcentaje de vecinos gay: por lo menos un 35 % son gays o lesbianas.
Es también estupendo sentarte en el patio delantero y ver la vida pasar. ¡Saludas a los vecinos o a los amigos de los vecinos es una buena forma de conocer a la comunidad y también puede ser muy divertido!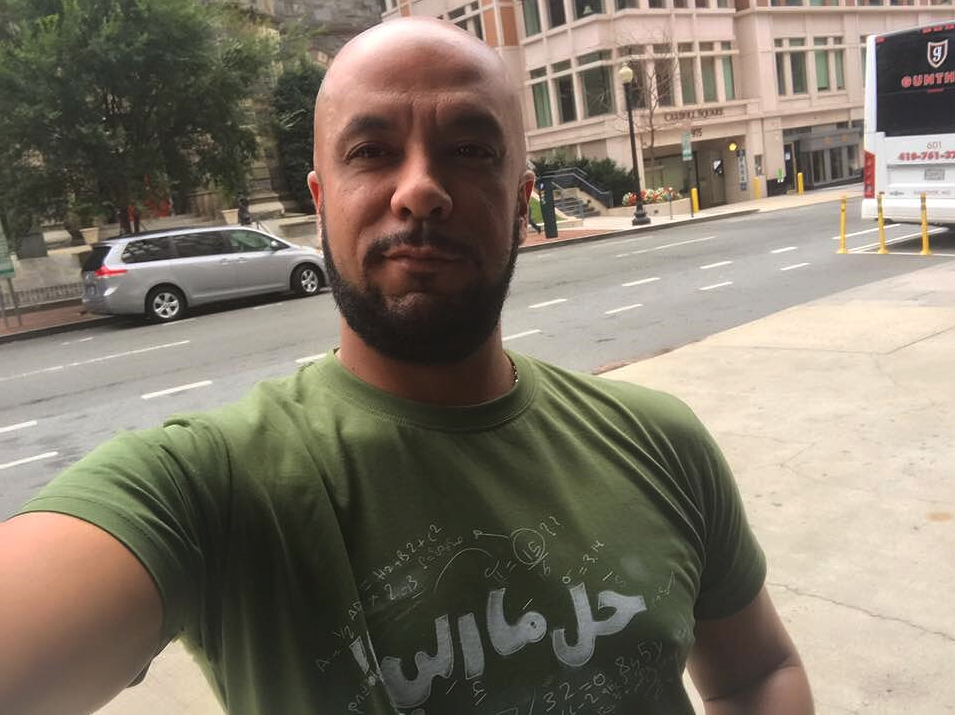 ¿Te gusta pasar tiempo con tus huéspedes?
Muchos de mis huéspedes comentan las buenas experiencias que han vivido en su estancia conmigo. Sentarse en el patio delantero y conocer a los vecinos se ha convertido el algo muy común. ¡Me gusta mucho conocer gente y escuchar las experiencias que han tenido en la vida!
¿A qué personas interesantes has alojado?
He tenido a todo tipo de personas en mi casa, ¡desde estudiantes a honorables jueces! Y a todos les doy la misma bienvenida y los trato de la misma forma respetuosa, con mucha hospitalidad.


Panorama of Washington D.C. © Flickr/Aglez the city guy
¿Qué es lo más les gusta hacer a los huéspedes en tu ciudad?
Como mi casa está cerca de Capitol Hill, muchos huéspedes vienen por viajes de negocios. Sin embargo, siempre me gusta escuchar cómo mis huéspedes pasan sus noches en uno de los muchos bares o clubs gays de Washington D.C., también.
¿Qué has aprendido desde que empezaste a ser anfitrión?
He aprendido que la mayoría de la gente quiere lo mismo cuando decide alojarse en una casa a través de misterb&b. Quieren sentirse seguros y que están en un ambiente limpio y seguro. A veces se quieren sentar en el porche y ver la vida pasar y a veces prefieren sentarse en el cuarto y solamente relajarse. Los dos tipos de situaciones son geniales y en mi casa puedes hacer ambas, incluso tengo un pequeño patio interior.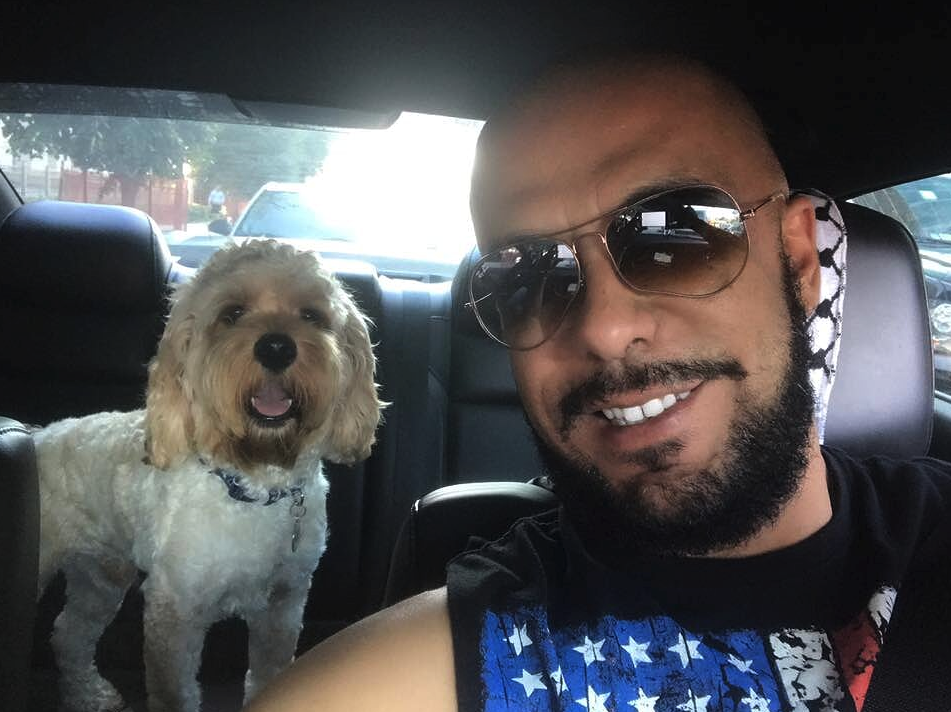 ¿Sigues manteniendo el contacto con tus huéspedes
Me he hecho amigo de muchos de mis huéspedes y mantengo el contacto con ellos. Una vez que saben lo que es estar en mi casa, suelen volver.
¿Qué tiene que tener un huésped para ser perfecto?
Hay versiones diferentes de lo que es un huésped perfecto. Algunos son muy tranquilos y casi no los ves, y otros se involucran más y se unen en las actividades cotidianas de mi vecindario o de D. C. ¡No he tenido malas experiencias con huéspedes pero debo admitir que prefiero a los que son ordenador y a los que les gusta socializar un poco! ●

¿Vas a Washington? Lee nuestras Recomendaciones locales de la ciudad y échale un vistazo al anuncio de Sami en misterb&b para reservar en su casa: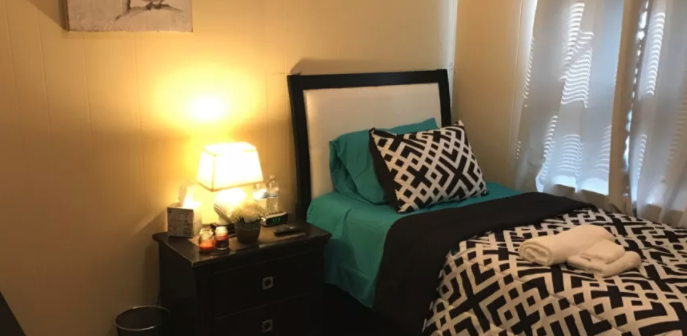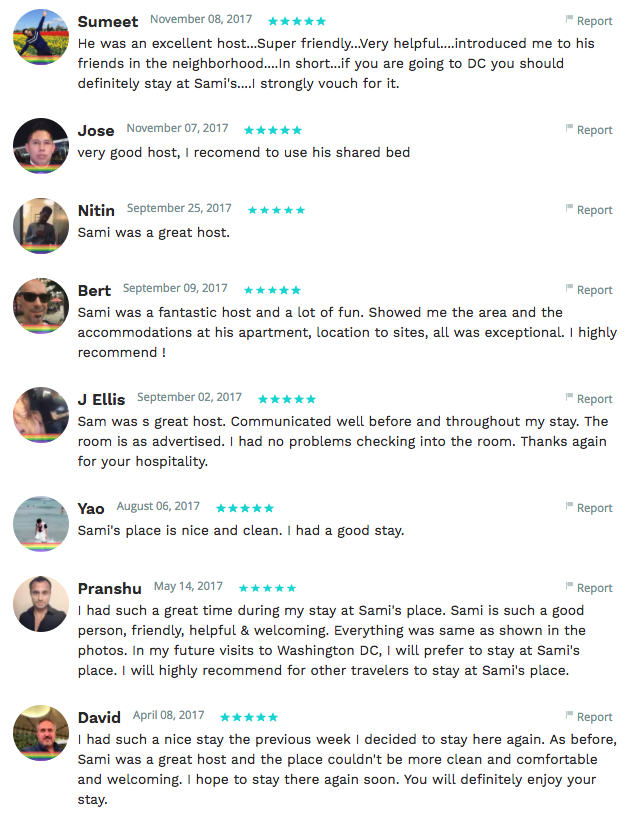 ¡SÉ SOCIAL!
No te olvides de seguirnos en Instagram, Facebook y Twitter. Síguenos para acceder a contenidos exclusivos, ofertas especiales y para compartir las fotos de tus viajes con el hashtag #staylikeagaylocal. ¡Nos encanta ver qué haces en tus vacaciones con misterb&b y vamos a compartir las mejores fotos con nuestra comunidad LGBT de viajeros a nivel global!
¡COMPARTE TU HISTORIA!
¡Queremos oír todas tus aventuras en misterb&b! Comparte tu historia como huésped/anfitrión o comparte tus Recomendaciones locales sobre dónde ir y qué hacer en la ciudad en la que te has alojado. ¿Quieres hacer un vídeo para promocionar tu anuncio? Mándanos un correo a stories@misterbandb.com y te responderemos enseguida.