These little town blues! A parte de la canción de Frank Sinatra, hay cantidad de referencias a la ciudad de Nueva York. De Manhattan a Brooklyn, la Gran Manzana puede parecer imponente, pero no te preocupes, acabarás enamorado de esta selva urbana. Siempre hay algo que hacer, después de todo, es la ciudad que nunca duerme. Para que no te pierdas entre tanto taxi amarillo, hemos creado una bucket list gay para que no se te pase nada de la ciudad. ¿Cuántas de ellas conseguirás ver en estas vagayciones?
1) Llena una cesta de picnic con deliciosos productos de Whole Foods Market y aprovecha para comer sobre la hierba del famoso Central Park
2) Ponte tu mejor bufanda y acércate al puente de Brooklyn para sacar un selfie - ¡un fondo que no podrás olvidar!
3) Rinde homenaje a los disturbios de Stonewall de 1969 visitando The Stonewall Inn en Greenwich Village
4) Degusta una comida de inspiración australiana en Five Leaves, el café de Brooklyn abierto por el difunto Heath Ledger
5) Sube a bordo del ferry de Staten Island y prepara la cámara para sacar mil fotos a la Estatua de la Libertad
6) Vete de caminata hasta la playa gay Gunnison Beach para conocer el ambiente gay - y nudista - de la zona
7) Acércate al barrio gay más grande de Manhattan, Hell's Kitchen, y encuentra a tu Mr. Big de la noche
8) Aventúrate a ir a Williamsburg, el barrio más cool de Brooklyn, y mézclate entre la muchedumbre de hipsters
9) Baila toda la noche con los hits de Cher, Madonna y Britney en el famoso Industry Bar
10) Sé reina por un día y acércate a la playa Riis Beach de Queens, que atrae principalmente a un público gay
11) Participa en el NYC TV & Movie Tour Experience y descubre los sitios de rodaje de series como Gossip Girl o Sexo en Nueva York. ¿A alguien le apetece un cosmopolitan?
12) Pasa la tarde haciendo shopping en el legendario Macy's, la tienda más grande del mundo con una superficie de más de 180.000 metros cuadrados
13) Saborea un cóctel chic en Barracuda, un sitio popular de Chelsea, y disfruta de un drag show - o dos. Después de todo, cuatro de los ganadores de RuPaul's Drag Race vienen de Nueva York
14) Llénate de cultura por un día pasando varias horas admirando las increíbles obras de arte del MOMA
15) Coge un taxi desde uno de los barrios de las afueras hasta el centro de la ciudad. Es una experiencia que no podrás olvidar, y no es tan caro como parece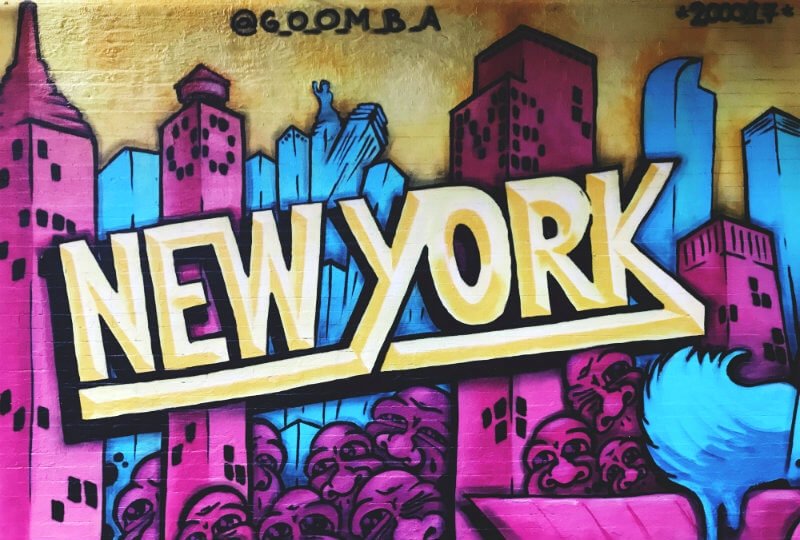 16) Prueba las auténticas pancakes americanas en BBar y no te cortes echando sirope de arce
17) Ve a Times Square y sácate un selfie con el fondo de todas las luces de colores. No es muy original, pero es algo indispensable en tu viaje
18) Coge el ascensor hasta lo más alto del Empire State y admira la vista panorámica sin horizonte de Nueva York
19) Visita la ciudad en junio y vive una de las mejores Gay Prides del mundo. ¡La locura de Fire Island no te decepcionará!
20) Encuentra regalos de primera categoría para tus amigos en Bloomingdale, unos grandes almacenes de lo más chic
21) Consulta la página de Facebook de Alegria Events y participa a una de sus fiestas icónicas. Cruzamos los dedos para que estés en Nueva York cuando haya alguna
22) Dirígete a Coney Island y dale un toque vintage de tus vacaciones visitando el parque de atracciones más aparecido en películas del mundo
23) Date un paseo a lo largo de la High Line, un parque urbano suspendido construido en un antiguo ferrocarril. Te sentirás de lo más zen
24) Pasa una noche chic cenando un bistec con patatas en Balthazar, una brasserie francesa
25) No te olvides de ir a Broadway y disfruta de una comedia musical; Kinky Boots ya se está convirtiendo en el favorito
26) Prueba un brunch en Lips, un famoso establecimiento gay, exitoso desde su apertura 20 años atrás y conocido por sus espectáculos drag
27) Coge el tren para ir a Long Island y de ahí un ferry para ir a Fire Island. Acomódate en Fire Island Pines o en Cherry Grove, los dos spots gays más populares de la zona. Alerta, ¡bañadores por todos lados!
28) Disfruta de un drag show en Lucky Cheng's, un sitio icónico. Nada menos que actuaciones, bailes, comida y bebida por todos lados
29 Come con la mejor vista de toda la ciudad en The Loeb Boathouse, un restaurante al borde del lago en pleno corazón de Central Park
30) Date una vuelta en metro: es una experiencia caótica, confusa y sin fin, pero, ¿qué sería Nueva York sin su famoso metro?
¿Te parece que nos falta algo? Envíanos tus sugerencias aquí: stories@misterbandb.com. ¡Nos encantaría ver lo que tienes!