Accueil
/
Blog Gay
/
Etats-Unis : Kimpton, la chaîne d'hôtels gay-friendly, lance son "Summer of Pride"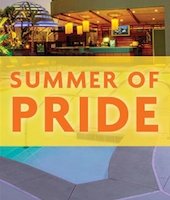 A l'occasion des festivités estivales de la gay pride, la chaîne d'hôtels américaine Kimpton propose pour la cinquième année consécutive son offre "Summer of Pride". Spécialement réservé à la communauté LGBT, ce "package" inclut de nombreux avantages afin de passer un week-end de rêve dans l'un des hôtels devenue en quelques années une des chaînes d'hôtels les plus gay-friendly aux Etats-Unis.

Parmi les avantages offert par "Summer of Pride", des réduction sur le prix des chambres, des bons d'achat à valoir dans les restaurants des hôtels de la chaîne ainsi qu'un panier cadeaux comprenant notamment... un petit canard en plastique !

L'offre "Summer of Pride" est valable jusqu'au 5 septembre 2011. Elle peut être utilisée du jeudi au dimanche dans l'un des 50 hôtels Kimpton présents dans 23 villes américaines, parmi lesquelles Boston, Chicago, Los Angeles, Miami, New York, San Francisco et Washington D.C.

Explorez le monde. Découvrez l'hospitalité gay.
Des appartements chaleureux, des chambres privées et de magnifiques maisons : découvrez l'hospitalité gay dans plus de 135 pays.
Appartements, chambres, maisons : découvrez l'hospitalité gay
Gardons le contact
Où que vous alliez, n'oubliez pas de nous retrouver sur Instagram, Facebook and Twitter et partagez vos photos de voyage en utilisant le hashtag #ExperienceYourPride. Nous partagerons les meilleures photos avec notre communauté mondiale de voyageurs LGBT! Partagez votre expérience d'hôte ou vos bons plans à propos de votre ville, et tournez une vidéo pour mettre en avant votre logement. Intéressé ? Envoyez nous un email à stories@misterbandb.com et nous vous recontacterons.
Réservez votre prochain voyage avec misterb&b et découvrez l'hospitalité gay avec nos 200 000 hôtes dans 135 pays
Rechercher maintenant
En poursuivant votre navigation sur ce site, vous acceptez l'utilisation de cookies pour réaliser des statistiques de visites
Je m'inscris gratuitement
Et tentez de gagner des crédits de voyage, jusqu'à $500 USD
Faisons simple !
Nous attachons beaucoup d'importance à vos données personnelles. Nous ne posterons jamais rien sur votre mur sans votre autorisation.
Je préfère rester classique