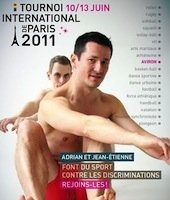 Du 10 au 13 juin, se tiendra la 8ème édition du Tournoi International de Paris (TIP), le plus grand événement sportif gay en France. Au programme : des tournois mais aussi des rencontres avec des athlètes qui s'engagent contre les discriminations dans le sport, des moments détentes au sauna ainsi que des spectacles.

Au total, une vingtaine de disciplines seront pratiquées au quatre coins de Paris, comme par exemple les arts martiaux, l'athlétisme, le football, la natation, le rugby et le volley-ball. Comme les années précédentes, de nombreuses équipes étrangères seront de la partie et le tournoi devrait accueillir plus de 1 500 participants amateurs français et internationaux.

En marge des disciplines sportives, d'autres activités, ouvertes au public, seront organisées, notamment des projections cinématographiques, des débats, des séances au sauna partenaire et une soirée burlesque à la Machine du Moulin Rouge en guise de soirée de clôture le dimanche 12 juin à partir de 23 heures.

Découvrez le programme détaillé du Tournoi International de Paris sur le site officiel de l'événement.
Explorez le monde. Découvrez l'hospitalité gay.
Des appartements chaleureux, des chambres privées et de magnifiques maisons : découvrez l'hospitalité gay dans plus de 135 pays.
Apartments, rooms, homes: be welcomed by the gay community
Stay Social
Wherever you're headed, don't forget to add us on Instagram, Facebook and Twitter. Follow us for exclusive content, special offers and to share your travel pictures using the hashtag #ExperienceYourPride. We love seeing what you get up to on your misterb&b vacation and we'll share the best pics with our global LGBT travel community!
Réservez votre prochain voyage avec misterb&b et découvrez l'hospitalité gay avec nos 200 000 hôtes dans 135 pays
Rechercher maintenant
En poursuivant votre navigation sur ce site, vous acceptez l'utilisation de cookies pour réaliser des statistiques de visites
Je m'inscris gratuitement
Et tentez de gagner des crédits de voyage, jusqu'à $500 USD
Faisons simple !
Nous attachons beaucoup d'importance à vos données personnelles. Nous ne posterons jamais rien sur votre mur sans votre autorisation.
Je préfère rester classique