In 2016, RuPaul's Drag Race best drag queens are back on a "Battle Of The Seasons" world tour! From Norway, Denmark, the UK, Ireland and Belgium the "2016 Extravaganza Tour" stopped in France and we had the great chance to meet them in the backstage of their Paris show last Saturday in Le Trianon. Performing in more than 15 European cities in less than 25 days can be a total craziness but they more than up to the challenge. Courtney Act, from the top 3 in Season 6 and semi-finalist on Australian Idol (and a total sweetheart!) spent a few minutes with us to talk about her best holidays souvenirs and much more...
If we'd say... best holiday souvenir. What would automatically pop up in your mind?
A holiday romance, for sure!
Ibiza! there was this guy from Belgium. All my friends had left already the Island and I had one more night so I went out to Soap and I met this guy, we went to dance, we ended up making love as the sun came up and then I had to run and leave to get in the plane.
What about going to a deserted island. With which queen would you like to go?
Can I pick three? Bianca and Adore and Darienne.
My top from season 6!
And what about the queen you wouldn't go with?...
I could say that I am not sure if I would love go to a deserted island with Willam or not.
I wouldn't know until I get there and then it would be too late... Maybe for a weekend!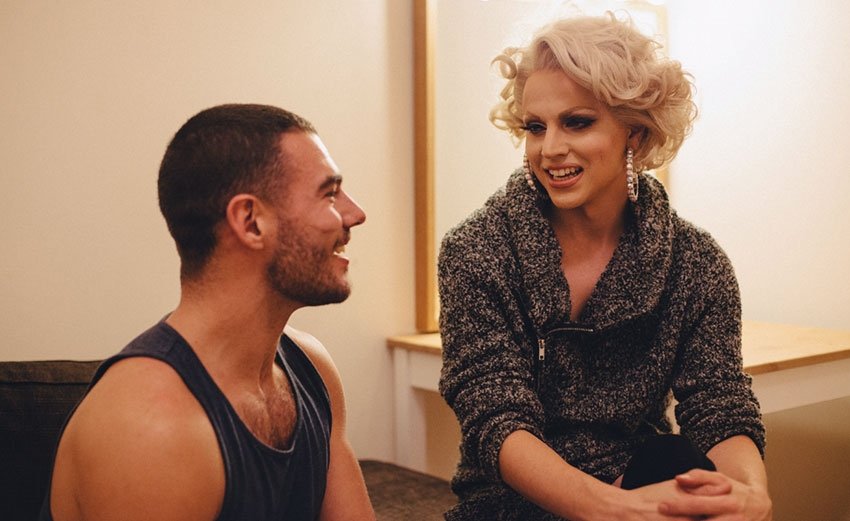 And to finish, 4 rapid-fire questions!
1) We are in Ibiza and you are the special guest in a White Party. For your main entrance, you're coming down from the ceiling. What would you be wearing?
I would be wearing the angel wigs of course !
I have spent like five summers in Ibiza, just for a few weeks and it is one of my favorite places.
We moved around a bit to Formentera and other places.
2) Pick your favorite of this 3 options: Backpacking with Michelle Visage OR Beach 5 Star Hotel weekend with Carson Kressley OR Adventure "Xtreme Sports" holiday with Ross Mathews.
I would go for the adventure extreme sports week with Ross!
It would definitely be a place where they have good safety, like helmets! We maybe can climb to base camp of the Everest.
3) The Art of Kiss, European best kisser?
Well... that's a challenging one! There was a lovely boy from Norway the other day who was a great kisser. I hope to see him again in Berlin!
4) And what about the top 1 "to kiss" nationality, that one you haven't kissed yet but you are willing to?
Maybe something exotic... Mmmh, have I kissed a Japanese person before?
Maybe someone from south america!
So now you know, boys from Tokyo or Caracas, watch out next time you see Courtney! ;)
These 5 star Drag Queens  offer a  show full of fun, lip-syncing, impersonations, live singing, sensual dances, wings and loads and loads of talent. If you happen to like a show where more is more and less is a bore don't miss the opportunity to see them live in Europe! Get your tickets for the upcoming RuPaul's Drag Race Battle of The Season 2016 Extravaganza Tour shows in Amsterdam, Barcelona and Madrid!