Zurich Pride Festival's next edition, the biggest swiss pride event in the gayest swiss city, will be held June 3-12, with the parade on Saturday, June 11 in downtown Zurich as the highlight of this festive weekend. The 2016 edition will be placed under the sign of love with the #TeamForLove theme, inspired by the #LoveWins that swept on social media after the historic decision of the US Supreme Court last June.
Organized regularly since 1994 under the name Christopher Street Day in memory of the Stonewall Riots, Zurich Gay Pride was renamed in 2009 when it hosted the Europride; since then the Zurich Pride Festival has been extended and now includes, in addition to the opening and closing parties, many shows, concerts and events that encourage discussion and meetings while fighting against discrimination of gays, lesbians, bisexual and trans.
Over 35,000 people took to the streets of Zurich city center and the alleys of the festival last year, to make it the biggest LGBT event in Switzerland. As a starter this year , the Pride Week will host conferences, parties, sporting events, screenings and lectures starting June 3 and ending June 12 with a church service.
The Vengaboys and Alaska Thunderfuck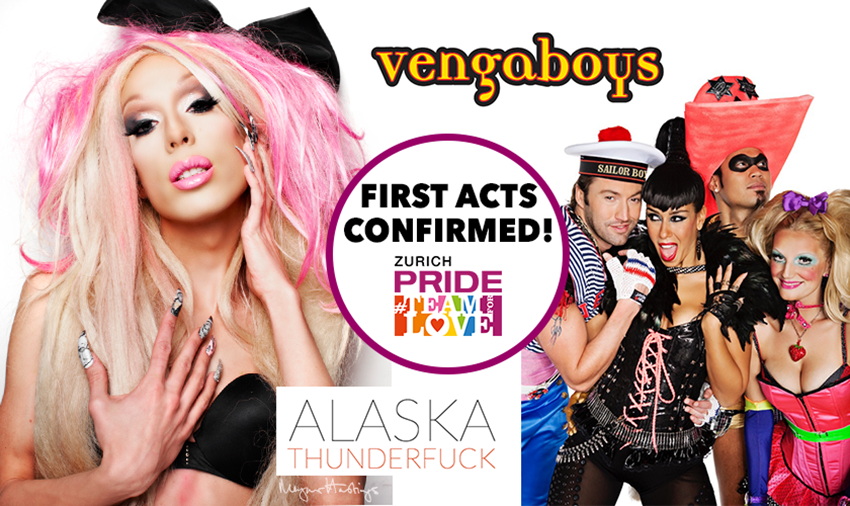 The festival will start on June 10 at 4pm on Kasernenareal. The location turns into a trendy place where all are welcome to enjoy the many bars and food stands but also the stage with many artists who will perform during these 2 days. Among them are the Vengaboys (remember "Boom Boom Boom Boom" and "We're Going to Ibiza" ?) who will take you back to the 90s; also on stage : local singer Rykka, Switzerland representative at Eurovision 2016 in Stockholm; pornstar, Tim Kruger; local queens (Petra and Lilly from the TipTop Bar), neighbor queens (Berlin Charlet Crackhouse), international queens (Alaska Thunderfuck of RuPaul's Drag Race) and gay circuit international DJs like Alex Lo (Mexico), Aron (Israel) or Steven Redant (Spain). The festival opens from 4pm to midnight on June 10, from 2pm to midnight on June 11. The whole detailed program is here.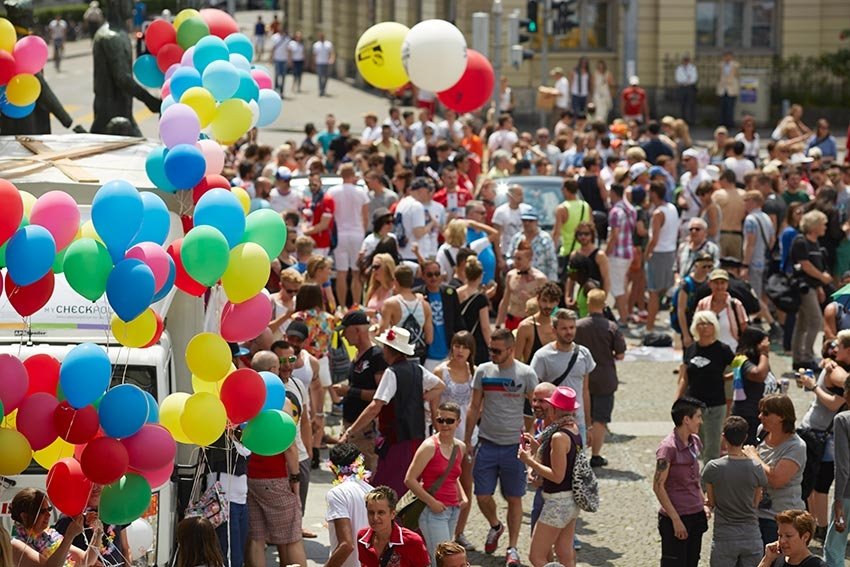 The parade will start on Saturday June 11 at 2pm on Helvetia square for a 2 hour route towards Zurich main train station. This colorful and diverse parade will demand more rights for the LGBT community in Switzerland. Corine Mauch, Zurich's openly lesbian mayor and the Pride Festival organizers  like to recall that last February, a local initiative that would have included marriage as a  sacred union between a man and a woman in the Swiss Constitution was rejected only by a short majority.
Party time ! The official grand opening party will take place on Friday night at Heaven, with a fierce DJ, drag queen Charlet Crackhouse from Berlin and another queen full of talent, local star Vicky Goldfinger.
For the first time this year, the Zurich Pride organizers will also be in charge of the official closing party at Kaufleuten, a 3-floor club. Superstar of the night: drag queen Alaska Thunderfuck, season 5 of RuPaul's Drag Race. DJs Aron, Alex Lo, Steven Redant and many more will make you dance! All Zurich gay bars and clubs, all gay and gay-friendly places will also organize their own events to celebrate Zurich's LGBT community in all its diversity!
So where will you be on June 10-11 ? It's not too late to organize your trip to Zurich for a Pride weekend in the gayest swiss city, easily accessible by train from France. For complete information about  Zurich Gay Pride: zurichpridefestival.ch and gay Zurich: www.zuerich.com/lgbt
Not available for Pride? You can already plan a trip togay Zurich for these  upcoming gay events : the Flash Party during the Street Parade on August 13, and the Black Party Weekend, from November 4 to 6!