Registrations for Paris 2018 Gay Games 10 start officially today! The Gay Games are the largest sporting, cultural and festive event open to everyone, regardless of age, origin, gender, sexual orientation, experience or disability. From 4 to 12 August 2018, more than 15,000 athletes from 70+ countries and 40,000 attendees are expected to visit gay Paris and promote equality and openness under one banner: "All Equal".
During the eight days of the event, Paris 2018 Gay Games 10 will host competitions in 36 disciplines (soccer, basketball, swimming as well as skating or French « pétanque »), 14 cultural events, a series of conferences and many ceremonies and parties in prestigious Parisian venues like Roland Garros stadium, the arena of Lutetia, the Philharmonic, La Villette or Bercy Arena. The Gay Games Village will be located right in the center of Paris, on the City Hall Plaza. The opening ceremony will take place at the Jean Bouin stadium, followed by a gala evening in the Grand Palais.
Registrations open today, 813 days before the opening ceremony, at the same time as the International Tournament of Paris starts. For the Paris 2018 Gay Games 10 organizers, the date is also the opportunity to launch their brand new website (see screenshot below) on which participants will find the entire program and all the necessary information for already planning their stay!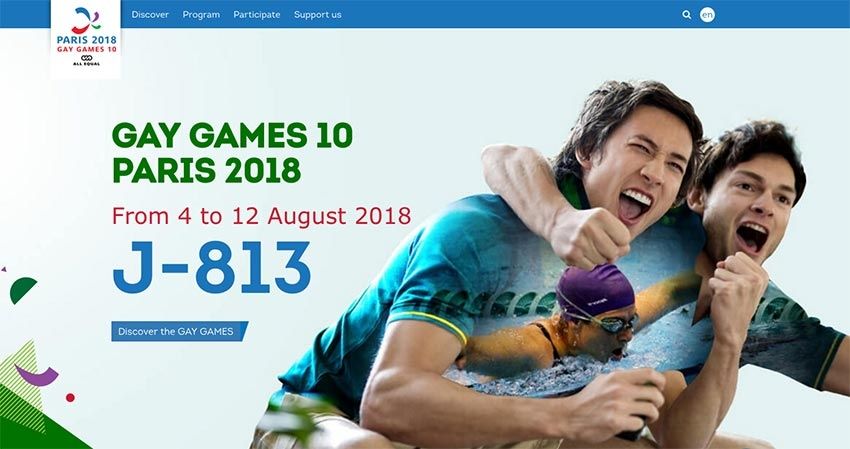 This date is also the opportunity to announce a major collaboration between Paris 2018 Gay Games 10 and misterb&b, which becomes official housing partner. The gay short term rental website, launched in 2013 in Paris, connects hosts and travelers from the entire LGBT community and their allies. misterb&b, #1 gay hotelier in the world, now has more than 50,000 hosts in 133 countries. From June, the site will open a Paris 2018 dedicated pre-booking service to allow all those who wish to already organize their stay in Paris at the best cost to pre-book. Parisian hosts will be invited to update their calendar for the period from August 4 to 12, 2018.
Registration for Paris 2018 Gay Games are open from today on www.paris2018.com. The « early bird » discounted rate is expected to last until May 31, 2016.
Before Paris, the Gay Games were held in San Francisco (1982 and 1986), Vancouver (1990), New York (1994), Amsterdam (1998), Sydney (2002), Chicago (2006), Cologne (2010) and Cleveland (2014).