The French Number, a 100% made in France mobile app, is about to revolutionize the way travel communities are build and interact. The app connects foreign travelers looking for tips and touristic information about France with French ambassadors ready to help! Activate the app in just a few clicks and call from everywhere in the world to talk to France-based real people! 
Discover 10 reasons to join The French Number's community right now!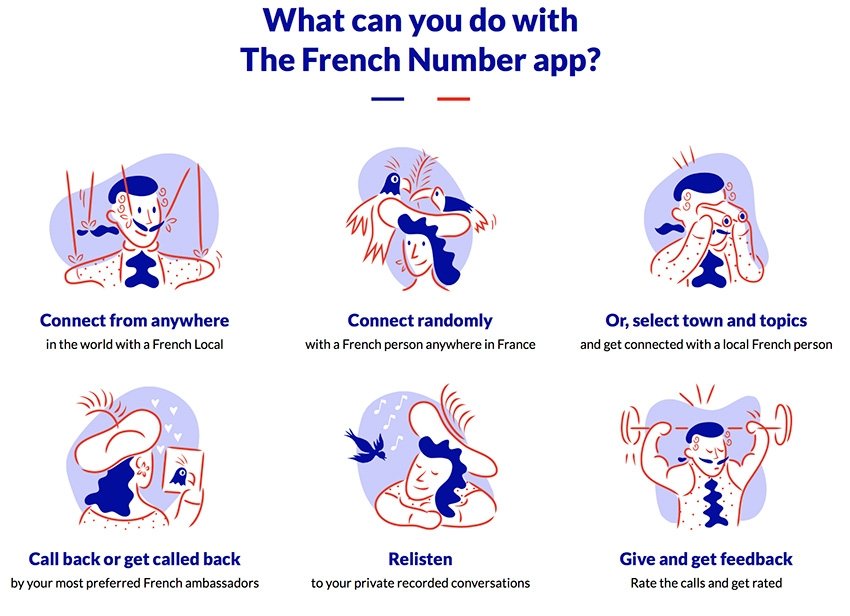 Discuss with Locals 
Wherever you are in the world, you will be able to speak with people from a specific region or city in France. This is the best way to get tips about local culture. You don't know which specialty to taste or which museum to visit? Call the French number and you'll know!
Enrich your culture
Places to visit, wine to taste… You will be able to discover insider tips thanks to locals who will become your guides. They will also help you with ideas of places to visit you never thought of!
As an ambassador, you will also be able to ask the person you're speaking to about his country and his culture! And what's better than make people discover our own region and country?
Access to a permanent help
You can keep in touch with your ambassador, whatever happens. He can help you and continue to advise you. You will extend the experience while having a safe contact with a local person!
Become an ambassador
You can download the The French Number app to become an ambassador and give tips to anyone who calls the number. To become an ambassador, you need to live in France, be 18+, speak English even with a French accent and have a smartphone. Don't worry about call hours, you can choose when you are available.
Points and giveways
When you become ambassador for The French Number, you collect points that can turn into nice gifts. Enjoy the French Touch!
Speak with people who understand you
Language is never a problem with The French Number! You can speak English, Arabic, Russian or Chinese; you will always have someone who understands you!
Build friendships easily
You can stay in contact with you ambassador and become friends with him/her very easily. You can hang out together and discover local places together.
Easy way to visit the country
France is culturally a very rich country; with The French Number, you can speak with French people who will give you tips about the best regions to visit. And then, you can call a French ambassador for his particular region to get more details and avoid long researches on Google or guides!
Keep the information
Afraid to forget what your ambassador said or to miss information? No problem, your private conversations are stocked in your app. You can listen to them later again!
Improve you language skills
Whever you are an ambassador or a caller, you can improve your language skills by speaking with native people! People out of France can improve their skills or learn French thanks to their ambassador and he will be also able to get better in English or Spanish or Chinese. It's what some call a win-win partnership!
 For more information, you can go on the app website thefrenchnumber.fr or on its facebook @thefrenchnumber.