Are you ready to welcome the new year with a bang? Whether your dream New Year's Eve involves a four-day festival of world-class DJs, or a terrace party with champagne and fireworks, we have you covered. From Sydney to Key West, we've rounded up the best gay NYE parties guaranteed to carry you through to 2019 feeling out, proud, and fabulous.
What? White Celebration
Where? Sydney

When? December 31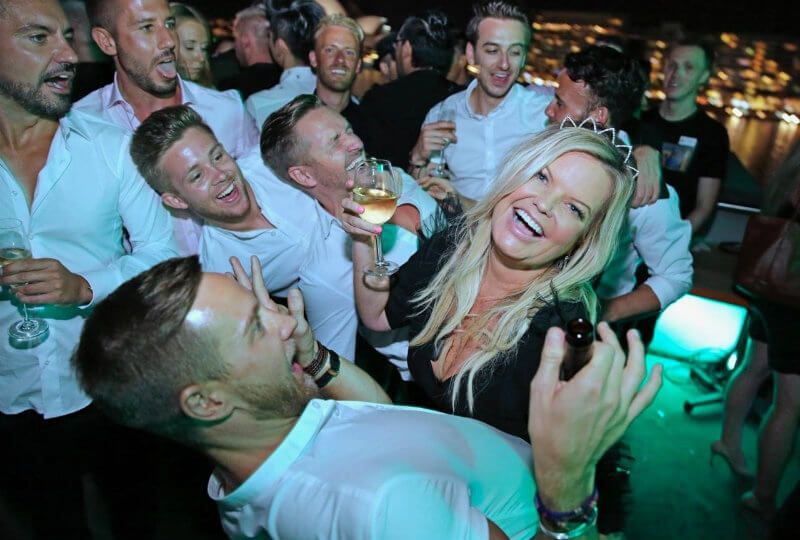 ©Facebook/Points of Difference
There are plenty of reasons why White Celebration should be on your gay New Year's Eve bucket list. Firstly, it's in Sydney, an iconic Australian city rich in LGBTQ history. Secondly, you get to welcome the new year in a warm climate. Thirdly, the party is the only gay and lesbian event to take place on famous Sydney Harbour. Sold yet? For seven hours, be treated to champagne, canapés, a buffet, and two world-class Sydney DJs. The dress code is white/silver, so find your best frock and prepare for the coolest gay NYE Sydney party.
What? We Party
Where? Madrid
When? December 28 - January 1
It's old news that Madrid is an LGBTQ mecca in Europe, so of course the Spanish capital would be throwing one epic gay NYE party to boot! For the eighth consecutive year, this iconic gay winter festival will return with a five-day line-up of themed parties and DJs. Expect a Frozen Party on Saturday, December 29, and welcome 2019 with an Under the Sea Party on December 31. If your idea of the perfect New Years Eve bash involves plenty of dancing, music, and new people to meet, We Party is for you.
What? Sunrise Alegria
Where? New York
When? January 1
While it might be more commonplace to celebrate New Year's in the evening, why not shake things up a little with a daytime rooftop party in New York? Sunrise Alegria has reached world-renowned status in terms of top gay NYE parties, and this year will be no exception to tradition. Presented by Ric Sena, the event will take place at Hudson Terrace, which is located in the heart of Hell's Kitchen. As you dance the afternoon away to cool beats, appreciate a 360-view of New York's iconic skyline, knowing you're starting 2019 the best way.
What? The White Party
Where? Puerto Vallarta
When? December 28 - January 1
A gay New Year's Eve party in Mexico? Yes please! We're certain there'll be a host of gay NYE parties in the capital, so we're here to tell you about an incredible party in Puerto Vallarta instead: The White Party. The festival will bring four main parties that will help you welcome 2019 the RIGHT way. Start the celebrations in style with champagne at rooftop venue, Top SkyBar, then prepare for a series of parties for the rest of the festival. Top events include Circus at Mantamar Beach Club, and a foam pool party for New Year's Day - enough said!
What? The Shoe Drop
Where? Key West
When? December 31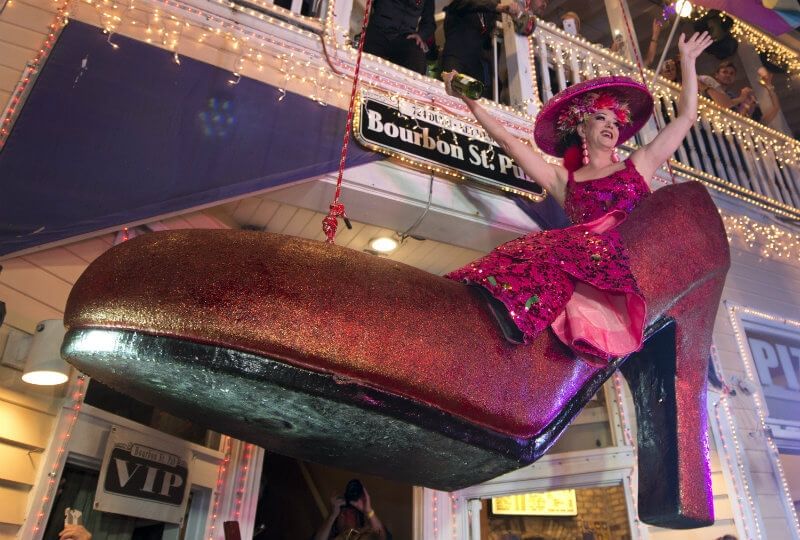 Key West is a top LGBTQ destination in the USA, so it makes sense that its gay New Year's Eve party is larger than life. On the eve of 2019, Duvel Street will come alive with outdoor festivities and of course feature the famous Shoe Drop. As opposed to the colorful ball which drops in Times Square each year, Key West's take on the ritual comes in the form of a large, sequined red shoe which descends into the crowd. The Shoe Drop takes place in front of Key West's Bourbon Street Pub, and carries in it local legendary drag queen, Sushi. A bucket-list spectacle for this New Year's!
What? The White Party
Where? Bangkok
When? December 28 - January 1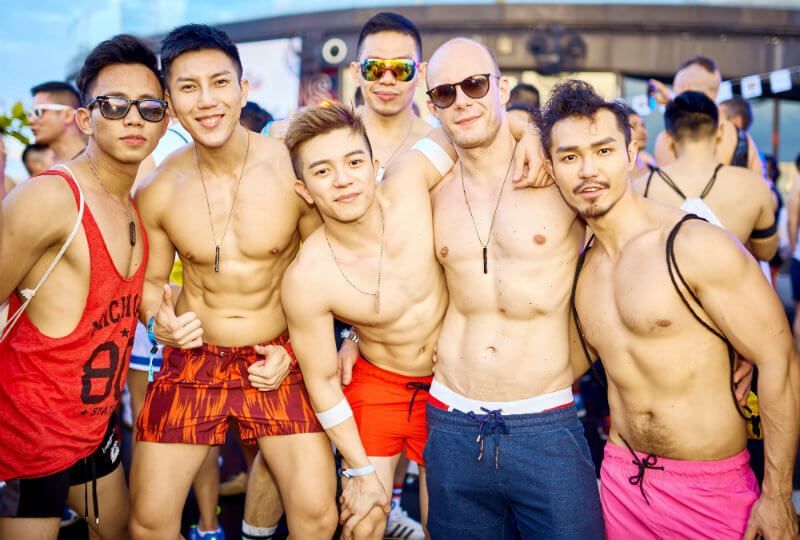 The White Party Bangkok started in 2015, and has now become Thailand's largest gay New Year's party. It is also the official White Party of Asia. Tempted yet? You should be! Over the course of five days, you can celebrate the coming of the new year with a host of different parties taking place throughout Bangkok. The event kicks off with the AGM Opening Party, and while we don't know all the deets as yet, we're told this party will include a very special feature, so keep your ears peeled! On New Year's Eve, brace yourself for MEGA Bash party. The party will offer high-tech lighting and sound, and a dress theme of either 'bright & colorful' or 'glam & glitzy' - it's up to you.
What? Reveillon
Where? Rio de Janeiro
When? December 31
New Year's Eve in Brazil is referred to as Reveillon, and the celebrations taking place each year in Rio are well worth the visit. Start your evening on Copacabana Beach with an impressive firework display that is arguably one of the best in the world. Then keep the revelry alive with a legendary gay after party at Rio's popular club, The Week. Doors open at 1am, and you can expect top-notch DJs spinning sounds well into the morning. Get plenty of sleep before your celebrations in Rio kick-off because this party is going to be big - it's Brazil after all!
What? La Demence
Where? Brussels
When? December 31 - January 1
When it comes to prime gay parties in Europe, La Demence in Brussels is one of the game changers. Throughout the year, this incredible venues hosts famous parties, and its NYE edition won't disappoint. La Demence is organising two different parties over the course of New Years. On December 31, SQUARE will host a celebration from 10pm until 8am the following day, offering amazing shows and plenty of good vibes. If you are still in the party spirit new year's day, head to Fuse Club, where the second La Demence installment will take place to welcome 2019 with an absolute bang.
What? Matinée Winter Festival
Where? Paris
When? December 29 - 31
Matinée Winter Festival is back this year for its second edition, following the success of its NYE bash in 2017. For three nights, you can expect a solid program of top DJs who will illuminate various venues throughout Paris, including Chateauform Salle Wagram. Powered by Circuit and Radio FG, Matinée Winter Festival is certain to deliver when it comes to top gay NYE events in Europe this year. Plenty of dancing a given!
Cover image: The White Party Bangkok
Not ready to start planning your NYE yet, but still wanting to party? Check out The best gay events in North America this Fall