Hate crime incidents have increased by 17% from 2016 in the U.S., as reported by the FBI's yearly "Hate Crime Statistics" report in November; 20.6% of these were due to sexual-orientation, and 1.9% to gender identity bias. This was the largest reported increase by the report in almost 20 years (since the September 11 attacks).. 
Additionally, the risk is even more acute abroad - homosexuality is illegal in a third of the world, and in 8 countries, it is punishable by death. There have been multiple reported homicides and assaults in Iran, Egypt, and Brazil against the LGBTQ community in the past few years. This unfortunate reality makes traveling while gay extremely risky and potentially life-threatening, with vacationers, honeymooners or business travelers having to do critical safety research and extreme preparation before any type of a trip - in the US or abroad.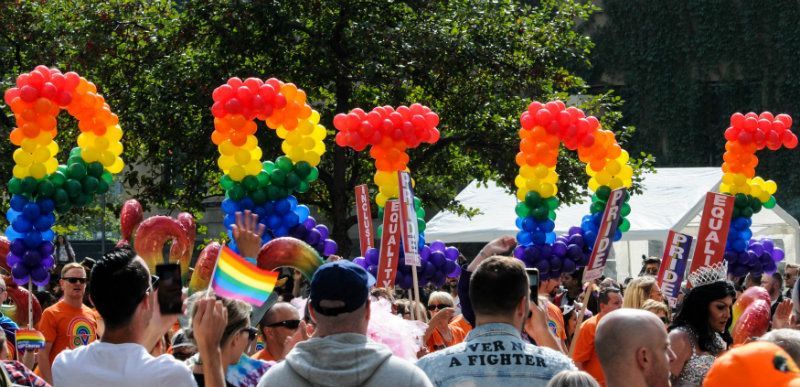 This year our family at misterb&b have teamed up with our data science A-team, and have created the misterb&b Holiday LGBTQ Travel Index—a ranking of the safest and most in-demand gay-friendly cities for LGBTQ travelers over the holidays. Why did we do this? We are the world's largest short-term rental marketplace dedicated to the Gay community - and it's critically important for us to help keep gay travelers safe as they travel around the world, wherever that may be. 
This year, we wanted to help allies of the LGBTQ community keep their loved ones safe as they travel. So we've launched the misterb&b gift card, which you can use to instantly email your loved ones. Give them the freedom to feel safe abroad by staying with gay hosts and in gay-friendly communities, and treat them to a gift of discovery. 
The Holiday LGBTQ Holiday Travel Index
To compile the Holiday LGBTQ Travel Index, we looked at what gay-friendly cities are the most popular for LGBTQ travelers overall and for the holidays specifically. The misterb&b Holiday LGBTQ Travel Index measures two things: 1) the volume of searches and bookings for each city on the misterb&b website over the holiday season, and 2) each country's marriage equality laws and anti-hate crime laws specifically protecting LGBTQ people. 
Hottest LGBTQ Holiday Global Travel 
1 Wilton Manors, Florida, USA
2 Palm Springs, California, USA
3 Fort Lauderdale, Florida, USA
4 Cathedral City, California, USA
5 Miami Beach, Florida, USA
6 Provincetown (Cape Cod), Massachusetts, USA
7 Wailuku, Hawaii, USA
8 Rio de Janeiro, Brazil
9 Limehouse (London), UK
10 Nashville, Tennessee, USA
11 St. Petersburg, Florida, USA
12 Las Vegas, Nevada, USA
13 Lersoen (Copenhagen), Denmark
14 Arco da Calheta (Madeira), Portugal
15 Montevideo, Uruguay
16 Oakland Park, Florida, USA
17 Dallas, Texas, USA
18 Vienna, Austria
19 Honolulu, Hawaii
20 Maspalomas (Canary Islands), Spain
Hottest LGBTQ Travel Overall 

1 Paris, France

2 Barcelona, Spain

3 New York, NY, USA

4 Amsterdam, Netherlands

5 London, UK

6 Madrid, Spain

7 San Francisco, CA, USA

8 Lisbon, Portugal

9 Chicago, IL, USA

10 Los Angeles, CA, USA

11 Palm Springs, CA, USA

12 Toronto, ON, Canada

13 Lyon, France

14 Nice, France

15 Sitges, Spain


Was your favorite gay travel destination missing from our list? Let us know by sending us your suggestions to: stories@misterbandb.com. If you're feeling inspired to travel to one of these top-rated destinations this holiday season, find your ideal misterb&b now and get packing.
Cover photo: Flickr/GPS