They say you've got to be in it to win it, and this couldn't be any more true than right now! Pride Season has arrived, and it's time to experience your pride in global proportions. From Los Angeles Pride to Madrid Pride, we're ready for you to paint the town rainbow this summer.
But we're taking things to a new level! Not only do we want you to experience your pride this season, we want you to share it with our community! Whether it's dancing through the streets of Barcelona hand-in-hand with your beloved, or cheering to your pride under the shadows of the Colosseum, we're asking our community to share their fondest moment of pride on Instagram to go into the running to win a $500 misterb&b travel voucher.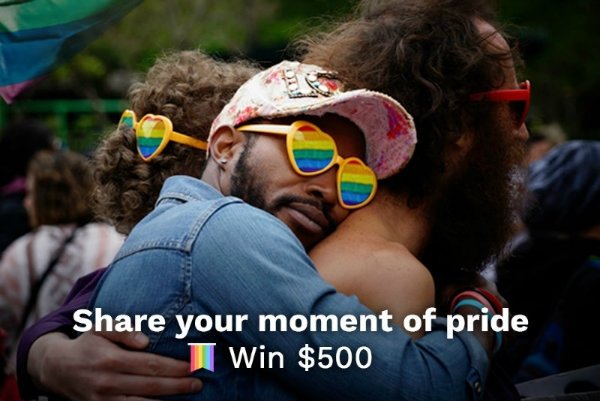 What to do?
Share your moment of pride on Instagram, tag @misterbandb, then add the hashtag #misterpride - pretty easy!
Tag the people you would like to share your moment of pride with - maybe they'll want to enter our competition too!
Next steps
At the end of July, we'll select the top 10 photo entries from the competition, and share this across our social media, giving you a nice claim to fame! A famous gay influencer will then choose the winning shot from our shortlist, with the winner receiving a $500 misterb&b travel voucher. Cool right?
So what's stopping you? Get snapping, tagging, and ready to share your winning moment of pride this season.
Disclaimer:
By participating in the competition, you expressively allow misterb&b to repost your picture with necessary accreditation on the website and on the misterb&b app if desired.
Participants guarantee that they hold the copyright of the photographs and authorize the organizer, if necessary, to modify the framing and/or add a text to the photographs.
Participants accept that misterb&b will not be liable in the case that you violate third-party copyrights.
Image credit: The Belgian Pride/Brice Guiho
Share your passion with the world!
We believe exploring the world is all about making personal connections and that authentic experiences help connect more deeply with local cultures and people. Hence the misterb&b experiences: share your special talent or passion with LGBTQ travelers and earn money from it! Whether it's a tour, dinners, massages, coaching or some other service, create and list your experience: it's 100% free, no fees, no commission!