With more than 30,000 gays and lesbians expected throughout the weekend, the 14th edition of Gay Days Anaheim, in Southern California, will be one of the biggest gay events this fall in the United States. This event, which takes place in the Anaheim Disneyland resort is not an official Disney event and the resort is not privatized for the occasion.
Participants thus recognize with their red tshirt ! Gay Days Anaheim have been organized since 1998 in California, following the example of the Gay Days in Orlando, which attract nearly 100,000 gays and lesbians each June in Florida and celebrated their 20th anniversay this year!
The event lasts three days and takes place in the resort but also in some hotels around the resort. Cocktail parties, screenings, brunches, parades, circuit parties, pool parties, there is always something to do and celabrate from Friday evening until the end of the weekend, no matter gay, lesbian, bear, gay family or clubber… Saturday happens entirely in Disneyland from 8:00 to 0:00.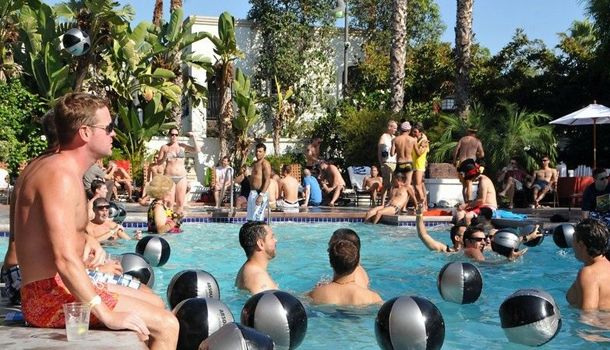 « Plunge » pool party at the 2010 Anaheim Gaydays © Eddie Shapiro
There have been several attempts to organize French Gaydays in Disneyland Paris. A new attempt is set for October 22, called GayDay!
This is an automatic translation of an article originally written in French.