About Pride Toronto
Toronto Gay Pride is one of the largest Pride celebrations in North America and has become a major Canadian arts and cultural event. Gay Pride Toronto started in 1981, and since then it has evolved into an incredibly lively celebration in the city that continues to attract loads of party enthusiasts from near and far. Following the gay bathhouse raids of 1981 in Toronto, referred to as "Operation Soap", a major demonstation took place the next day, at the intersection of Yonge and Wellesley Streets, closing down the entire streets.
From this, Gays and Lesbians Against the Right was formed, an activist group that fought to promote LGBTQ visibility in the city, and enact equal rights for the community. Later that year, Lesbian and Gay Pride Day Toronto was legally incorporated, and took place on June 28 in the height of the city's summer. The event attracted roughly 1500 people, and brought with it a politically charged atmosphere that was set to help the overall LGBTQ rights movement in the city for years to come.
History was again made in 1994, when roughly 40,000 people attended Toronto Pride Day in honor of 25 years since the Stonewall Riots of 1969. This Pride Day was particularly momentous, as pride enthusiasts staged the biggest LGBTQ political demonstation in Canadian history, wrapping a large pink ribbon around the entire legislative assembly, forming a human chain. In 1996, a staggering 750,000 celebrated Pride Day, participating in a three-hour parade. This was also the first year a Dyke March took place, along with a Pride and Remembrance Run.
To this day, Toronto Gay Pride continues to be one of the most celebrated Pride events in the whole of North America, attracting an estimated 1.2 million spectators each year. While Pride Month takes place throughout the entire month of June, things usually culminate on the final weekend of the month, with an incredible Pride Parade and Pride Festival. Gay Pride Toronto very much still remains a political demonstration, with organizers maintaining a strong mission that stipulates that every member of the community should be known, heard, understood, accepted, and respected. With key values of freedom, love, expression, and understanding, Gay Pride Toronto is just the kind of event where you can truly experience your pride, and enjoy a more welcoming world. We hope to see you there!
Program for Pride Toronto
The following is the event program of another pride edition. Stay tuned for the 2021 program.
Due to the global Coronavirus COVID-19 outbreak, Pride Toronto is sadly canceled in 2020. See you in 2021!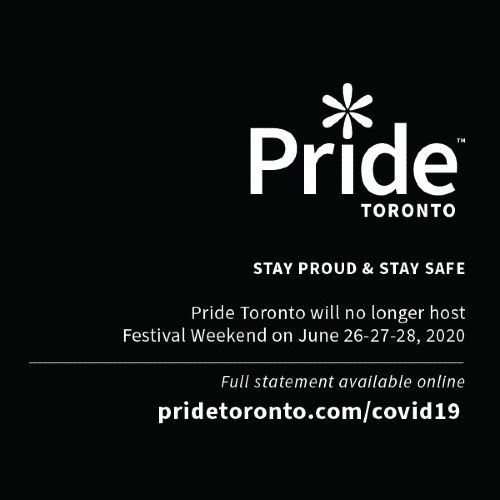 Bear in mind that this is the event program for 2019. Stay tuned for the program of Toronto Pride 2020, coming soon.
June 2019 will actually be Toronto's fourth Pride Month, with events running right up until Toronto Pride which is the climax of these LGBTQ activities. Gay Pride Toronto 2019 will honor 50 years since the Stonewall Uprising, and offer an exciting program catered to various tastes. While Toronto Pride offers a series of exciting LGBTQ events for an entire month, the majority of action takes place over the weekend of June 21 - 23.
The popular Yes, Yes Y'all Block Party will kicking things off on the Friday night (June 21), on the Bud Light Wellesley Stage in the heart of Toronto's gay area. Running from 7pm to 2am, you can look forward to live entertainment reflecting the genres of Hip Hop, Dancehall, and R&B. If pop anthems are more your thing, head on over to OLG Central Stage for Electric Circus, which will run from 7pm to 2am, and bring the original Electric Circus spirit to The Village. Enjoy a marathon of 90s anthems from DJs Vanessa and Pam, then dance the night away to house tunes curated by DJ Jo Jo Flores.
The highlight of Toronto Pride, however, is arguably the Toronto Pride Parade 2019, which will transpire on Sunday, June 23. Kicking off at 2pm on the corner of Church and Bloor Streets, the parade will travel down Yonge Street before winding things up at the Dundas Square stage. The colorful event will welcome performances, floats and thousands of marchers making it one of the largest of its kind in North America.
Along with the Pride Parade Toronto 2019, the entire weekend will also be host to a range of entertainment options catered to various tastes. On Saturday, June 22, from 6pm to 11pm, you can enjoy Drag Ball at the TD Main Stage, which will include a performance by RuPaul Drag Queen, Brooke Lynn Hytes. Over the course of the entire weekend, The Village will also be hosting DJ Station at the intersection of Church and Wood Streets. The corner will welcome the city's finest DJ collectives all weekend long, so you will never be left with a shortage of places to go dancing.
Family Pride will also be taking place on both the Saturday and Sunday (June 22 & 23) at the Church Street Public School from 10am to 4pm. This will be the perfect occasion to celebrate LGBTQ families, with the event offering an exciting program of activities and events catered to tweens and teens!
So if you are ready to experience your pride in epic proportions this year, head to Toronto Pride 2019, and have an experience to remember.
Pictures of Pride Toronto