Fiesta Cantina
8865 Santa Monica Blvd (at San Vicente), Los Angeles, Stati Uniti d'America
Busy Mexican bar with food in the gay strip. This place is a hit for its happy-hour specials (and strong measures!). Fiesta Cantina has one of WeHo's best happy hour deals: 2 for 1 drinks from 16:00-20:00pm and 10:30pm-12:30am. Walking distance from The Abbey, it's always busy. Also features a rooftop deck and widescreen TVs.
Abbiamo informazioni errate su questo posto? È chiuso? Va aggiornato?
Facci sapere!
Sei tu il proprietario?
Iscriviti
alla nostra offerta di alloggio sponsorizzata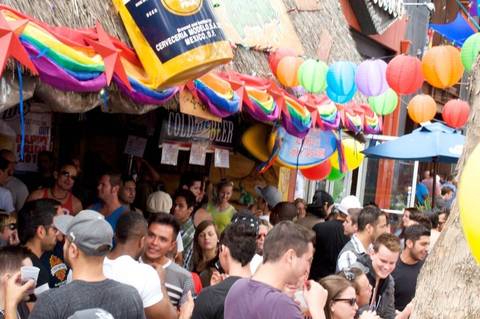 Esplora un mondo più accogliente.
Appartamenti accoglienti, camere private e case fantastiche: sentiti accolto dalla comunità gay in oltre 200 paesi
Appartamenti, camere, case: lasciati accogliere dalla comunità gay
Condividi la tua passione con il mondo!
Crediamo che esplorare il mondo significhi prima di tutto incontrare persone e che le esperienze autentiche consentano una connessione ancora più forte con la gente o la cultura locale. Da qui le esperienze di misterb&b: lascia che i viaggiatori LGBTQ traggano vantaggio dal tuo talento speciale o dalla tua passione e guadagna! Visite guidate, cene, massaggi, coaching ecc., registra la tua esperienza: è al 100% gratis, senza commissioni!
Recensioni (1)
Scrivi la tua recensione
Mappa e indicazioni
8865 Santa Monica Blvd (at San Vicente), Los Angeles, Stati Uniti d'America -