C'est l'un des resort de luxe les plus gay-friendly des Maldives. Pour un voyage de noces ou des vacances romantiques dans un cadre design et contemporain, voici 10 raisons d'opter pour le W Retreat & Spa Maldives.
Le lounge W à l'aéroport de Malé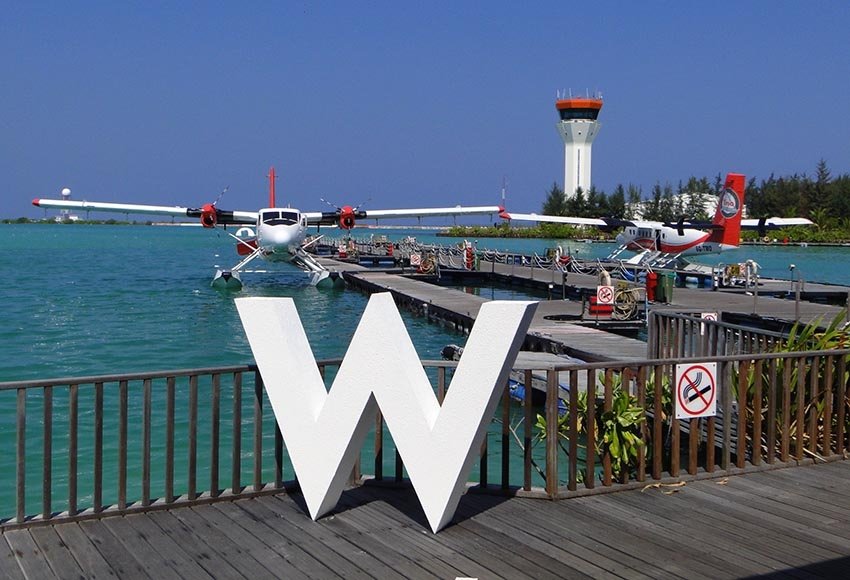 L'aventure démarre dès votre arrivée à l'aéroport international de Malé, capitale des Maldives. Vous êtes immédiatement pris en charge par l'équipe du W qui vous accueille dans son lounge privé. Là,  vous ferez votre check-in, vous pourrez vous rafraîchir après votre long vol international, grignoter quelques snacks avant de monter à bord de l'hydravion qui vous conduira en moins de 30 minutes à bon port. L'équipe du resort vous y attend déjà, avec une coupe de champagne de bienvenue !
L'expérience W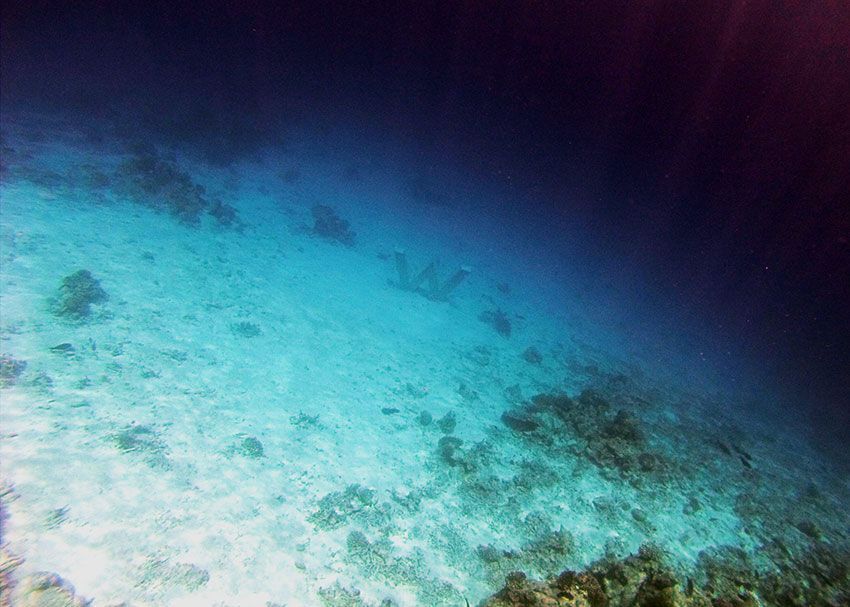 Ne dîtes pas « lobby » mais « welcome », ne dites pas « buggy » ou «  gym » mais « shuttle » et « fit ». Le W possède son propre vocabulaire, décliné jusque dans le moindre détail des produits de toilette mis à disposition. Emblème de la marque, l'iconique W géant vous attend sur la jetée où accostent les hydravions, mais aussi sur la plage et même par 15 mètres de fond, en face du restaurant FISH.
Le menu Ocean to Table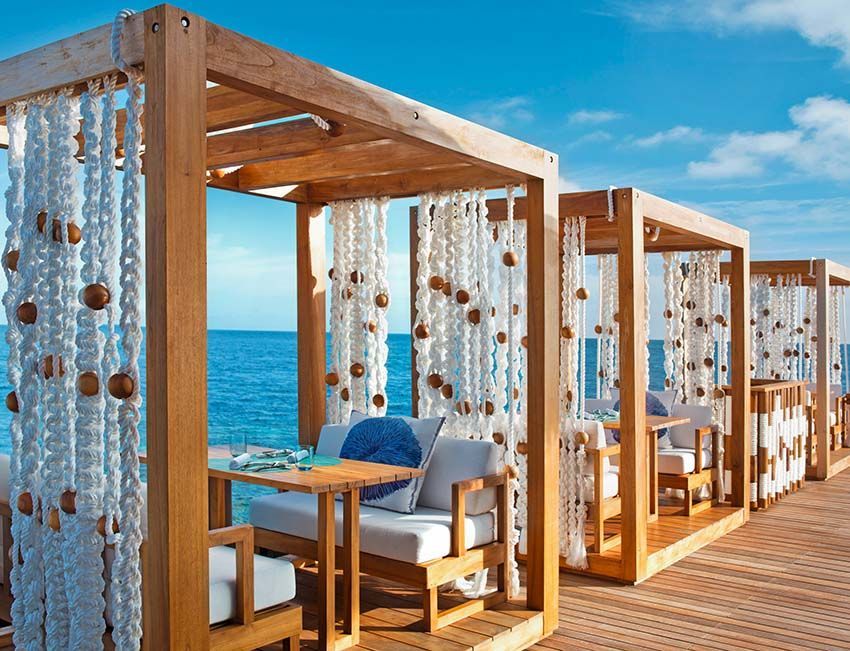 Le restaurant FISH est le restaurant de poisson et de fruits de mer du W Retreat & Spa. Le menu signature proposé par le chef est le menu « Ocean to Table », un menu 100% produits de la mer en 3 services avec huîtres, sushi, gambas géantes, homard grillé, poisson de ligne et crabe aux épices maldiviennes. Pendant que vous dégustez vos plats, sur la terrasse au dessus du lagon, tendez l'oreille et écoutez ce qu'il se passe dans l'eau.
Le AWAY, spa sur mer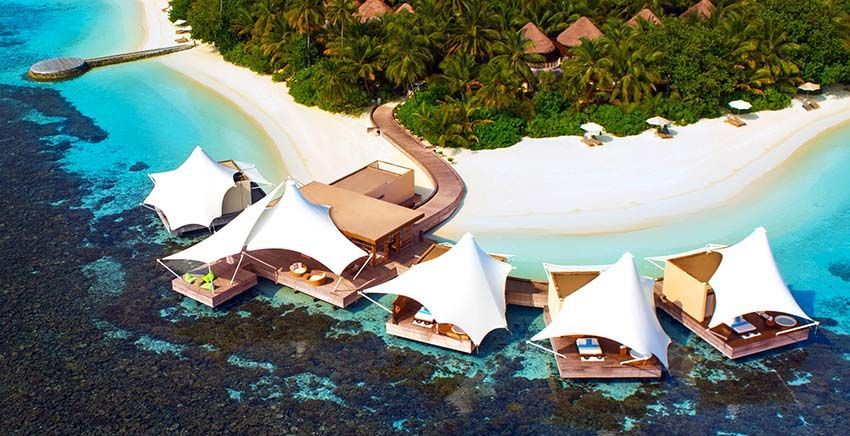 Un spa en plein air, dont le toit des quatre magnifiques salles de traitement est inspiré des voiles des bateaux traditionnels des Maldives. Chacune d'entre elle propose une terrasse extérieure avec jacuzzi. Massages, masques visage, traitement anti-âge, épilation ou après-soleil, profitez de la cinquantaine de soins proposés par ce spa unique.
Le petit déjeuner les pieds dans l'eau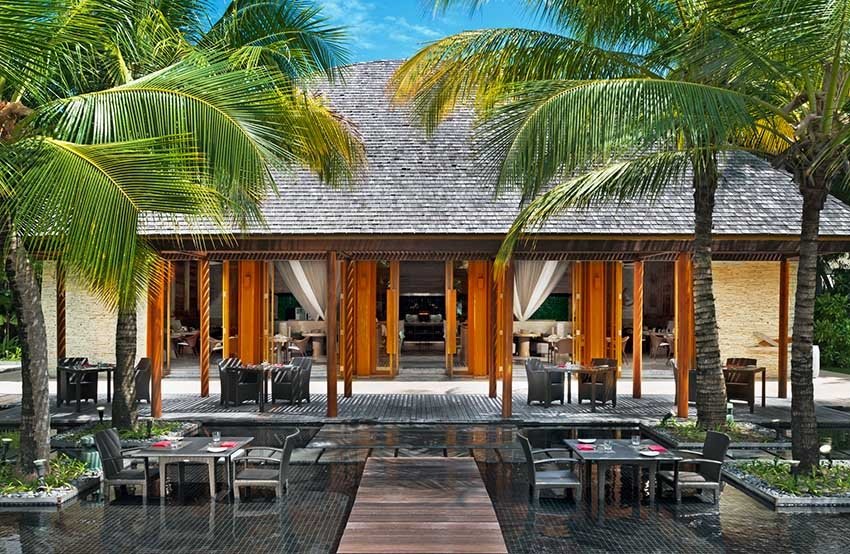 Encore mieux que dîner sur la plage les pieds dans le sable : petit-déjeuner les pieds dans l'eau ! Au restaurant KITCHEN, vous pouvez opter pour un tête à tête amoureux matinal les pieds au frais, tout en profitant de l'impressionnant buffet à base de fruits, de plats cuisinés locaux et asiatiques, d'omelette sur mesure, de pains, viennoiseries et sucreries.
La croisière au coucher du soleil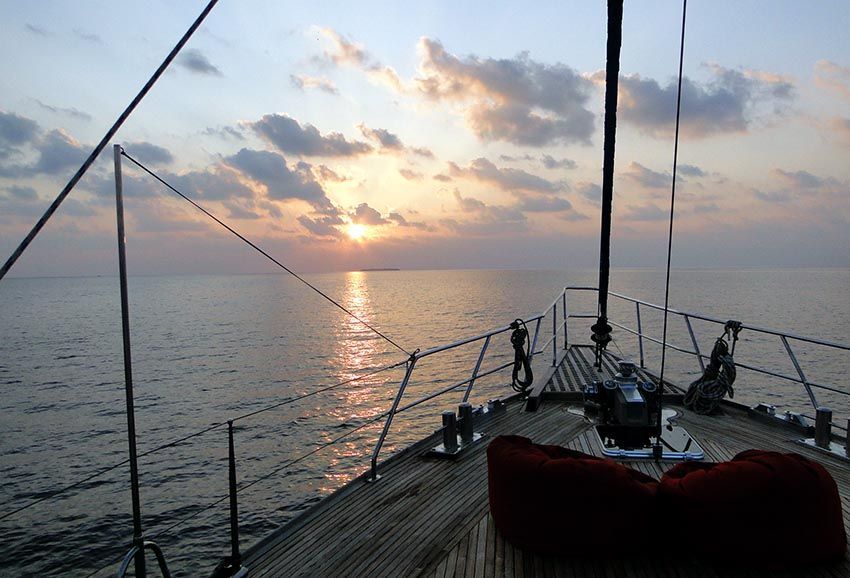 Le W Retreat & Spa Maldives possèdent plusieurs bateaux dont l'ESCAPE, un voilier de luxe qui propose notamment des croisières au coucher du soleil. Pendant près de 2 heures, laissez vous bercer par les flamboyantes couleurs du soleil couchant, avec une coupe de champagne et quelques canapés. Guettez l'horizon, les dauphins ne sont jamais très loin.
Get Wed Your Way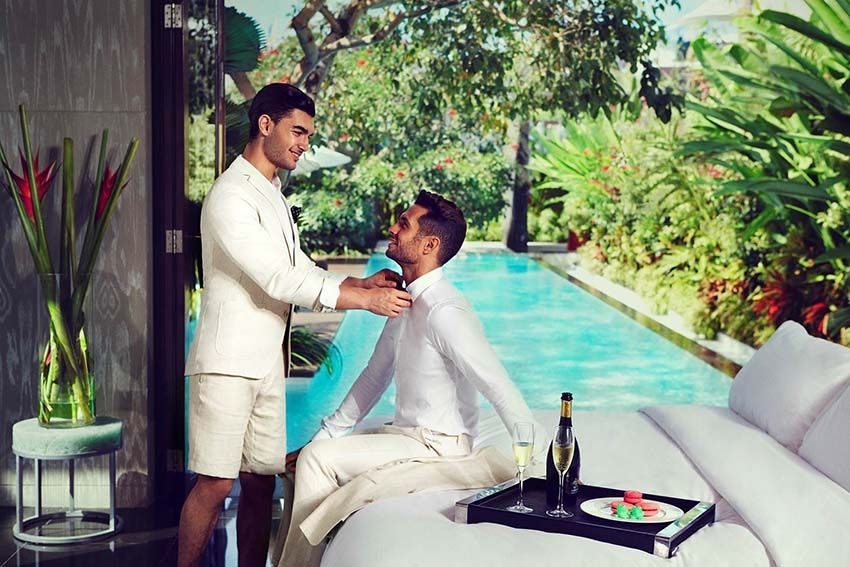 Si c'est votre lune de miel gay, alors n'hésitez pas une seconde : le W Retreat & Spa Maldives accueille tous les nouveaux mariés avec une bouteille de champagne et une multitude de petites attentions (4 nuits minimum, sur présentation d'un certificat de mariage de moins de 6 mois). Et si vous souhaitez un souvenir inoubliable de votre séjour, pourquoi ne pas redire OUI à votre mari ? Même si elles sont symboliques dans ce pays musulman, l'hôtel propose des cérémonies de mariage incroyablement romantiques.
Le récif coralien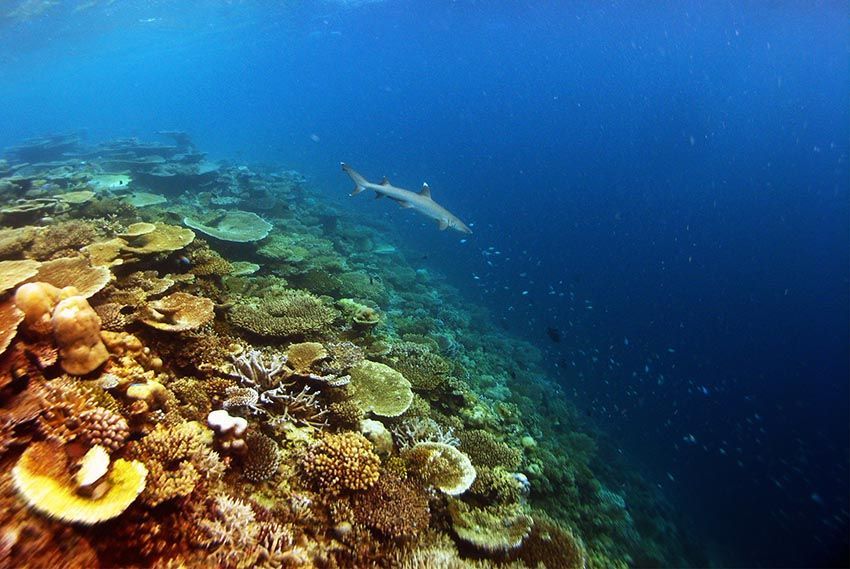 Le W n'est pas peu fier de posséder le plus beau récif coralien d'hôtel de toutes les Maldives : #BestHouseReef ! Il vous suffira de chausser un masque et un tuba pour vous en rendre compte par vous même. Le spectacle est à couper le souffle, à 5 mètres du bord à peine. Des bouquets de coraux, des multitudes de poissons aux couleurs vives qui viennent vous observer au plus près et, si vous êtes chanceux, des raies, des requins (inoffensifs)… Magique ! 
Les cocktails de fin de journée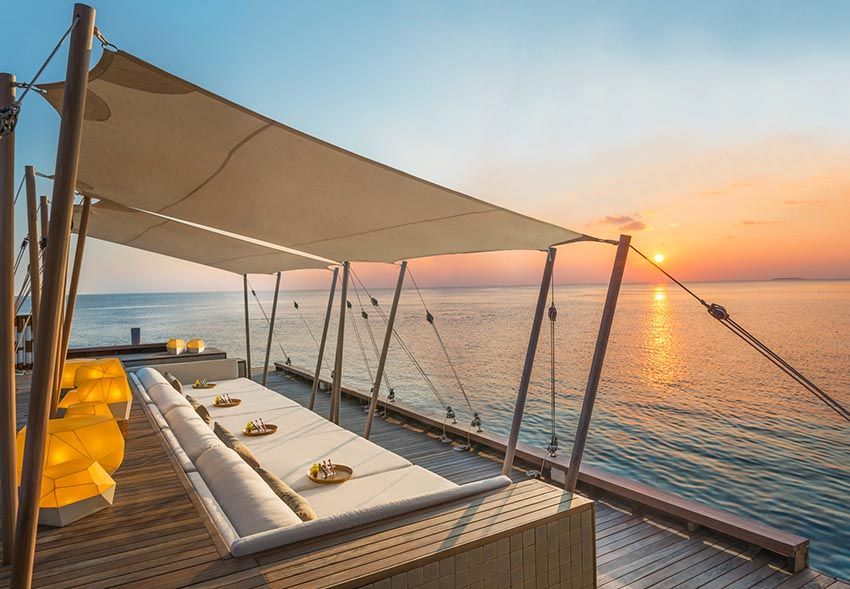 Au coucher du soleil, laissez vous aller au SIP, le bar à cocktails du W Retreat & Spa.  Tout en extérieur, il vous permet de profiter de l'océan à perte de vue, du doux son des vagues et des légères brises de mer qui rafraîchissent la fin de journée.  Chaque soir, un DJ résident accompagne la tombée de la nuit. Mojitos à la framboise ou coupe de champagne ?
Enfin, les Sweet Spots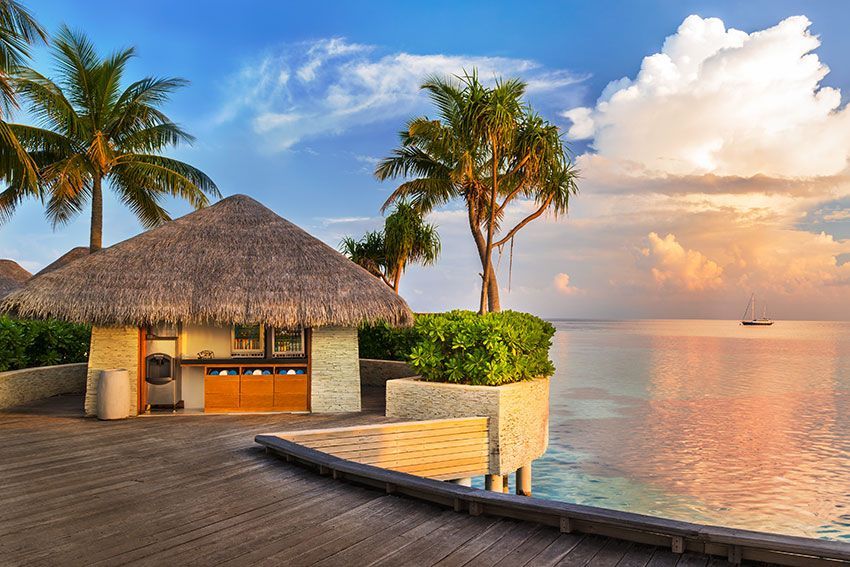 Ils sont dispersés sur l'île, et vous tendent les bras à chaque instant. Les Sweet Spots sont la tentation incarnée : des distributeurs d'eaux minérales et de glaçons, mais aussi de sodas et surtout de glaces, en bâtons et cornets. Saurez-vous résister ?