Avoir la sensation d'être sur le toit du monde est un sentiment absolument fantastique. Quoi de plus excitant que d'être environné par le ciel, de dominer des chutes d'eaux, de pouvoir toucher les nuages du doigt tout en ayant une impression de liberté totale ? La liberté de flotter à des kilomètres au-dessus des merveilles du monde. Mais cette sensation à un prix, et il faut avoir le cœur bien accroché. Il faut un peu de courage, le goût de l'aventure et l'envie d'expérimenter des choses nouvelles, d'escalader les sommets et de découvrir la nature sous ses meilleurs jours. Depuis toujours, cette volonté de rendre l'impossible possible a poussé les hommes à se surpasser.
Les plateformes suspendues dans le vide sont le témoignage de ces miracles d'ingénierie qui défient la pesanteur et un magnifique exemple de la concrétisation des rêves les plus fous. Partout dans le monde, ces planchers de verre nous permettent de marcher dans le vide, à plusieurs centaines de mètres au-dessus du sol. Marcher sur ces terrasses d'observation vous donne le sentiment de flotter au-dessus des plus beaux paysages naturels. Mais posez-vous la question : "Aurais-je le courage de marcher dans les airs ?". Du courage, c'est en effet tout ce dont vous aurez besoin pour affronter l'une des 10 attractions suspendues dans le vide que nous vous proposons de découvrir maintenant.
1 - Los Angelès - Skyspace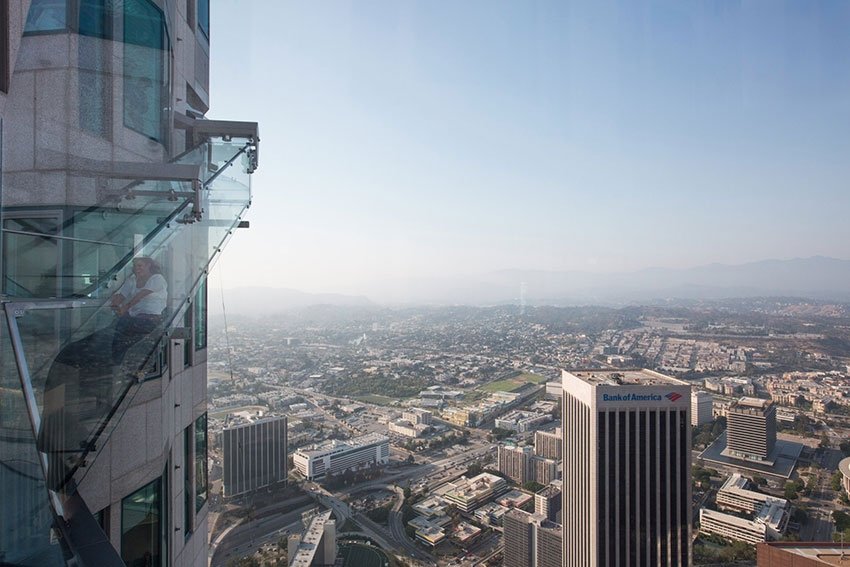 Situé au sommet de la tour U.S. Bank, le Skyspace est la terrasse d'observation en plein air la plus haute de Californie. A plus de 300 mètres au-dessus de Los Angelès, le Skyspace offre une vue à 360 degrés de la ville. En plus de la terrasse d'observation, le Skyspace propose le Skyslide, un toboggan extérieur en verre transparent qui relie les 70ème et 69ème étages de la tour. Frissons garantis !
2 - Chicago - The Ledge @ Tower's Tilt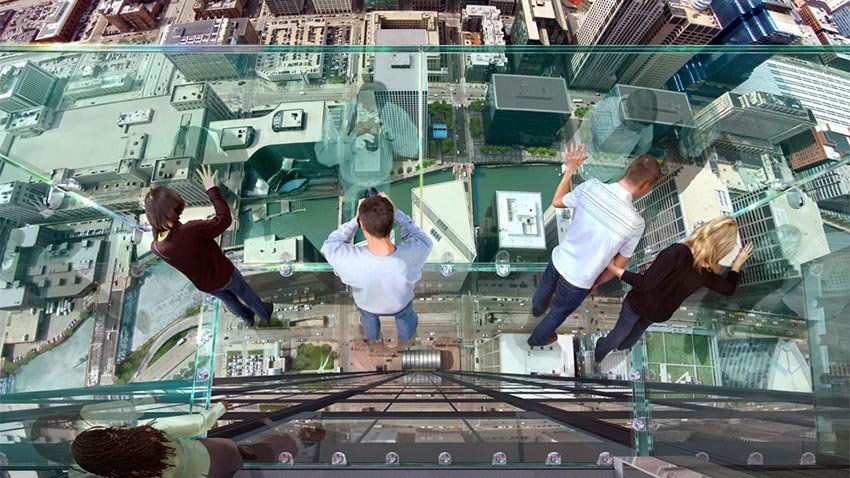 La tour Willis de Chicago est le deuxième building le plus haut des Etats-Unis. Ce gratte-ciel de 108 étages abrite le Skydeck ainsi que l'attraction "The Ledge". Cette terrasse est ouverte 365 jours par an pour vous permettre d'accéder à ce balcon en verre transparent perché à 412 mètres au dessus de la ville.
3 - Shanghai - Shanghai World Financial Center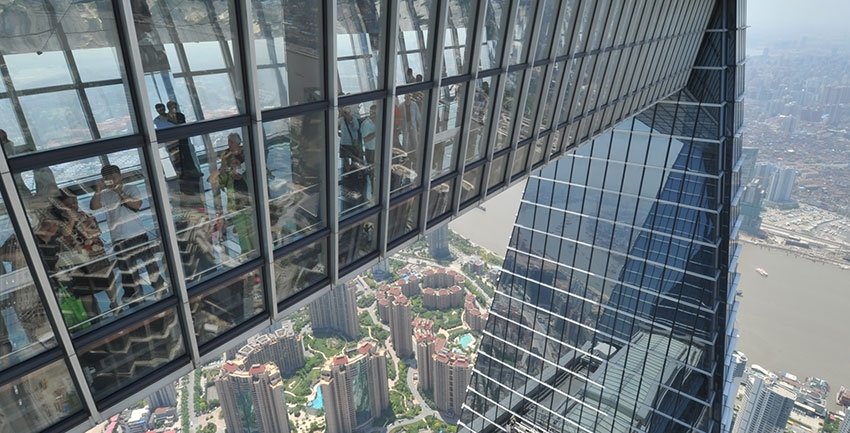 La Chine abrite quelques attractions spectaculaires, comme le Pont de l'Homme Couragreux, dans le parc national Shiniuzai, la tour Oriental Pearl à Shanghai ou le parc Yuntaishan dans la province du Henan. Mais l'une de ces attractions se trouve bien au-dessus du sol. Situé dans la trépidante Shanghai, le Shanghai World Financial Center est le 8ème plus haut building du monde, et le 4ème plus haut de Chine continentale. L'immeuble propose une terrasse observatoire à plus de 474 mètres du sol !
4 - Toronto - CN Tower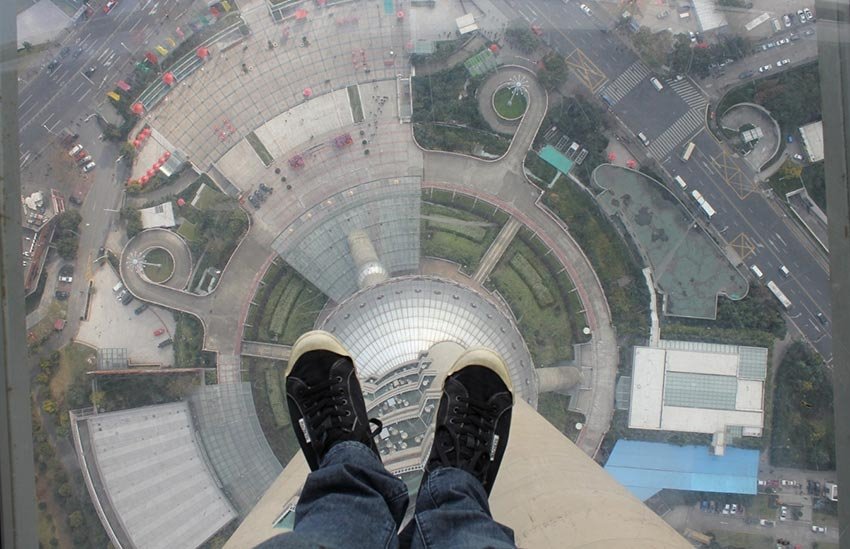 La CN Tower de Toronto est l'une des 7 Nouvelles Merveilles du Monde. Vous y trouverez le EdgeWalk, une passerelle transparente dans le vide, qui culmine à 356 mètres du sol, au 116ème étage de la tour.
5 - Tokyo - Sky Tree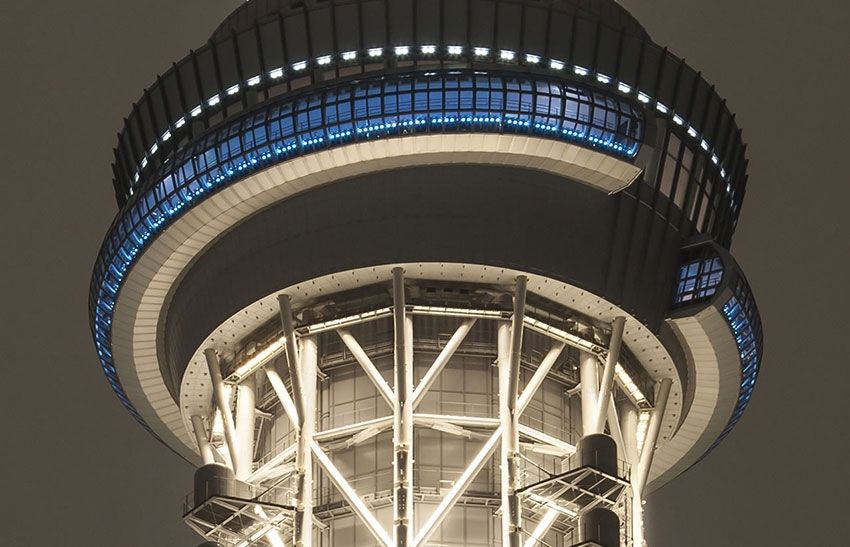 Le Tokyo Sky Tree est l'une des merveilles de l'architecture contemporaine. Le Tembo Deck est situé à 350 mètres au-dessus du sol et offre aux visiteurs une vue à 360 degrés sur Tokyo. Autre attraction proposée par cette tour, la Galleria transporte les visiteurs jusqu'au dernier étage à travers un tube en verre.
6 - Rocheuses canadiennes - Glacier Skywalk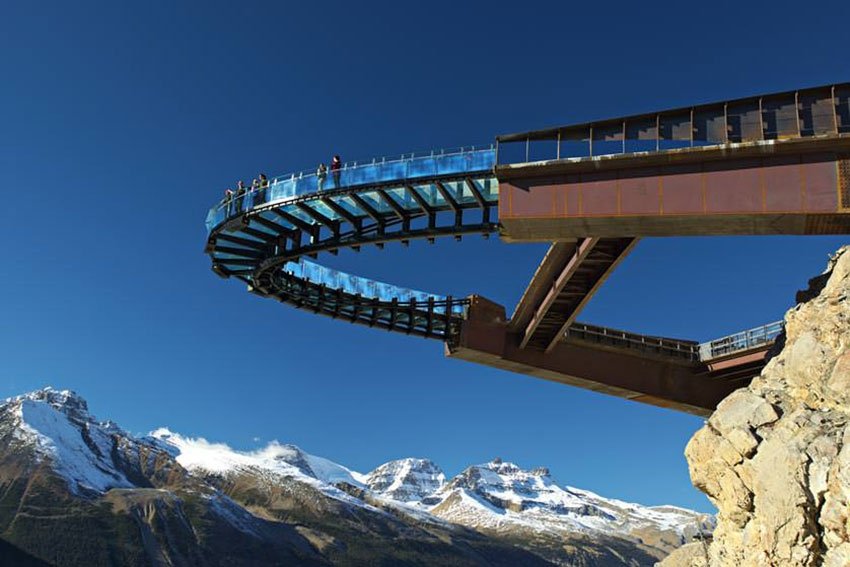 Avec le Glacier Skywalk, vous allez marcher dans les nuages ! La plateforme en verre transparent propose aux visiteurs de marcher au dessus des forêts denses des Rocheuses canadiennes et de profiter de ce spectacle naturel inouï dans des conditions exceptionnelles. Les visiteurs sont à 280 mètres au dessus de la vie sauvage, de cascades, de montagnes et de forêts, au coeur du champ de glace Columbia, au Canada.
7 - Mont Blanc - Step Into The Void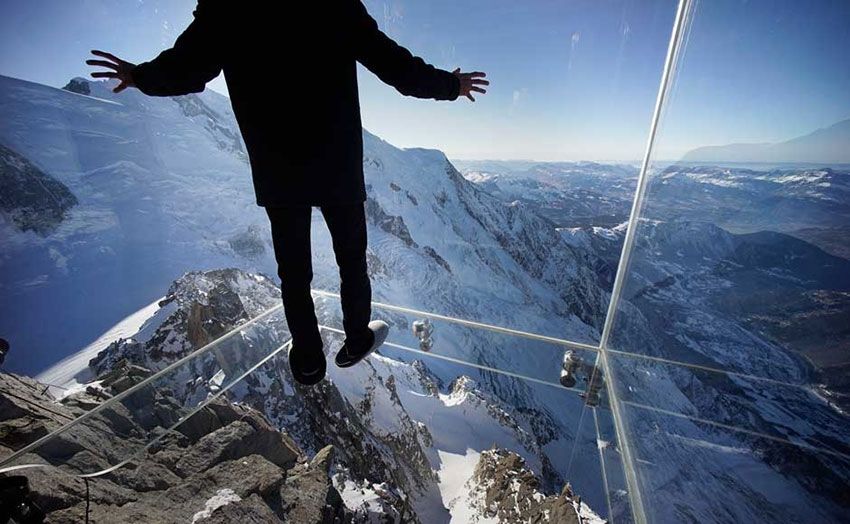 Au coeur d'une cage en verre transparent, les visiteurs pourront profiter du sommet le plus haut d'Europe d'une manière complètement inédite. Suspendu sur ce plancher de verre, à 304 mètres du sol, les, visiteurs de l'Aiguille du midi auront une vue spectaculaire sur le glacier des Bossons.
8 - Melbourne - The Edge @ Eureka Skydeck 88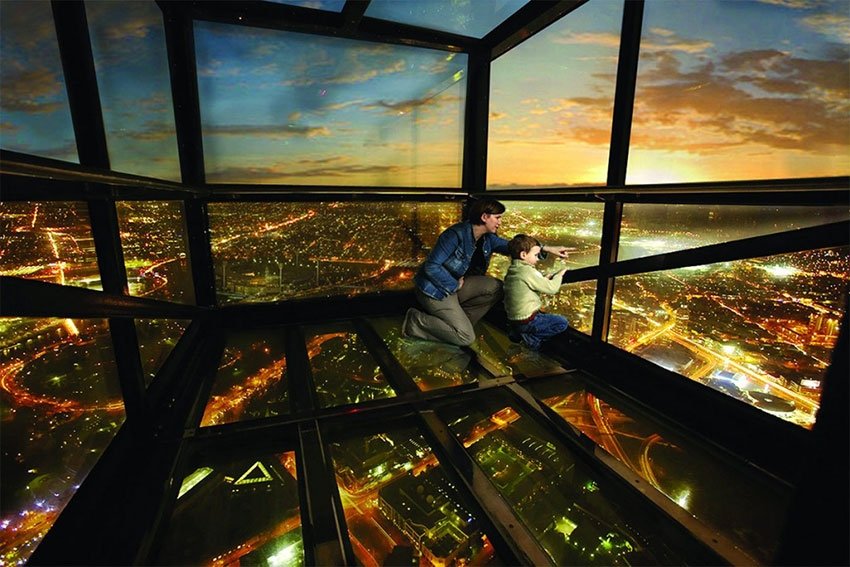 The Edge @ Eureka Skydeck 88 est la seule structure suspendue en verre du monde à être animée ! The Edge est un cube en verre qui se déploie à l'extérieur de la tour Eureka, depuis le 88ème étage. Vous y êtes suspendu à près de 300 mètres au-dessus de Melbourne.
9 - London - Tower Bridge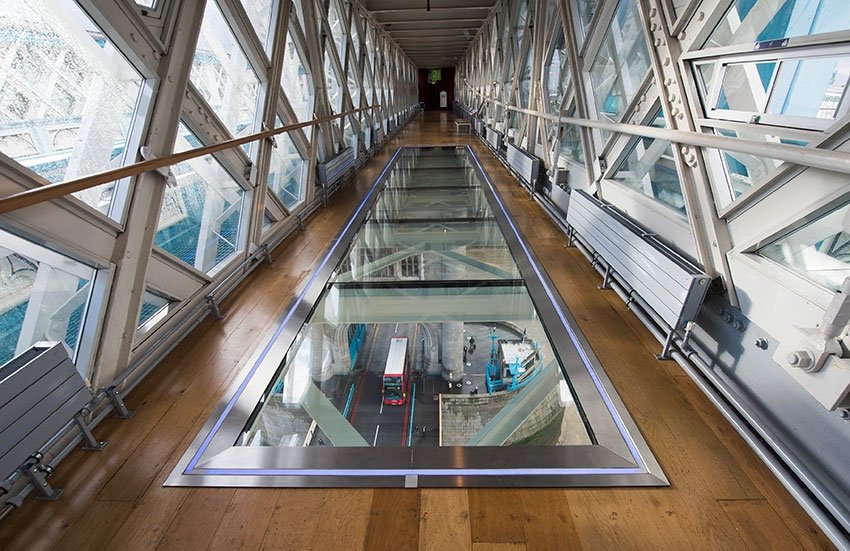 A plus de 42 mètres au-dessus de la Tamise, les visiteurs qui passent sur cette plateforme transparente pourront observer sous leurs pieds le trafic routier intense qui anime le Tower Bridge, ainsi que les navires qui circulent sur la rivière londonienne.
10- Paris - Tour Eiffel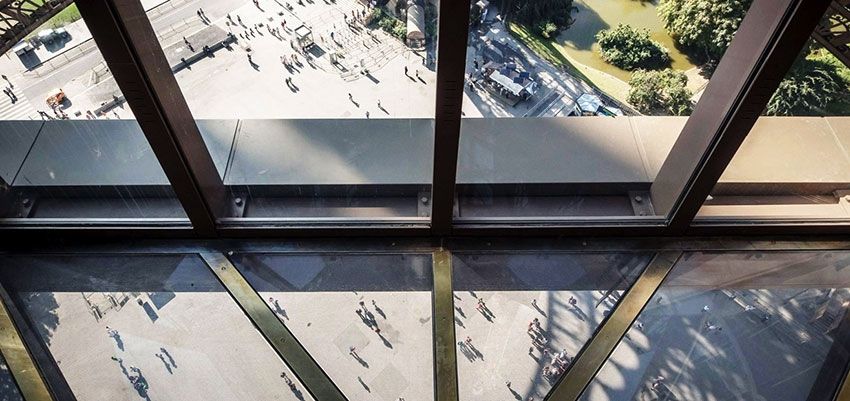 Profitez de Paris de manière inédite ! Le nouveau premier étage de la Vielle Dame propose un plancher en verre transparent qui permet de découvrir Paris à près de 60 mètres du sol. Renversant !
BONUS - Londres – Skypool @ the Embassy Gardens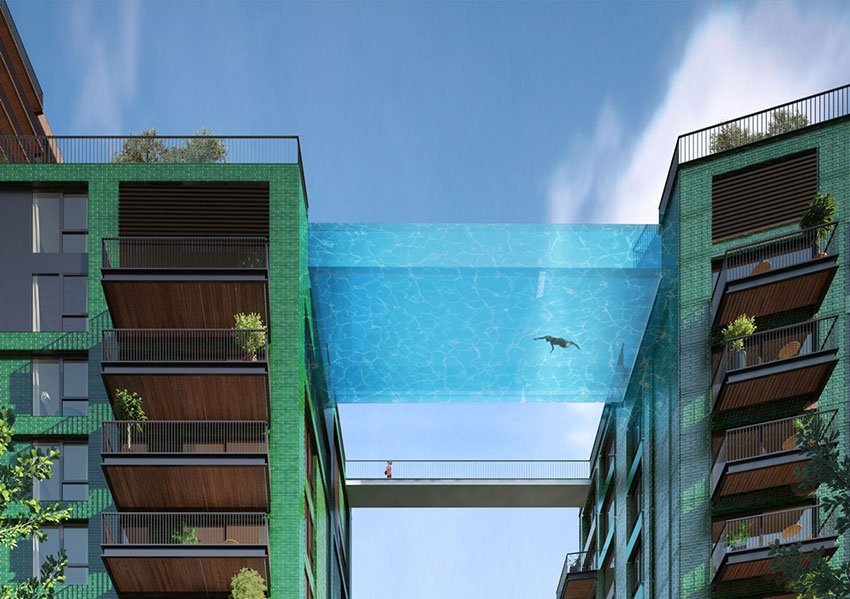 Ce sera la toute première piscine suspendue du monde ! La Skypool, dans le complexe Embassy Gardens, est une piscine de 25 mètres, suspendue entre 2 immeubles, à Londres. La pisicine est suspendue à une hauteur de 10 étages, permettant aux nageur de vivre une expérience absolument unique. Prêt à nager dans les airs ?