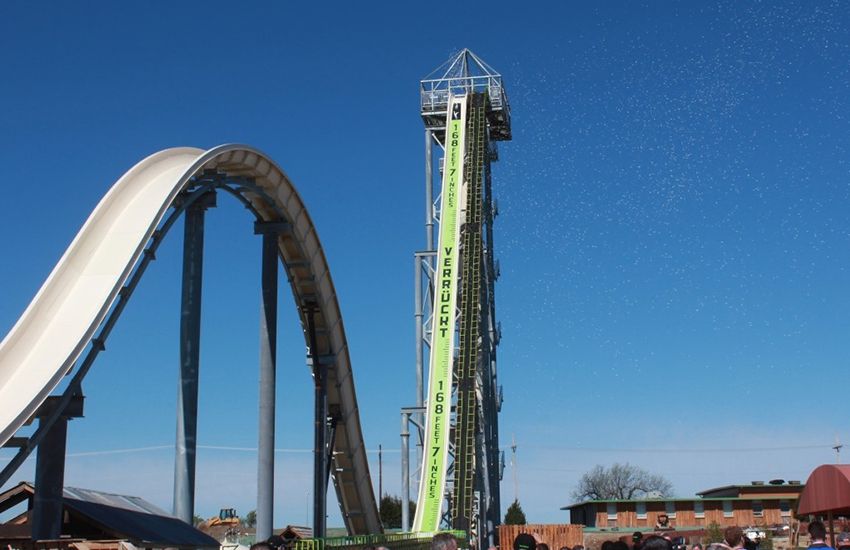 It's the world's tallest waterslide. « Verrückt », which translates from German as "insane", is located in the Schlitterbhan Waterpark in Kansas City, in the US. It has just been opened to the public. The top deck is 168′ 7″ (51,4 m) high. You arrive here after a long climb of 264 stairs. Attached to a specially designed raft, three riders litteraly plummet down the equivalent of a drop from a 17 story building, taller than Niagara Falls and the Statue of Liberty (from toe to torch) : 18 secondes of a crazy ride, with an uphill blast and an estimated maximum speed of 65 miles an hour (105 km/h)
You want to experience it ? See for yourself now :
Experience a More Welcoming World
Cozy apartments, private rooms and amazing homes: be welcomed by the gay community in over 200 countries
Apartments, rooms, homes: be welcomed by the gay community
Share your passion with the world!
We believe exploring the world is all about making personal connections and that authentic experiences help connect more deeply with local cultures and people. Hence the misterb&b experiences: share your special talent or passion with LGBTQ travelers and earn money from it! Whether it's a tour, dinners, massages, coaching or some other service, create and list your experience: it's 100% free, no fees, no commission!
Stay Social
Wherever you're headed, don't forget to add us on Instagram, Facebook and Twitter and share your travel pictures using the hashtag #ExperienceYourPride. We'll share the best pics with our global LGBTQ travel community! Share your host story or Local Tips about what to do in your city, and make a video to promote your listing. Interested? Then just email us at stories@misterbandb.com and we'll get back to you.
Book your next gay trip with misterb&b and be welcomed in 1 million LGBTQ-friendly accommodations in 200 countries
Search now
By using this website, you consent to the use of cookies for analytics purposes
Your account has been suspended for security reason. For further information, please contact our Trust & Safety team at trust.safety@misterbandb.com