misterb&b superhost Matt lives in beautiful Byron Bay, on the east coast of Australia. This stunning hippie surf town has it all – great beaches, amazing scenery, award-winning cafes and a thriving, bustling arts & entertainment scene. Check out his insider guide to this little piece of paradise…
"I relocated to Australia from England 15 years ago – and I made the move from Sydney up to Byron five years ago. 
I love the laid-back feeling of this special little town. It's got to be one of the most dramatic and picturesque spots in the country – and it's a magnet for anyone needing time out to rest, relax and recharge"
What is it like hosting for gay community? 
I really enjoy introducing guys to this area. After moving a few months ago to a fantastic house surrounded by lush, tropical gardens and with views to the ocean, I felt it was too good a spot not to share. 
It's great to see guests' reactions to the place as they arrive – and because I also offer the option to enjoy my home-cooked breakfasts, dinners and Ka Huna (Hawaiian-style) massage, they generally seem to float rather than walk out of the door at the end of their stay!
Byron is known as the 'rainbow region' – and it's very inclusive and gay-friendly, so it's no surprise that it's a mecca for a lot of gay visitors. Often visitors to Byron are travelling solo – and many of them like the idea of a friendlier environment than that offered by the traditional guesthouses and apartments. misterb&b has been a great facilitator of that!
What makes your city a favorite gay destination?
With its colourful history as a hippie haven, a surf hangout and a centre for arts, music and culture, Byron is known for being very inclusive and relaxed. Combined with its sub-tropical climate and incredible natural beauty, that makes it highly appealing for gay travellers. 
While there are no designated gay bars or cafes as such, the area plays host to regular alternative events that are mixed, friendly and welcoming. From parties like 'Nudge Nudge Wink Wink', which run on some Sunday afternoons at the Bilindgel hotel, to 'Queer Beers' at the Brunswick Hotel on the first Thursday of every month, and not forgetting the hugely popular Tropical Fruits 4-day queer dance party that runs every New Year in nearby Lismore, there's a lot to attract gay visitors. 
Best place to socialize with the local gay community? 
Byron has two of Australia's most beautiful nude beaches – the famous Kings beach, located south of town, and Tyagarah beach, in the north, which happens to be just down the road from where I live. These are great spots to meet and chat with locals and visitors alike – and of course, being clothing-optional, they attract a relaxed and friendly crowd, especially at weekends.
It's not specifically gay – but The Roadhouse just south of Byron has an alternative, hipster vibe that gay visitors love. They do incredible wholesome food, sourced sustainably and grown naturally, and their sprawling terrace has a distinct rustic-chic charm.
Top Shop, just off the road leading up to Byron's impressive lighthouse is another great option. I can't go past the burgers, cakes and refreshing home-made kombucha whenever I visit!
Do you spend time hanging out with your guests?
I generally try to 'read' each guest to figure out whether they want company or some time out to themselves. I'm incredibly proud of my town, so it's always fun to play tour guide (work permitting)… but I'm equally happy to let guests explore at their own pace – and the house and gardens are spacious enough to give them plenty of quiet time if they need it.

Heading to Byron Bay? Check out Matt's listing on misterb&b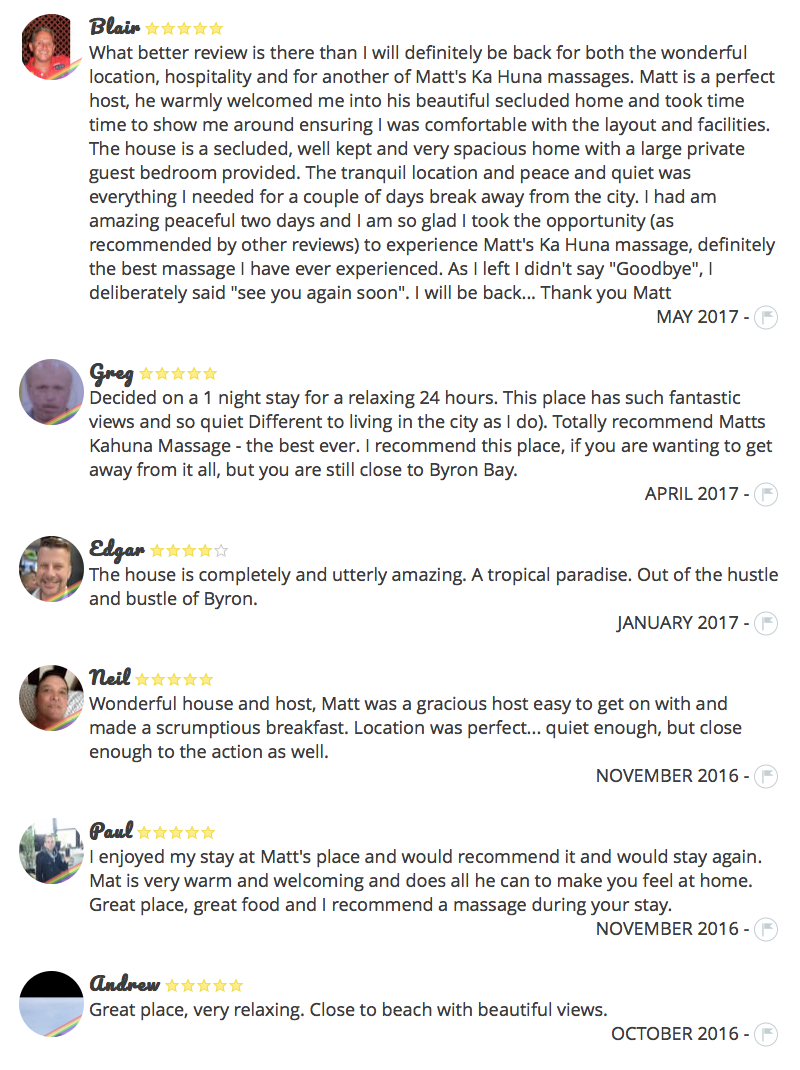 SHARE YOUR STORY! 
We are eager to hear your adventure on misterb&b!  Share your travel/host story with us! Tell the world how to have fun in every corner of Earth! Shoot an email to support@misterbandb.com