Have you ever felt the need to just lay on white sand and enjoy the simplicity of that? Being alive and feeling blessed, away from the chaos of the city? We're sure you have, it's not just a daydream! Rob and Bob's experience is proof of that. They've hosted several couples and guests from misterb&b at their place in Hawaii. As they tell us here, it's a unique experience, in a unique spot on Earth...

What interesting people have you met?
We've hosted people from all over the world, with many LGBT guests, including those on their honeymoon. We've had guests who've been out and proud activists for decades in the US and others who would not feel safe holding hands with their partner in their country of origin.
Guests are very appreciative of having a safe space in our cottage and knowing that they'll be visiting the most LGBT-friendly part of Hawaii.
We enjoy providing a vacation rental in a gay area that's very different from a gay resort area. We set up the expectation that even though we have a large LGBT population, because we are so rural, there really aren't any kind of gay bars, cafés or clubs. Instead, there may be gay parties and potlucks. If any are going on during their stay, we enjoy inviting our guests to these events.
What's your impression of gay guests? What do they like to do?
Our gay guests love the nearby clothing-optional, gay-friendly black sand Kehena beach, especially on 'Gay Mondays.' This is the same beach nearby that we got married on. Other than that, they love the same things as everyone else, including hiking, snorkeling or lava viewing!
Our guests seem pretty universally interesting and happy to be in Hawaii. As an off-the-beaten-path location, the area is the antithesis of the overdeveloped, frenetic, touristy Waikiki area. So, it tends to draw people who are looking for a true getaway in what is left of old Hawaii. Our guests seem to be more into nature and hiking than the average Hawaii tourist.
Do you spend time hanging out with your guests?
We make ourselves available to answer questions, provide assistance, and we offer a free tour of the banana farm that the cottage is on. Aside from that, we want guests to feel they have lots of privacy, but we are in the house next door if they need any help or advice about local activities.

Heading to Hawaii? Check out Rob and Bob's listing on misterb&b.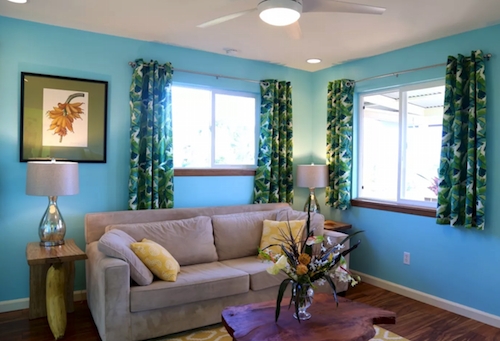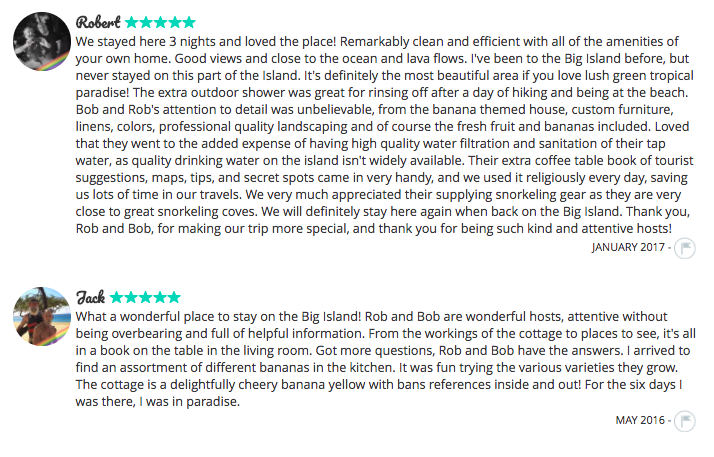 STAY SOCIAL!
We love seeing what you get up to on your misterb&b vacation. Don't forget to add us on Instagram, Facebook and Twitter. Follow us for exclusive content, special offers and to share pictures of your travels using the hashtag #staylikeagaylocal. We'll share the best with our global LGBT travel community!