Imagine a subtropical island paradise in the continental United States, with an atmosphere that is equal parts exotic, eccentric and enticing. A destination where rainbow flags fly proudly at homes and over businesses. A place where wildly colourful and fragrant flowers — royal poinciana, hibiscus and bougainvillea — frame historic homes that once sheltered gay and lesbian literary legends including Tennessee Williams, Elizabeth Bishop and James Merrill.
Imagine a Florida Keys island where year-round temperatures average 25°C. A destination where more than 225,000 self-identified lesbian, gay, bisexual and transgender travelers visit each year. The place is Key West, at the tip of the Florida Keys coral archipelago, 159 miles southwest of Miami. Two turquoise-hued bodies of water – the Atlantic Ocean and the Gulf of Mexico – surround this scenic 2-by-4-mile island.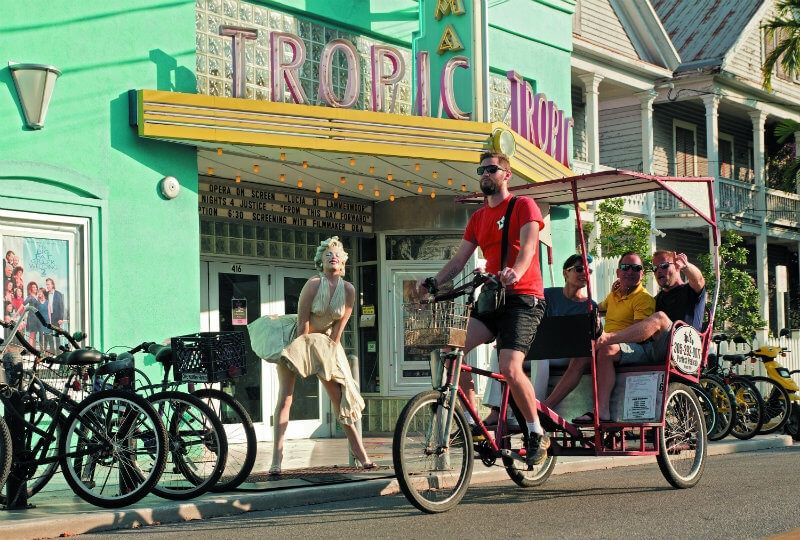 Key West Tropic Cinema
Key West's accommodations are appealing and diverse, with choices ranging from luxury hotels to historic inns and quaint bed-and-breakfasts that are either LGBT-oriented or all-welcome. With small-town friendliness that embraces all, Key West is widely acclaimed as an international destination.
First settled in the early 1800s, the island was a renegade seaport, home to Caribbean pirates and Prohibition-era rumrunners. Authors Tennessee Williams and Ernest Hemingway, perhaps the town's most famous residents, arrived in the 1930s and '40s, and helped establish the rich cultural community that still draws writers and artists today.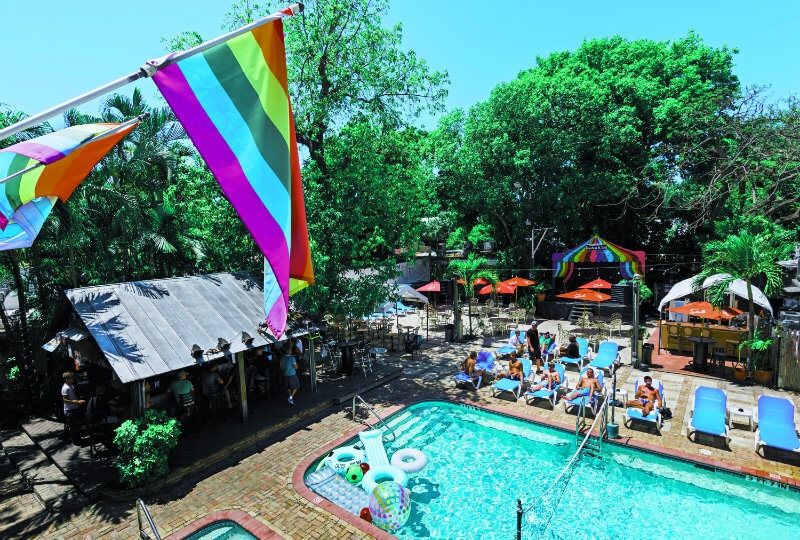 Key West Guesthouse
Famed for a live-and-let-live atmosphere, Key West is consistently ranked as a top LGBTQ resort destination. Many visitors who self-identify as LGBTQ say they feel more at ease on the inviting island than anywhere else in the world. Even the city's political arena reflects this easy-going, free-spirited attitude. Key West was the first city in the United States to elect an openly gay mayor, and the rainbow flag stands beside the American flag in city commission chambers.
The official Key West city motto, 'One Human Family', proclaims equality and acceptance for all people and is recognised throughout the world. Monroe County, encompassing the entire Florida Keys island chain, also adopted 'One Human Family' as its official unifying motto. Today, Key West has a gay police chief and many other gay or lesbian elected and appointed officials. 'One Human Family' bumper stickers can be seen on public vehicles such as police cars, ambulances and fire trucks.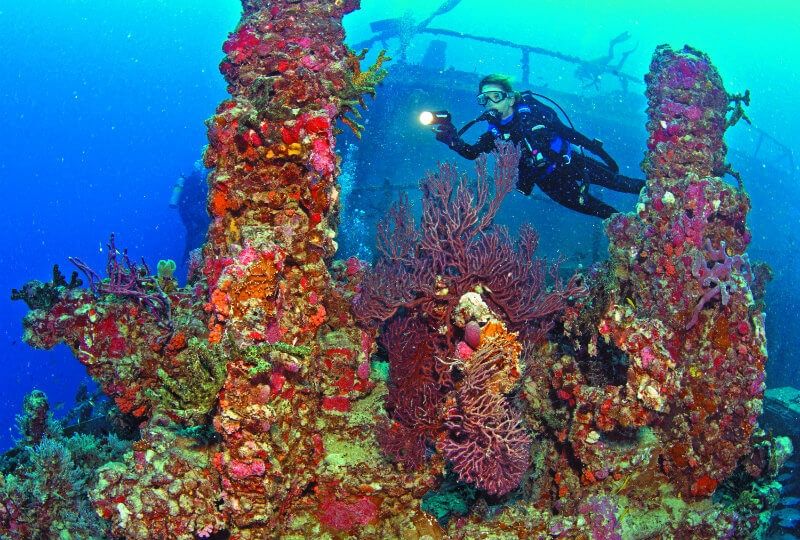 Spiegel Grove
Key West's architectural heritage is as enticing as the island's natural beauty. Lovingly restored Victorian frame houses with wraparound verandas are often flanked by charming cottages. The island's historic district, with more than 3,000 wooden structures, is considered the largest predominantly wooden designated historic quarter in the United States.
Famed Duval Street, Key West's main thoroughfare, stretches from the Atlantic to the gulf and features thriving art and photography galleries, tropical boutiques, shops and restaurants. LGBTQ nightlife centres around Duval's 'Pink Triangle' district with lively bars, drag shows and entertainment. Rainbow flag creator Gilbert Baker's famed 1.25-mile-long Key West flag made history on Duval Street as the world's longest symbol of gay pride in 2003. More than 2,000 people joined to unfurl the flag when it debuted at that year's Pride celebration.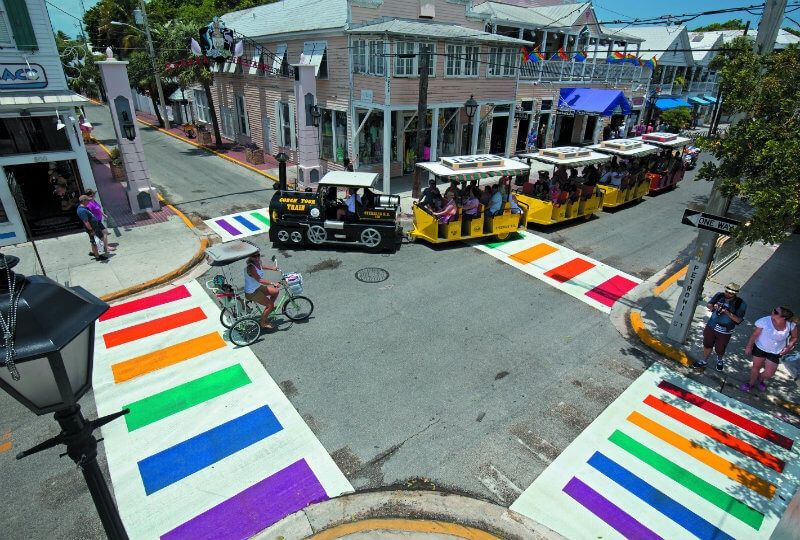 Rainbow Crossing, Key West: Rob O'Neil
Key West is also home to a city-sponsored AIDS Memorial, where visitors can gather for reflection near the White Street Pier beside the Atlantic Ocean. Other scenic outdoor reflection spots include Fort Zachary Taylor Historic State Park and the Key West Garden Club's headquarters at West Martello Tower, listed on the National Register of Historic Places.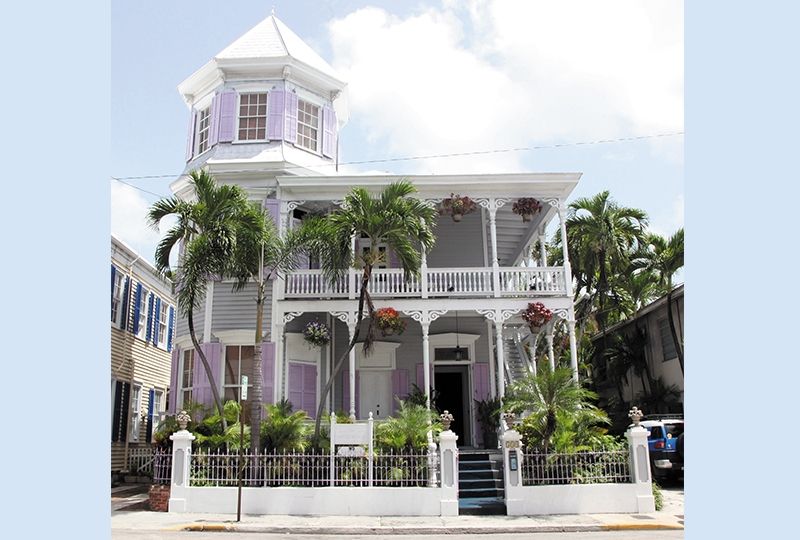 Key West Villa: Carol Tedesco
Along the harbour front, a nightly Sunset Celebration at Mallory Square draws visitors and residents of all ages to applaud colorful street performers and browse local artisans' goods while watching the sun sink below a watery horizon. Many hope to glimpse the green flash, a phenomenon in which part of the sun suddenly and briefly changes colour. As appealing as the island itself are the waters that surround it. Just seven miles offshore lies the continental United States' only living coral barrier reef, offering unparalleled diving and snorkelling opportunities.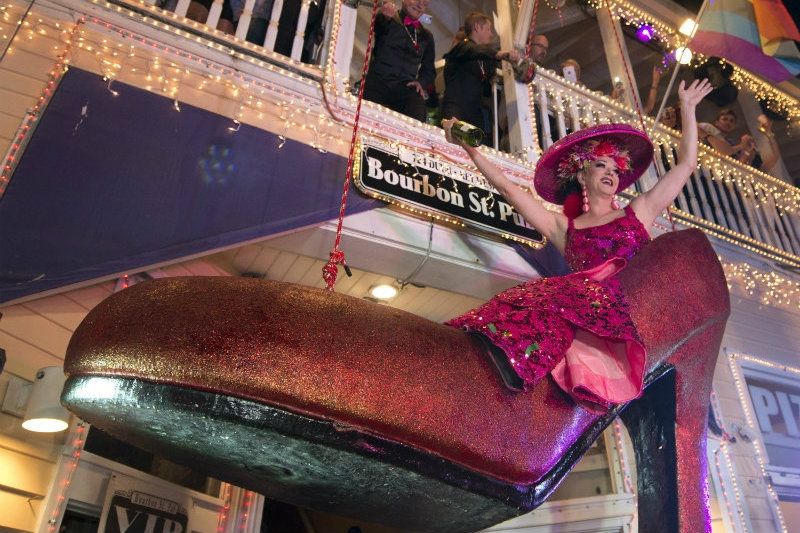 Famous Key West Drag Queen, "Sushi"
For LGBTQ visitors, the relaxing and warmly accepting destination of Key West is a place to be honest and open. It's a place to make new lifelong friends, dress up or dress down, play from dawn to dusk, party into the wee morning hours or simply luxuriate in laziness. In fact, the subtropical island of Key West — easily accessible but exotically alluring — is an LGBTQ holiday destination unlike any other.
For more information on this dreamy destination, take a look here: fla-keys.com/gay + gaykeywestfl.com
Photo accreditation: Andy Newman, Rob O'Neal, Carol Tedesco, Stephen Frink, Florida Keys News Bureau