Manuel and Ivàn consider misterb&b a chance to discover new ways of life. They live in Ibiza and along with their co-host Grey they love to spend time with their misterb&b guests showing them around, going out together and grasping the chance to make new friends. 
What interesting people have you met?
We can say, we have met all kind of people, from couples, singles, from Asia, from Spain, but the best of all is that all of them are different, open minded, always with a smile and respectful. Almost always, they love talking and they are curious about how is life in Spain and in Ibiza. It is amazing to compare different life styles and now we have friends everywhere. The only thing we need is time to visit all of them :-)
Hosting for gay community is an interesting and easy task. They always ask for places that we, as gays, can recommend and they feel like home because it seems we are friends from the beginning. They show interest, and therefore it is very easy for us to help them in every thing that they need.
We had all kind of guests. There are guests looking for relax, impressive beaches, and stunning sunsets. There are also guests that are looking for a good party. But they know how to enjoy, to be happy and they always wake up and go to bed with a smile. Gay guests are like friends living in our house.
What is the best conversation you had with a guest?
It is impossible to say which was the best conversation, but for sure, it is when we share information about our countries. We remember our conversation about Canada with Tony, about New York with Kent (our first guest), about Florida with Adam and his husband, etc. At the beginning we all are nervous, but after some minutes, it seems we have known us for ages.
We have learnt a lot since hosting: to listen to every single guest, because each one has different interests; some are looking for relax, others for party, others time to share with us drinking a beer while watching the sunset. It is also important to give them freedom to discover the island, and keep in touch to advise them what to do. But we also learn a lot from them , when they arrive home and explain us all the adventures and stories they have lived. It is a mutal feedback and that makes long conversations with them.
Do you spend time hanging out with your guests?
Yes, we love spending time with them. It could be lunch/dinner time, or drinking a beer outside, or going party together. We remember drinking a beer with Tony and his Canadian friends, and then going all together to Amnesia to enjoy the Foam Party. It was a great night. This year, Tony will come back to our place and this is the best gift that we can have.
What is your best memory with your guest?
The best memory, which is common among all our guests, is how our dog Grey have fun with them, and them with Grey. When our guests open the door, they will always find Grey, smiling and saying hello. It doesn't matter how tired our guests are, they always have time to play with him and show their best smile. 

Heading to Ibiza? Check out Manuel and Ivàn's listing on misterb&b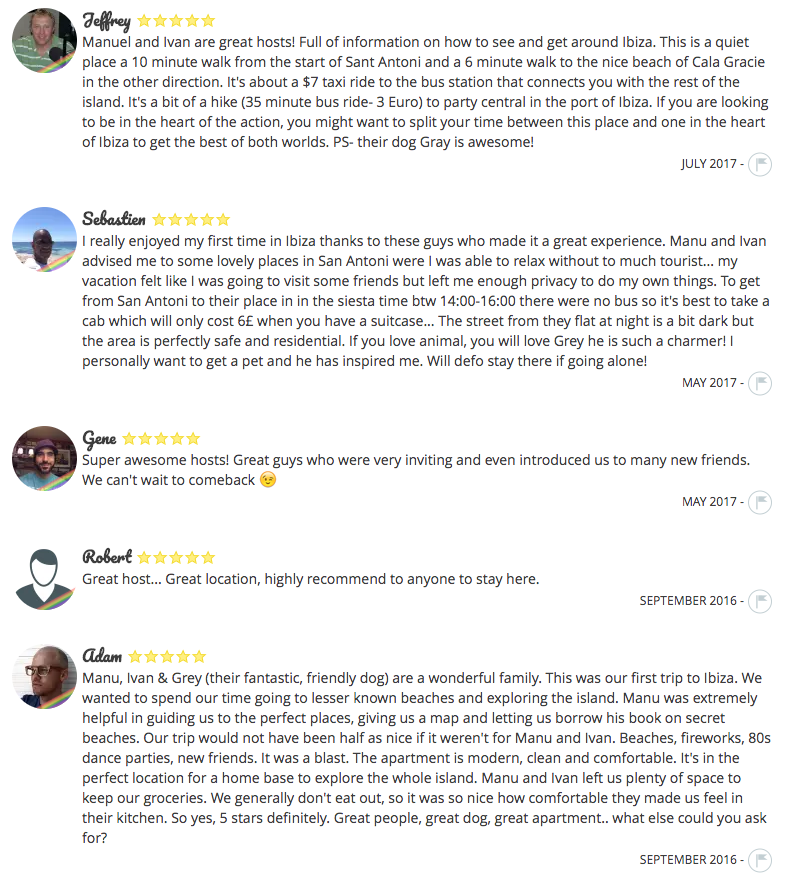 SHARE YOUR STORY! 
We are eager to hear your adventure on misterb&b!  Share your travel/host story with us! Tell the world how to have fun in every corner of Earth! Shoot an email to support@misterbandb.com