When it comes to the gay scene in the UK, Manchester is the slightly edgier stepbrother to London. He is a little grittier, a little colder, but always guarantees a good time on the town. Welcome to gay Manchester. This former industrial town is arguably the UK's gay city of the north, and for decades has been home to everything from seediness and decay, to glittering drag and colourful pride celebrations. Here we give you a comprehensive guide to gay Manchester, looking at the city's best hidden, and not so hidden, gems for your next gaycation to the UK.
Gay Village Manchester
The gay village of Manchester centers around iconic Canal Street, which as the name suggests, is a pedestrian thoroughfare that runs along the Rochdale Canal for three blocks. Canal Street is to Manchester what Soho is to London, a hub gay life brimming with exciting gay bars and clubs open until the wee hours of the morning. If you are a first-time visitor to Manchester, Canal Street is definitely a good place to start. While there is considerable life on and around the street most nights of the week, you can expect an electric energy over the weekend as well as on Thursday nights.
Gay Bars and Clubs Manchester
As a city as open and diverse as Manchester, it comes as no surprise that its gay bar and club scene caters to a range of different tastes. One of the most popular gay clubs in the city is G-A-Y Manchester, which guarantees a fun night of live shows, top hits, and a jam-packed dance floor to get loose on. Located in the heart of Gay Village Manchester, this is the perfect place to conclude your evening after a crawl through the district's bars and restaurants.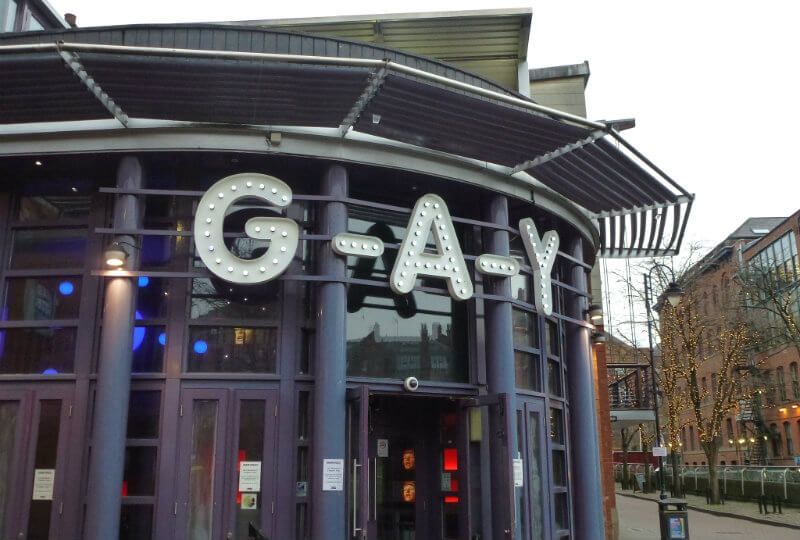 ©Flickr/Mikey
Alternatively, venture to popular Cruz 101, which is just a hop, skip, and a jump away on Princess Street. This is one of the longest-running gay clubs in Manchester, and is host to various theme nights throughout the week. Tuesday welcomes the city's indie crowd with its 'poptastic' night, while Saturday is Aftershock - a night of fully-charged techno music and a crowd of party revelers. If you're the type of person who never wants to go home, stop by after-hours club, Void. This place is open until 10am on weekends, and promises plenty of early morning fun.
If you're looking for an uber-cool gay bar in Manchester to christen your first evening out on the town, you can't go past a cocktail - or two - at hip TriBeCa Club. Housed in a loft, this place is reminiscent of a New York lounge bar, and is located just a few blocks from Canal Street. Enjoy a creative cocktail menu, along with plush comfy lounges and some chill-out jazz music to set the tone. This is the perfect spot for a first date, or a relaxed catch-up with friends.
Gay Restaurants Manchester
While we could name plenty of gay nocturnal venues, Manchester also offers various LGBTQ-friendly daytime locales, including the quaint Richmond Tea Rooms. Tumble down the rabbit hole into a wonderland of tea, cakes, scones, and appreciate a truly refined setting here. Think chandeliers alongside colorful, gothic designs that reflect a Mad Hatter's tea party. This is the ideal place to catch up on a little TLC before venturing out again in the evening.
If you don't care to stumble into Alice's Wonderland this time around, the iconic Bandit, Mugger, and Thief will certainly please. This popular bar-come-cafe is considered by many to be the heart of Canal Street, and offers an informal dining and drinking atmosphere all day. Art aficionados will also appreciate this venue as it often hosts book readings and art exhibitions, and if you're lucky, there'll be one during your visit. Velvets is also a popular basement restaurant on Canal Street, which offers a lunch and dinner menu of British favorites along with more continental fare.
Gay Cruising and Gay Sauna Manchester
Ready to turn the heat up for your next gaycation to Manchester? With the city's regularly chilly temperatures, a visit to one of Manchester's gay saunas can be a nice way to warm up - and have some fun! Base Sauna, formerly H20, is one of the most popular gay saunas in Manchester, and offers a Finnish sauna, steam room, Jacuzzi, and video room. It is located on Canal Street, and is open 24 hours over the weekend, so you can stop by either before or after your dance session at one of the local clubs - or both!
Alternatively, gay cruising bars in Manchester are also a thing, and you're most likely to find this scene at Alert. This is a popular club that offers that little touch of sleaze, along with a crowd of skinheads and fetish-goers. Alert features a dance floor, top hits, a dark-room, and some adults-only cruising. Another popular place for gay cruising in Manchester is Eagle Club. While Eagle Club is not technically a cruising bar, it tends to attract a crowd which comes for this specifically - we'll let you find out for yourself.
Gay Pride Manchester
Pride is always a momentous occasion in the year for the LGBTQ community + allies, and Gay Pride Manchester certainly packs a punch as far as festivities go. Gay Pride Manchester is one of the biggest pride celebrations in the world, and it takes place each year towards the end of August. It includes a 10-day line-up of parties, cultural events, and all round celebrations throughout the city - so be sure to come with plenty of stamina!
As per usual, you can expect a vibrant pride parade which travels through the city center, along with The Big Weekend, which offers a host of festivities in the Gay Village. Throughout the city, you will most likely encounter rainbow mosaics on different pavements. These form the 'out in the past' trail, which highlights LGBT heritage sites throughout Manchester. Well worth keeping an eye out for these!
Gay Accommodation Manchester
In terms of gay accommodation in Manchester, there are plenty of misterb&b hosts who are more than ready to welcome you for your next stay. Check here for available listings, and find your ideal apartment for the perfect gaycation to this dynamic city.
Cover Photo: Manchester Pride