New Orleans' iconic annual festival, Southern Decadence, has already kicked off for the year, and we hope you're out dancing on those streets of New Orleans. 2019 marks the 48th edition of the hugely popular gay festival, and this year is set to be as big as ever with a host of DJs and LGBTQ-related festivities illuminating the city streets. The theme of this year's festival is "Fruit Salad - Come Toss a Good Time," with pinstripes and polka dots.
As per tradition, the festival will take place over the weekend leading up to the country's Labor Day, commencing August 29 and concluding September 2. For five days, the streets of New Orleans gayborhood, the French Quarter, will come alive with big-name DJs and party revelers ready to celebrate their pride. Nightly Circuit parties will also take place, along with plenty of entertainment options in local bars, including the iconic Bourbon Street Pub.
All the celebrations will culminate to the key event of the festival, the parade, which will take place on Sunday at 2pm. The parade will begin at the intersection of Barracks and Decatur Streets, and will wind its way through the French Quarter. The lively parade will conclude at the crossroads of Bourbon and St. Anne Streets, where there will be many bars to continue the party in after.
What once started as a humble going away party amongst a group of friends in 1972 quickly evolved into a very popular annual festival that continued to draw an LGBTQ crowd over the years. Southern Decadence is now one of the largest festivals in the gay annual calendar, and is New Orleans' fifth largest celebration following Mardi Gras, Jazz Fest, Essence Festival, and French Quarter Festival. Southern Decadence has become so woven into the city's fabric that it is often affectionately referred to as Gay Mardi Gras.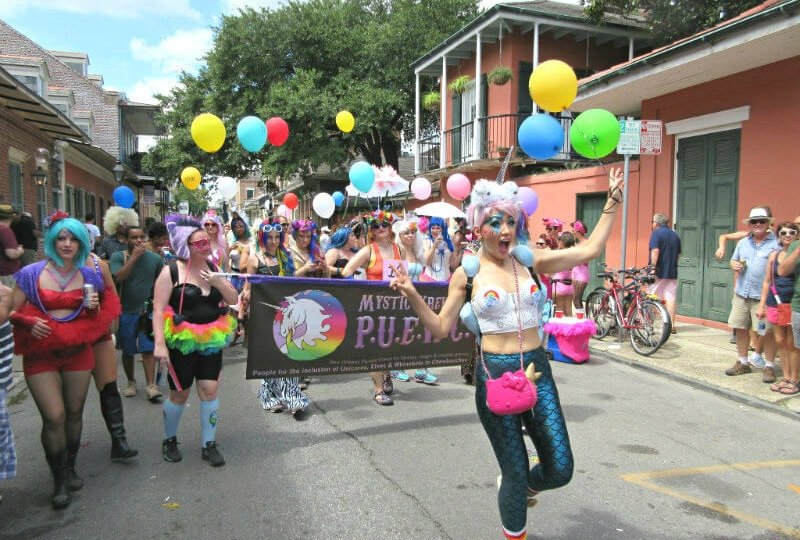 ©Flickr/Infrogmation of New Orelans Photostream
Each year the Southern Decadence now attracts over 250,000 participants, predominantly gay and lesbian, and generates over $275 million in tourist revenue. So what are you waiting for? Grab your best pair of dancing shoes, head to New Orleans for this fabulous gay festival, and unleash your beast! For accommodation, there is no shortage of misterb&b listings, with plenty of hosts more than ready to welcome you.
Cover Photo: Flickr/Infrogmation of New Orleans Photostream
Share your passion with the world!
We believe exploring the world is all about making personal connections and that authentic experiences help connect more deeply with local cultures and people. Hence the misterb&b experiences: share your special talent or passion with LGBTQ travelers and earn money from it! Whether it's a tour, dinners, massages, coaching or some other service, create and list your experience: it's 100% free, no fees, no commission!