For the sixth consecutive year «Les Boules Roses » make their big return in the gay village of Montreal. Every summer since 2011, this installation of architect Claude Cormier is displayed at the same time of « Aires Libres » art manifestation. The 170,000 pink balls suspended on several wires (one kilometer long in total !) over the main street of the Village, Sainte Catherine Est Street, will be displayed until September 26.
The organization of the Village's retailers (Société de Développement Commercial du Village) is at the origin of this project, intended to highligh Montreal's gay district. They asked to Claude Cormier to create something that would not hinder the life of the Village. He decided to display these pink balls over people's heads so that they would not bother the police services and emergencies and to stay true to the neighborhoods. For that installation, 170,000 pink resin balls with 3 different sizes were used. Every summer, they transform the Village's main street into a pedestrian heaven.
It took originally 6 to 8 months to obtain the city's approval before the « Boules Roses » were born in 2011. But since then, visitors rush each year to photograph and visit the place. These balls are displayed along Sainte Catherine Est Street every summer now to the great pleasure of the tourists , making the gay Village easily recognizable. With the outdoor art manifestation « Aires Libres », visitors risk have even more reasons to love the Village and its 60 restaurants and terraces, 20 gay bars as well as numerous gay and gay-friendly businesses.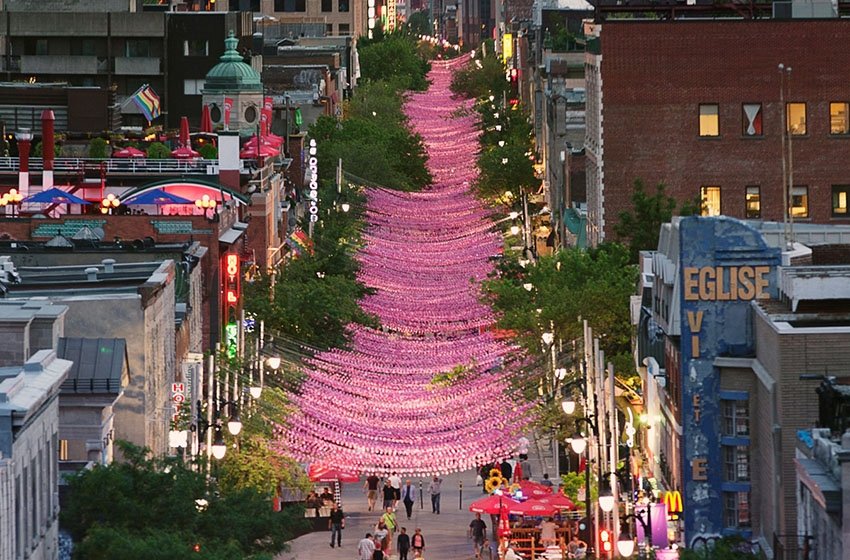 © Claude Cormier
In only 5 years, the « Boules Roses » became an internationally recognized symbol of the gay Village of Montréal. These colorful balls bring pride and joy to the gay neighborhood, but also to the city. They brought more reasons to the tourists to visit this cultural and festive district.
If you're planning to visit Montréal this summer, you will enjoy many gay and gay-friendly events : The new musical of Le Cirque Du Soleil, Luzia; the representation of John Greyson's movie « Les Fuluettes » at Montreal's Opera and numerous pop concerts of artists such as Rihanna, Adèle, Céline Dion and many others… But the event not to be missed is the tenth edition of the « Fierté de Montréal » right in the heart of the Village August 8-14. With more than 80 activities and 7 guests from RuPaul's Drag Race, Montreal gay pride has everything to make your trip an unforgettable moment.