Josh is a photographer and host living in Kyoto. He loves to travel; exploring places and cultures. His camera lenses are his eyes, but his experience on misterb&b have helped him to gain an even wider perspective on life. Check out his story and explore the beauty of Kyoto through this host's gaze...
The best thing about hosting on misterb&b has been meeting all the amazing guys from across the world. Whether from Spain, Italy, the USA, South Africa or other parts of Asia, it's a thrill learning how life can be so different, from the daily routines to cultural customs. Learning those differences, getting to know them better and eventually accepting them has really enriched my view to this world, to life.

For example, I met a couple from Spain, making profit from selling fresh fruit ice cream. They worked only during summer then took the rest of the year off backpacking around the world. There was a sweet man from San Francisco traveling with his girl bestie, a life-long companion whose love went beyond friend and lover. And two gorgeous men from France, who turned out to be my friend's Facebook friend! I can go on and on, each of them in their own unique way.
What's it like hosting for gay community? 
I guess you can say, exciting! I'm not sure about others, but in a way, meeting different guys and having them spend a night over isn't what most gay guys wished for? Don't get my wrong, I mean it in a good way!

In general, from my experiences, gay guests were more active and outgoing. Seldom did I host a gay guest that spent more time in their room than around the dinner table for drinks and chat.    
What's the best conversation you've had with a guest?
Gosh, there have been so many! I guess the most amazing conversation I've had was with a novelist, who came to Japan in search of her grandma's childhood memories. Not only the story itself was beautiful, but the words she used to describe those moments and emotion simply just made tears well up in my eyes.

Half of the guys I've hosted have also had hosting experiences of their own. Exchanging these experiences over beer was fun and helpful. 
Do you spend time hanging out with your guests?
I do, and it's super fun. Because I'm a freelance photographer, my time is quite flexible. I love taking guys out to explore the city when possible.

Heading to Kyoto? Check out Josh's listing on misterb&b: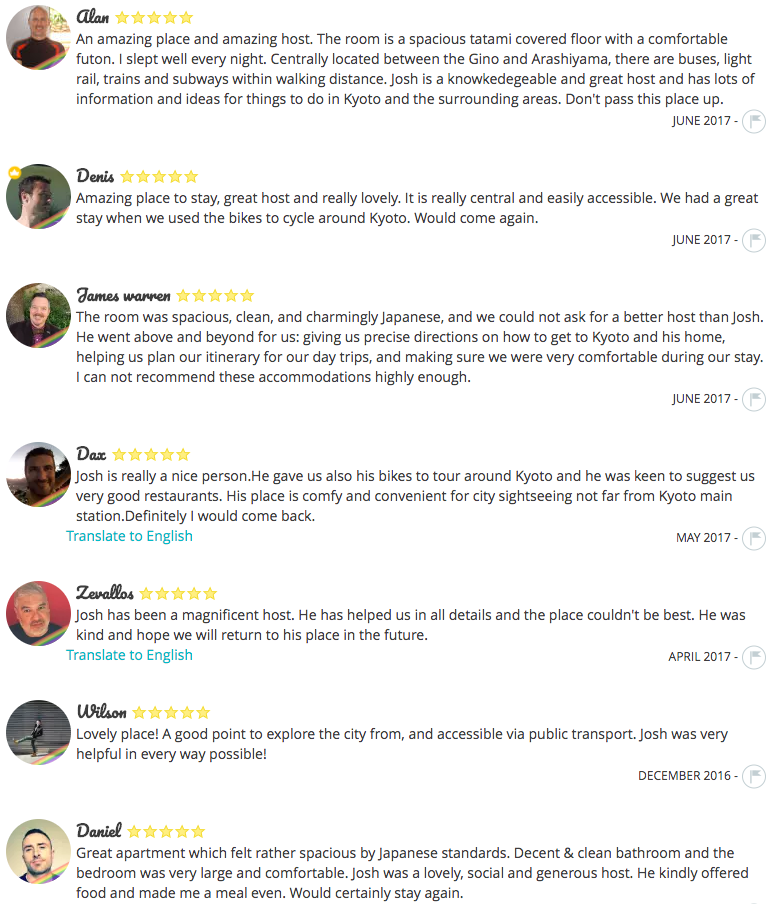 Stay social and share your story!

We love seeing what you get up to on your misterb&b vacation. Don't forget to add us on Instagram, Facebook and Twitter. Follow us for exclusive content, special offers and to share pictures of your travels using the hashtag #staylikeagaylocal. We'll share the best with our global LGBT travel community!