Only 30 minutes away from Barcelona, Sitges is an old angler town which became through the years the most famous gay seaside resort in Spain. This Spanish « Saint-Tropez » is home to a gay community perfectly integrated in the local population. A gay european capital, Sitges is a perfect destination for those, Spanish or gay travelers, who like the beach and partys.
During summertime, the population of 25,000 inhabitants is multiplied by four. A cosmopolitan city, Sitges is known for its history but mainly for its open-minded population. More than everywhere else in Spain reigns racial religious and sexual acceptation. There's no place here for discrimination.
Here are 10 reasons that make Sitges a perfect summer gay destination:
1. The history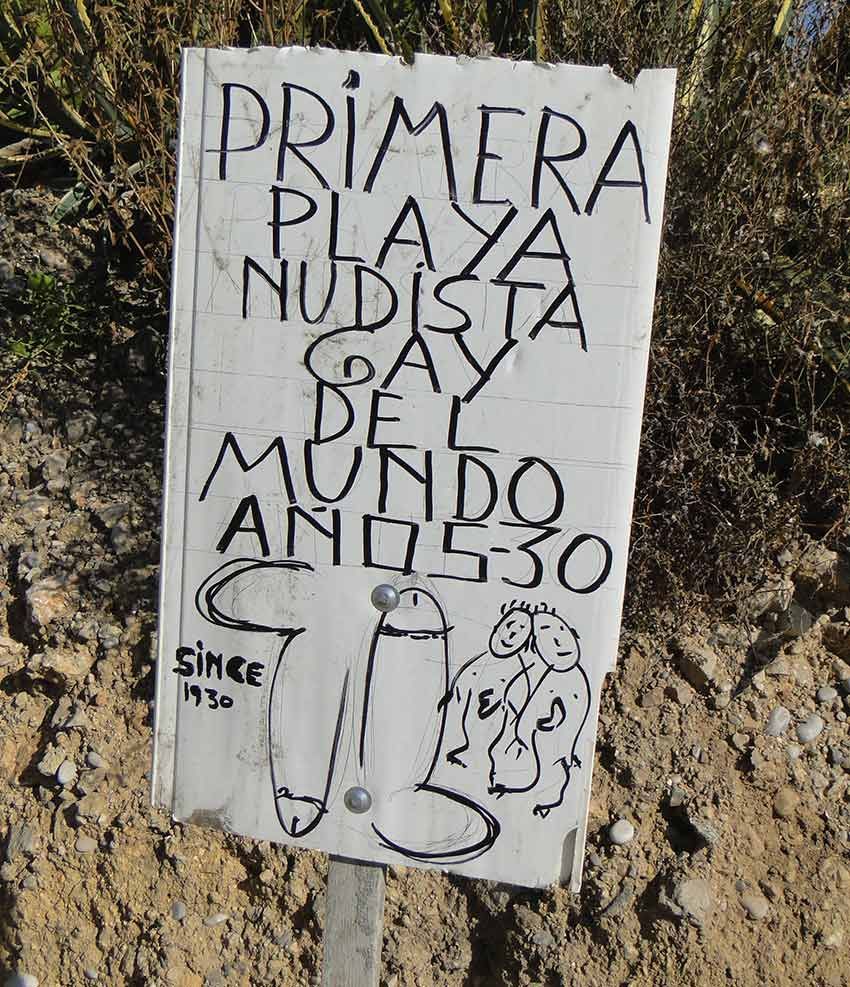 © mister10
In the early 1960's, with the opening of Spain to the tourism and the development of a gay hippy community, Sitges opened to Europe as an idyllic summer destination. But before that, Sitges had already started to attract the gay community: in 1930, Playa del Hombre Muerto became the first gay naturist beach in the world.
2. The local food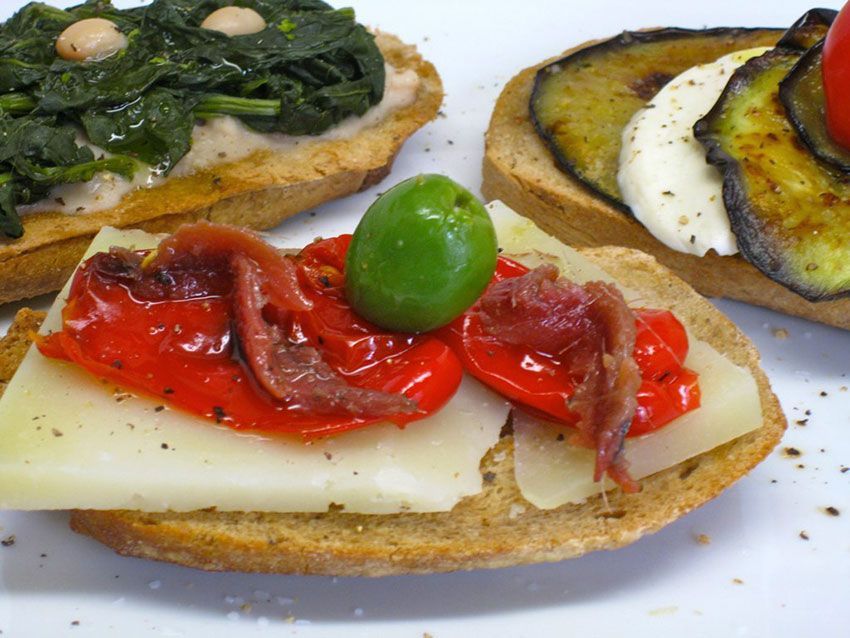 © Joan Nova - Flickr
Sitges is in Spain and Sitges honors an unequalled Spanish tradition: the tapa, the mouthful aperitif served with a drink in most of the bars and restaurants in the country. Tapas bars are plenty in Sitges and during your vacation, you should really try the local food and the local wines!
3. The gay life
Gay community is very present and visible in this seaside resort. Gay culture is part of the city's heritage and history. All year round, Sitges welcomes gay events such as Delice Dream (May), the gay pride (June) or the Bears Week (September) who gathers more than 5,000 bears and amateurs each year.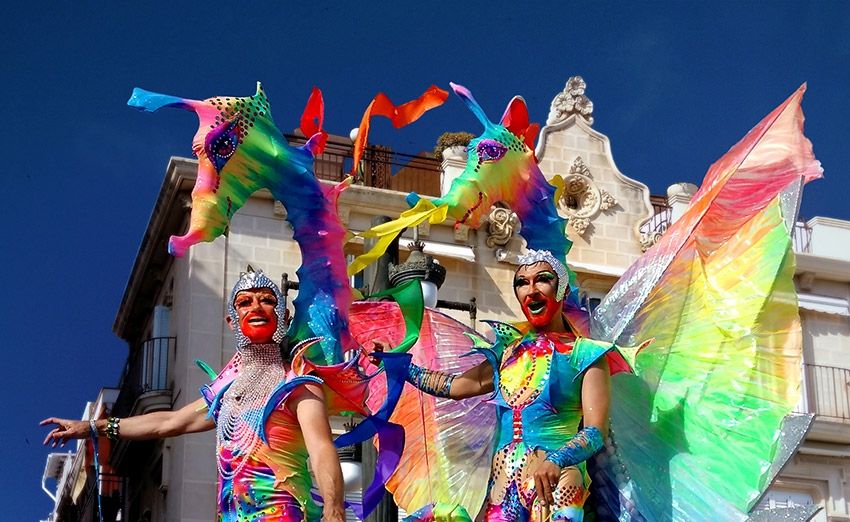 © Ybridex AngeloDemon - Flickr
4. The gay night

© Parrots Pub - Facebook
As a lively city Sitges has about twenty gay clubs and gay bars who create a great gay scene day and night. The Parrot's Pub located downtown, with its big terrace open 7 days a week is the symbol of this vibrant gay life. Maybe you will prefer the atmosphere of the Bourbon's ? In Sitges, there is a gay place for every taste.
5. The gay beaches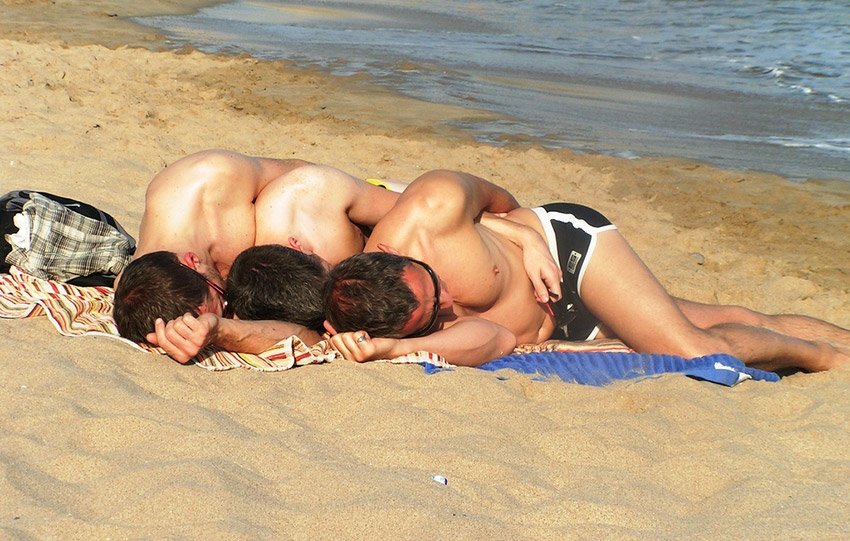 © Aidan McMichael - Flickr
Sitges has no less than 3 gay beaches where you can relax, sunbathe or swim with or without a swimsuit. The Playa De La Bassa Rodona is a gay beach located in the center of Sitges and is often very crowded, especially in summer. In the north of Sitges, just after the church, Playa De La Balmins is a nudist beach which welcomes everyone, gay or straight. In the south of Sitges, Playa Del Hombre Muerto is a gay beach that is hard to access, but which will please all gay nudists.
6. A wide choice of accommodations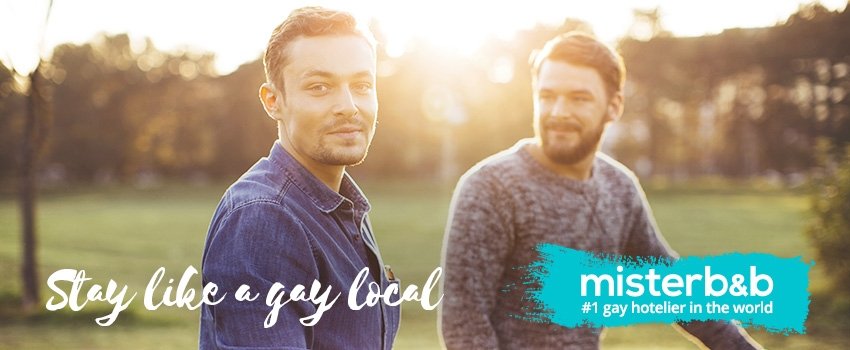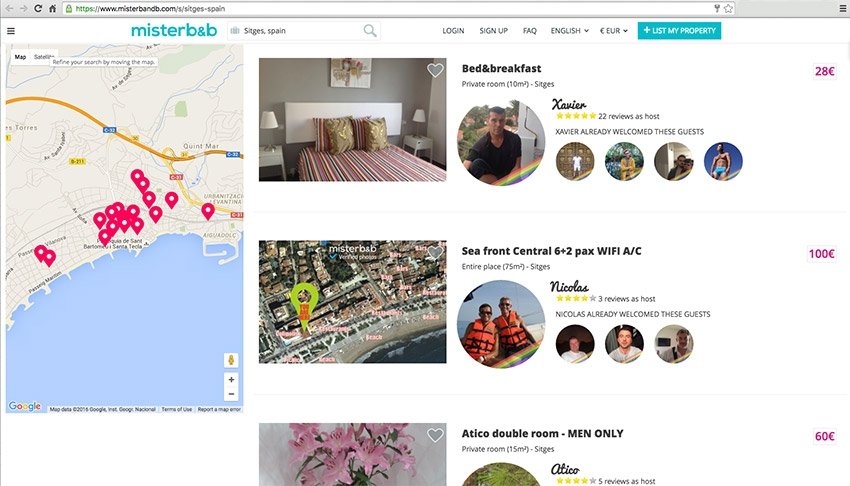 Sitges is a gay European destination you should really visit some time soon! If you're looking for accommodation, you should consider misterb&b with almost 500 hosts waiting for you in their apartments in downtown or close to the beach.
7. The Gay Monument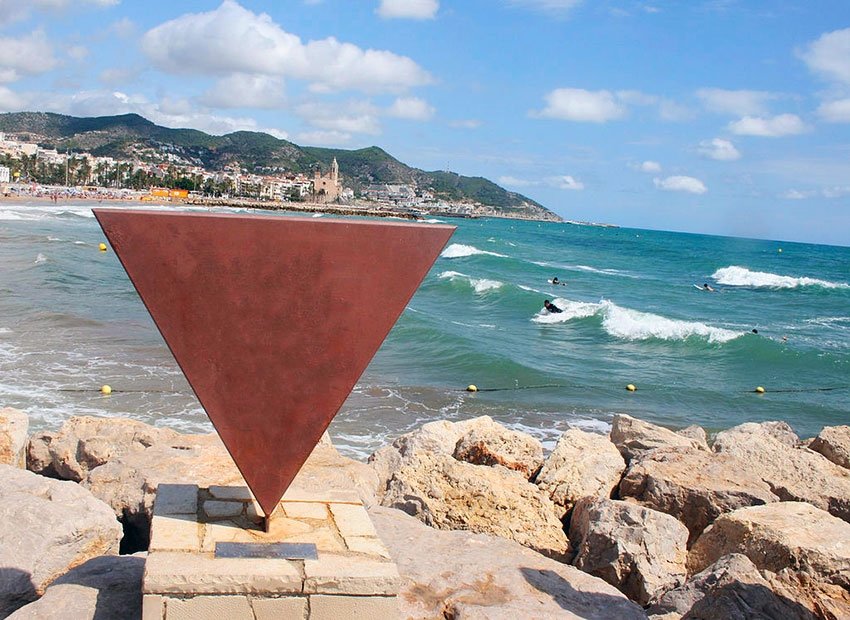 The gay monument © Wikipédia
Since 2006, Sitges has a monument against homophobia. This invertedpink triangle facing the sea commemorates a 1996 demonstration to protest against a controversial decision of the local municipality to track the presence of gays at night on Sitges beaches and also against a violent homophobic assault by a group of neonazis. The monument carries this inscription « Sitges against Homophobia. October 1996-2006. Never again ».
8. The microclimate

© escollection.es
This seaside city with a perfect Mediterranean climate benefits from a microclimate all year round. With sweet temperatures all year long, Sitges has fresh winters (never cold) and hot summers. During summer, the temperature of the water hits 24°C.
9. Sitges's Charm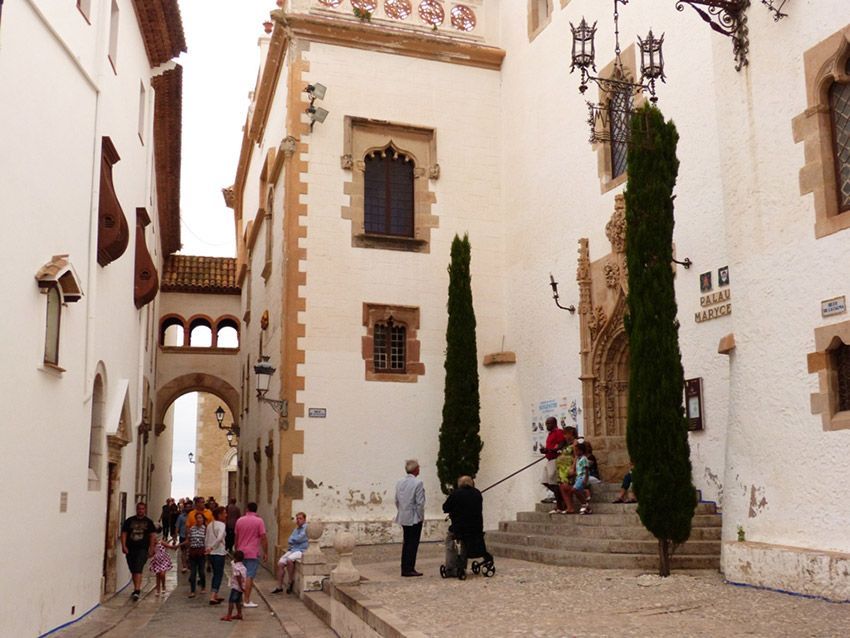 Palau de Maricel © Joan Grífols - Flickr
How not to fall under the spell of Sitges ? The old center and its narrow streets make all the charm of the city. The religious constructions as the churches of San Bartomeu and Santa Tecla add more character to the landscape. Take time to stroll and to visit Cau Ferrat Museum, with its collections of ceramics and wrought iron or the magnificent Museu de Maricel on the seafront. After all, there's more than just the beach, right?!
10. The saunas and cruising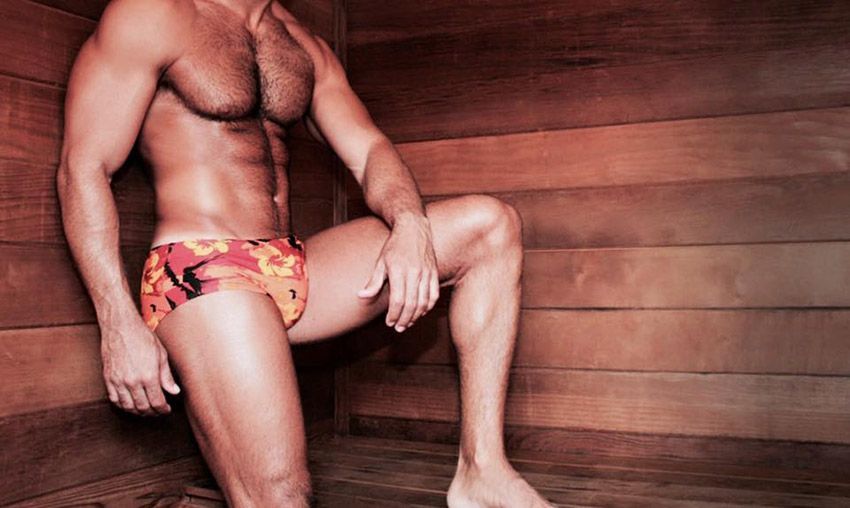 © Sitges Sauna - Facebook
Sitges has two great gay saunas where you can relax and have a good time. Whether it's Sitges Sauna or Parrot's Sauna, both possess swimming pools, jacuzzis, hammam and private cabins to have some good times. For cruising, Sitges offers numerous very hot places such as the Bunker, Bukkake, Zona X, XXL, the Dark Bar and the Bear's Bar. Last, for the outdoor crusing, you might want to visit some beaches especially Estanyol beach at nightfall.