When it comes to choosing the perfect LGBTQ-friendly accommodation while traveling, what hits your spot? Does the idea of staying with a local misterb&b host and making new friends abroad tick all the boxes, or do you prefer the idea of lounging the afternoon away in your very own apartment downtown? Or how about the idea of staying in a unique LGBTQ-friendly hotel? After all, if you want to show off to your Instagram followers back home, staying somewhere that "thinks outside the box" is surely going to get those likes up. Plus, if you haven't been able to travel for a while, and are planning to go big on your next holiday thanks to the latest travel ban lifts, a stay in one of these unique, wow-factor hotels is certain to do the trick. Here's a round-up of our faves! 
STF Långholmen Hostel - Stockholm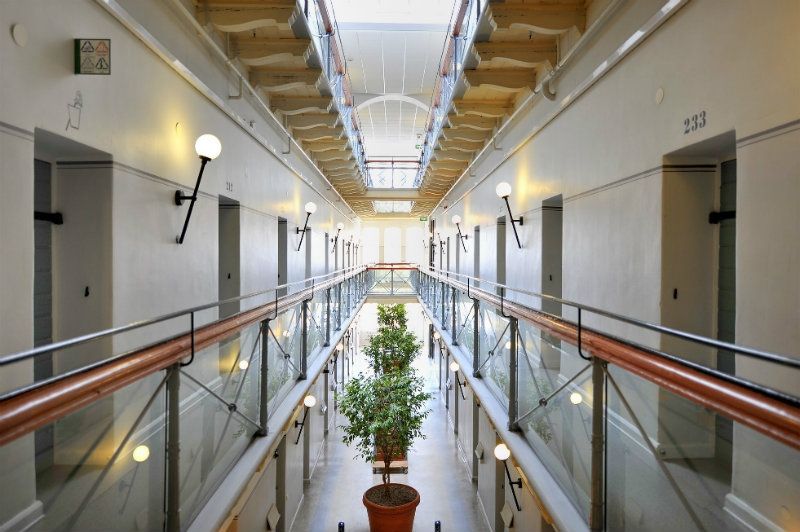 ©Facebook/Långholmen Hotell & Restaurang
Ever thought about spending the night in jail? In Stockholm you can do just that at the STF Långholmen Hostel. That said, we're referring to a free jail, equipped with dreamy beds, showers, and all the amenities you could ask for for an enjoyable stay. Housed in a refurbished 1800s prison building, STF Långholmen Hostel is located on the central Stockholm island of Långholmen. Different 'cell' types are available, with some equipped with private bathrooms. Visit in the warmer months, and you can also enjoy the picturesque garden, which is the perfect spot to mingle with other guests.     
Marqués de Riscal, a Luxury Collection - Álava, Spain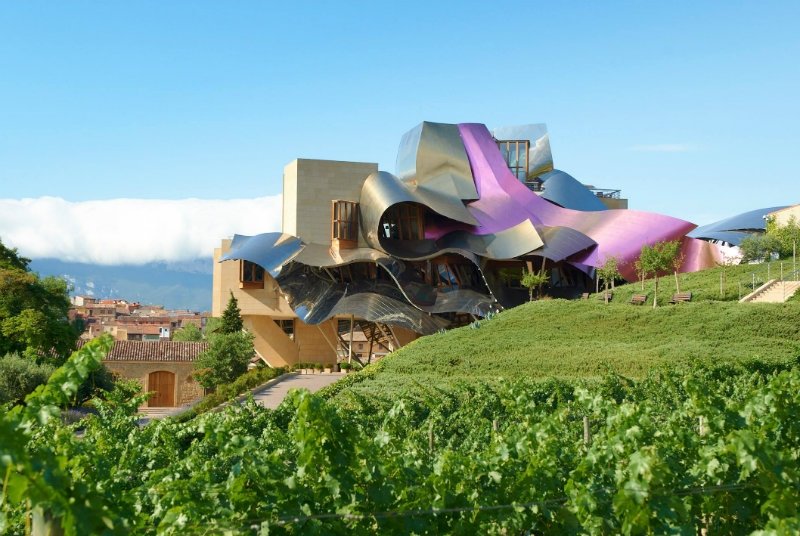 ©Facebook/Hotel Marqués de Riscal
Bold, unique, and ashamedly famous, Spain's Marqués de Riscal Hotel is what unique LGBTQ-friendly accommodation is all about. Lauded by many as an architectural masterpiece, this avant-garde hotel was designed by Frank Gehry, and combines design, art, gastronomy, wine and an incredible landscape to create a truly memorable experience. Beyond the unique exterior, rooms offer sweeping landscape views and black marble bathrooms, while the in-house restaurant serves local Spanish fare. Those looking to find their inner Zen should make a beeline for the indoor pool, Finnish sauna, and hammam.
Hotel Gaythering - Miami Beach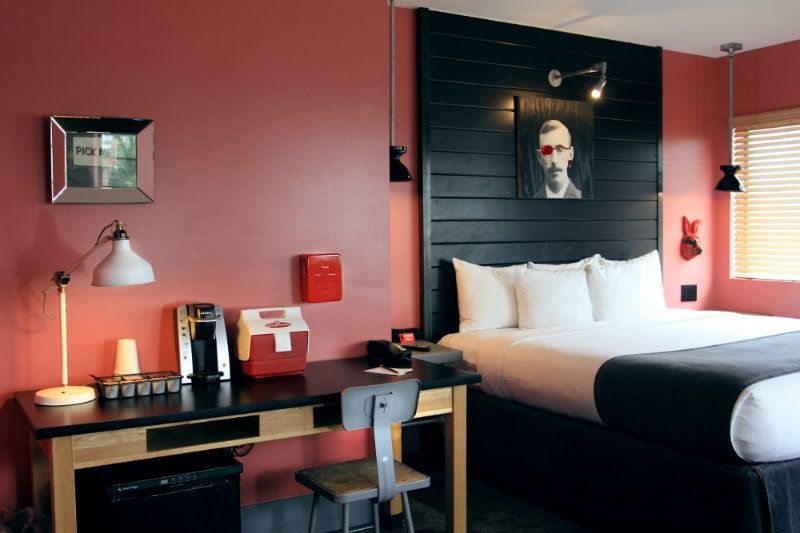 Things don't get much more unique than the iconic Hotel Gaythering in Miami Beach. This exclusively gay hotel is housed in a typical MiMo-style building, circa 1958, and offers the choice between shared or private rooms. But the uniqueness doesn't stop here. Once inside your room, enjoy a bold color scheme of black, red and charcoal, along with quirky decorative items such as chess boards, rabbit masks, and exotic plants. After unpacking, head downstairs to the hotel's in-house bar, and enjoy a craft beer on tap. Stop by at the right time, and you may also experience one of the regular drag and trivia nights. We told you this place was unique!
Grand Hotel Central - Barcelona
LGBTQ travelers flock to Barcelona any time of year thanks to its incredible gay life, golden beaches, and delectable local cuisine. But Catalan's capital also has its fair share of LGBTQ-friendly hotels, and in terms of something unique, we have to give it to Grand Hotel Central. What sets Grand Central apart from other hotels in the city is its incredible infinity pool located on the rooftop. Enjoy a cocktail on one of the sun lounges, then take a dip in the pool and appreciate sweeping skyline views of Barcelona. Housed in an elegant building dating back to 1926, Grand Central also offers guests a period-style experience, with rooms and common areas all reflecting the sort of opulence you can expect from a top LGBTQ-friendly hotel in Barcelona. 
Kakslauttanen Arctic Resort: Igloos and Chalets - Finnish Lapland, Finland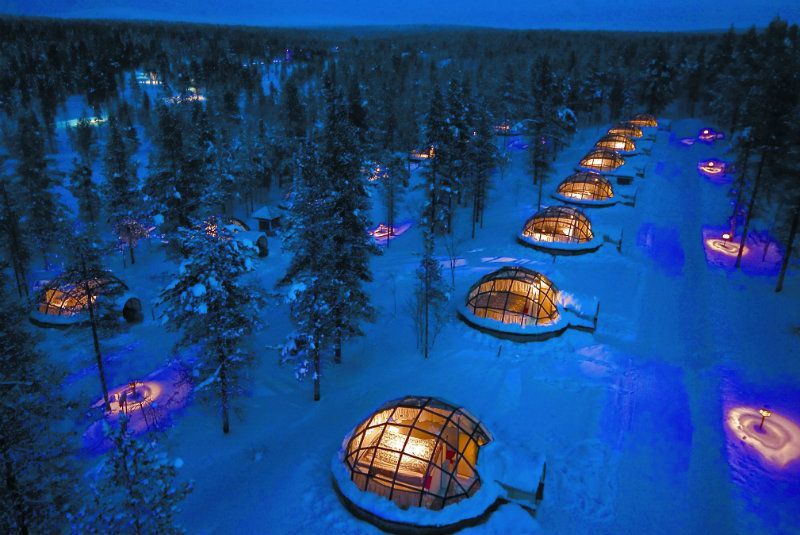 ©Facebook/Kakslauttanen Arctic Resort
Looking for something that gives you chills, in the right way? You need to lock in a stay at the very unique Kakslauttanen Arctic Resort. Located in the Saariselkä Fell region of Finnish Lapland, this LGBTQ-friendly resort offers glass igloos and traditional wood chalets. But let's face it, if you're after that unique aspect, you can't go past the igloos. Complete with a bedroom, glass roof, and luxury bedding, you'll be more than snug in your igloo as you marvel at the views outside. Some igloos even come equipped with private saunas, but should you miss out, there are six communal saunas which each have a relaxation room and fireplace - bliss!   
Treehotel - Harads Forest, Sweden
Want to escape the hustle and bustle of life on the ground, and enjoy the perks of sleeping high up in the treetops? Venture to Sweden, and lock in a stay at the unique Treehotel. Located in the Harads Forest, in Swedish Lapland, the Treehotel blends cutting-edge architecture and design to create a truly individual experience. The tree rooms are suspended 4 to 10 meters above ground, and can be accessed by ramp, bridge, or electric stairs. They also feature underfloor heating to guarantee a toasty stay. Unique, and set within a picturesque location, this is one LGBTQ-friendly hotel you won't forget about anytime soon. 
The Guitar Hotel - Fort Lauderdale
Fort Lauderdale is renowned for being a gay hotspot, and offers loads of 100% gay resorts. If you're less interested in one of these, but still dreaming of a unique accommodation experience, book a stay at The Guitar Hotel at Seminole Hard Rock Hotel & Casino. As the name would suggest, this wow-factor hotel comes in the form of a towering, glass guitar that is surrounded by a lagoon-style pool. While the hotel's exterior arguably steals the show here, you can still enjoy dreamy bedrooms which are fitted with all the necessary mod cons for a perfect stay. Those looking for a relaxing experience should make a beeline for the hotel's hot tub and sauna, where you can float all your worries away. 
AxelHotel - Madrid
Chances are you're familiar with AxelHotel Madrid, but that doesn't mean it's no less unique or fabulous. Referred to as a 'straight-friendly hotel,' AxelHotel Madrid is famed for its impressive rooftop terrace, which is the perfect spot to salute the late afternoon with a cocktail in hand. Perhaps one of the most unique aspects of a stay at AxelMadrid, however, is the 'do disturb' signs, which you can place outside your door come evening, should you wish to invite any fellow guests to your room. In terms of the hotel's 88 rooms, enjoy an avant-garde style that pairs lavish furnishings and bright colors to create a unique guest experience. To ensure the utmost safety for all guests, Axel Hotels has introduced a company wide cleaning and safety protocol concerning Covid-19.     
Hapuku Lodge and Treehouses - Hapuku, New Zealand
New Zealand is revered across the globe for having incredible landscapes, excellent political and social rights, and of course being the backdrop for The Lord Of The Rings movies. To celebrate your experience in the Land of the Long White Cloud, why not check in to the picturesque Hapuku Lodge and Treehouses? Situated between the mountains and the sea, this unique LGBTQ-friendly lodge boasts stunning views of Kaikoura and the Pacific Ocean. But it's not just the views that will leave you drooling here. Rooms are decked out with luxurious features including open fires, freestanding baths, and dreamy pillow top beds to guarantee the perfect slumber. Please note that Hapuku Lodge and Treehouses in undergoing a renovation, and will open its doors to the public October 1, 2020.
Loved this? Check out our round-up of 10 Gorgeous Gay Hotels You Should Have Stayed at by Now. 
Cover image: Hapuku Lodge & Treehouses