These little town blues! New York is such a momentous city that it has been referenced in more than just the odd famous song. From Manhattan to Brooklyn, the Big Apple may initially seem overwhelming, but it won't take long before you're left completely smitten with this concrete jungle. There is never a shortage of things to do in New York, it is the city that never sleeps after all. But so you don't get lost in one too many yellow taxis, we've created a gay bucket list highlighting just what to do in NYC. How many do you think you can tick off for your next gay travel experience here?
1) Fill a picnic hamper with dreamy produce from Whole Foods Market, and head to Central Park for a lunch on the green.
2) Wear your best scarf and stop on the Brooklyn Bridge for a selfie, impressive backdrop guaranteed.
3) Pay tribute to the Stonewall Riots of 1969, with a visit to The Stonewall Inn in Greenwich Village.
4) Dig into an Australian-inspired lunch at the late Heath Ledger's Brooklyn cafe, Five Leaves.
5) Snag a spot on the Staten Island Ferry, and prepare to snap to your heart's content as you pass the impressive Statue of Liberty.
6) Make a trek out to Gunnison Beach, and mingle with fellow gay - and nude - beachgoers.
7) Head to Manhattan's largest gayborhood, Hell's Kitchen, and find your Mr. Big for the night.
8) Venture to Brooklyn's über-cool burrough, Williamsburg, and mingle with the hipster crowd.
9) Dance your night away to pop hits from Cher, Madonna, and Britney at popular Industry Bar.
10) Be a queen for the day and head to Queens' Riis Beach, which attracts a predominantly gay crowd.
11) Sign up for the NYC TV & Movie Tour Experience, and walk through the set of iconic TV shows such as Gossip Girl and Sex and the City - Cosmopolitan anyone?
12) Spend an afternoon shopping at legendary Macy's - the largest store in the world with an area of more than two-million square feet.
13) Indulge in a fancy cocktail at popular Chelsea locale, Barracuda, and appreciate a drag show or two. NYC is home to four winners of RuPaul's drag race after all!
14) Get cultured for the day, and spend a couple of hours perusing the incredible artwork at MOMA.
15) Ride a yellow taxi from uptown to midtown - it's an experience to remember, and not as expensive as you might think.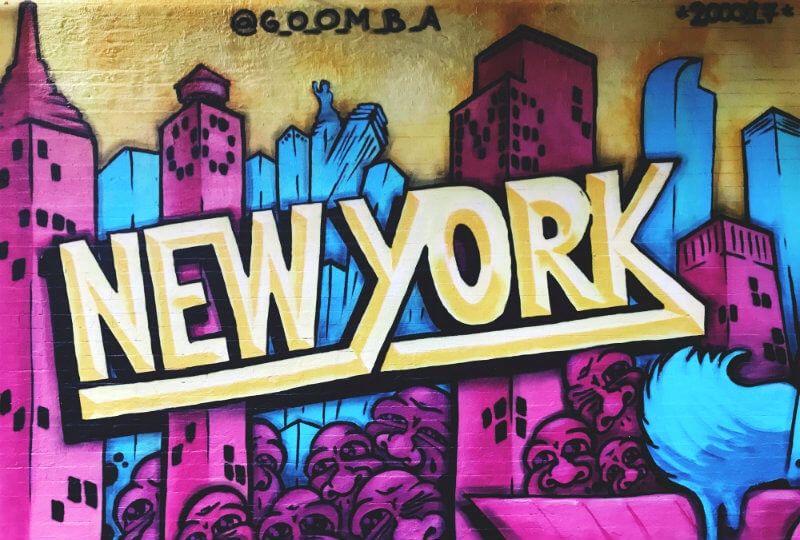 16) Stack up on a serve of American pancakes at BBar, and don't go light on the maple syrup!
17) Head to Times Square and grab a selfie in front of all the coloured lights, original no, but bucket list worthy, yes.
18) Take the elevator up the Empire State building, and grab a panoramic view of New York's never-ending skyline.
19) Visit in June, and you will experience one of the best Prides in the world, we've heard Fire Island goes off!
20) Find some top-notch gifts for your friends back home at upmarket department store, Bloomingdale's.
21) Check out the Alegria Events Facebook page, and attend one of their iconic parties, fingers crossed you'll be in town.
22) Head to Coney Island, and go vintage with a visit to the movie-style fairground.
23) Stroll across the unique High Line, an elevated, linear park built on a former rail line. A feeling of Zen guaranteed.
24) Go fancy for a night with a dinner of steak and frites at iconic French brasserie, Balthazar.
25) Head to Broadway, and catch a musical, Kinky Boots is already cementing itself as a favorite.
26) Grab a Sunday brunch at iconic gay venue, Lips - it's been around for more than 20 years, so it must be doing something right!
27) Take a train to Long Island, then a ferry to Fire Island, and settle into Fire Island Pines or Cherry Grove, two heavily populated gay areas of the island - speedo sightings likely.
28) Catch a drag show at iconic venue Lucky Cheng's. Expect performances, dancing, and food and drink.
29) Lunch with the best view in town at lakeside restaurant, The Loeb Boathouse, in the heart of Central Park.
30) Go for a ride on the metro. It's chaotic, confusing, and never-ending, but it's quintessentially New York.
Are we missing something? Send us your suggestions here stories@misterbandb.com We'd love to see what you've got!