It's time to go out with bang this year. As 2022 wraps up, and we look back on a year with some definite highs but sadly some lows, the time is ripe to start planning your NYE. For those looking for a little inspiration outside a crazy Circuit party or Matinée festival, we've compiled a list of the best LGBTQ+ New Year's destinations to wind up the year in. From beach sessions in Rio, to midnight kisses in Venice, kick-start the new year by celebrating in one of these great LGBTQ+ New Year's destinations and live your best life.     
Fireworks in Sydney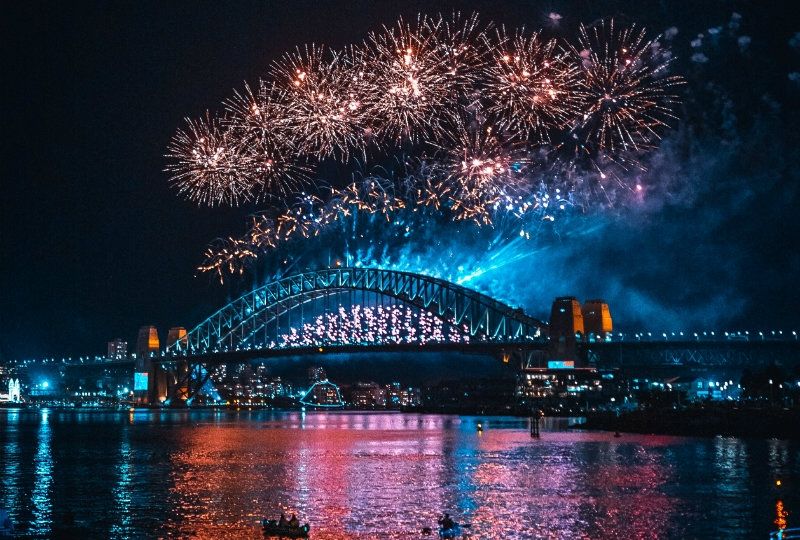 How about going out with a bang down under this New Year's? Sydney is Australia's largest city, and come December 31 its' incredible fireworks display is equally large! Illuminating the picturesque Sydney Harbor and bridge, the display takes place at different stages throughout the evening, with the most elaborate obviously kicking off once the clock strikes 12. Once you've seen the fireworks and enjoyed one too many flutes of champagne, be sure to stick around Sydney and explore this great LGBTQ+ destination on the harbor. By day, drop towel at the world-famous Bondi Beach, and by night, discover the many gay bars and clubs lining Oxford Street in Paddington. Word has already gotten around that Sydney is a top-notch place to celebrate NYE, so be sure to book your accommodation pronto!  
A street party in Berlin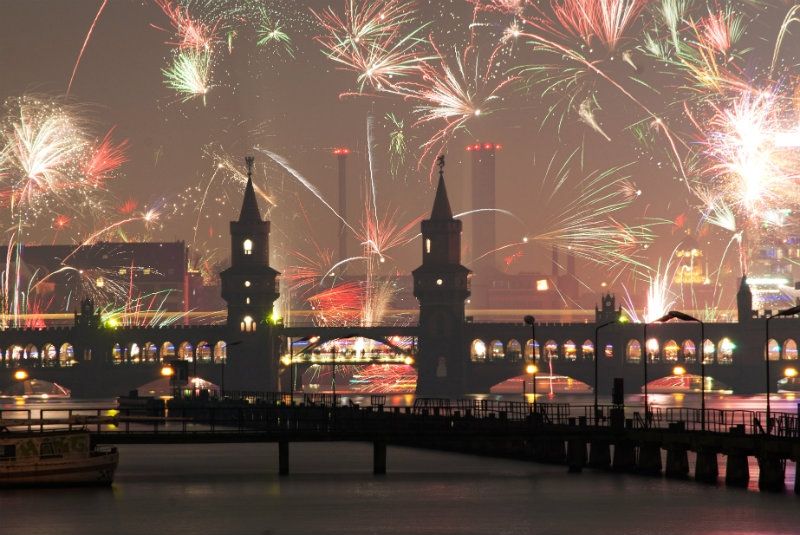 Berlin is no stranger to throwing a good party, no matter what time of the year it is. Folsom Street Festival takes place in September, while the lively Berlin Pride (CSD) colors the city streets in July. Although Berlin temperatures in winter reach bitter levels, the city's electric spirit (and possibly the new Deutsche you'll meet along the way) will be sure to keep you toasty this New Year's. Start things off in Berlin's gayborhood, Schöneberg, and enjoy some very good (and cheap) beer in one of the local LGBTQ+ bars. Then make your way to the iconic Brandenburg Gate, where you can enjoy a massive outdoor street party. Here you can look forward to a fireworks display, DJs, and food stalls - sehr gut!    
Fireworks in Rio de Janeiro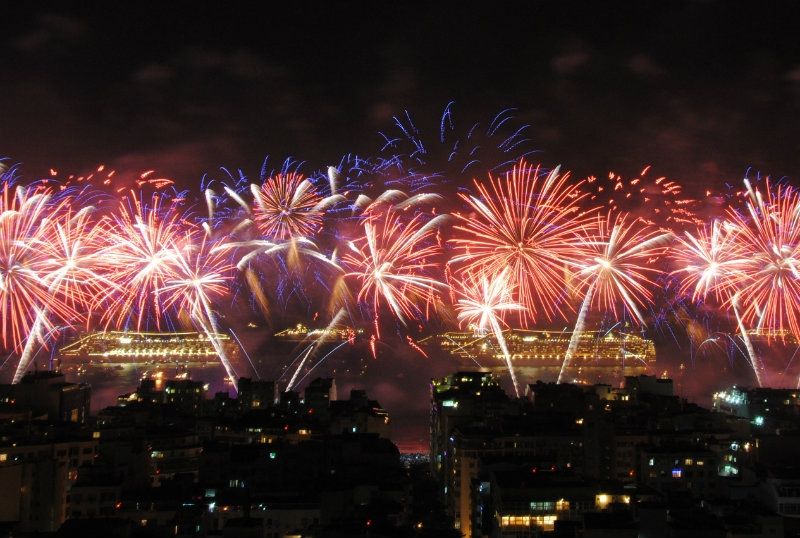 ©Flickr/Leandro Neumann Ciuffo
It's time to get your Rio on this NYE. With its dreamy beaches, round-the-clock partying, and warm temperatures come December, it makes sense that Brazil's lively city features on our list of great LGBTQ+ New Year's destinations. When it comes to NYE parties, Rio sure delivers, with its "Reveillon" celebrations coming only second to the city's extravagant Carnival - and that's saying something! The best place to be for New Year's is Copacabana Beach, where an estimated two million people converge to welcome the new year. Expect a fireworks display, along with different parties dotted across the beach. If you're not ready to call it quits, head to popular gay club, The Week, where DJs are sure to spin sounds well into the morning. In Rio, most people wear white on NYE as a symbol of peace, so grab your finest white tee, and we'll meet you at Copacabana Beach.  
A smooch in Venice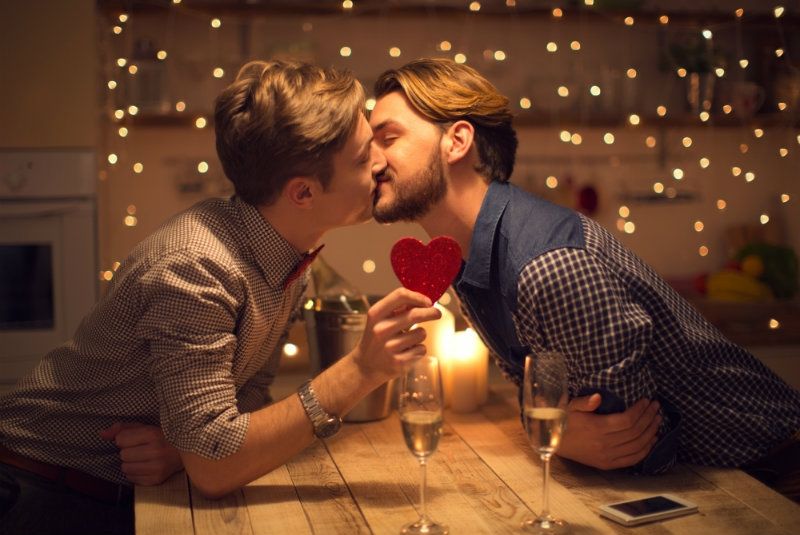 Whether you are celebrating NYE with your romeo or bella, or you hope to find your romeo or bella at some point in the night, Venice is one of our fave LGBTQ+ New Year's destinations. Referred to as San Silvestro, New Year's Eve in Italy is big, and Venice is no exception to this. While the city is not as LGBTQ+ as Milan or Rome, you can be sure to have a unique experience in the city of canals. Start your evening with a classic dinner paired with a flute of prosecco, then head to the iconic San Marco Square before the clock strikes 12. Here, you can enjoy a spectacular fireworks display that will light up the city's lagoon in splendid colors, as well as the chance to take part in a smoochy local tradition. Referred to as the annual 'Love' event, Venezians gather in Piazza San Marco each year to share a symbolic kiss as the new year turns.  
First Light Festival in Provincetown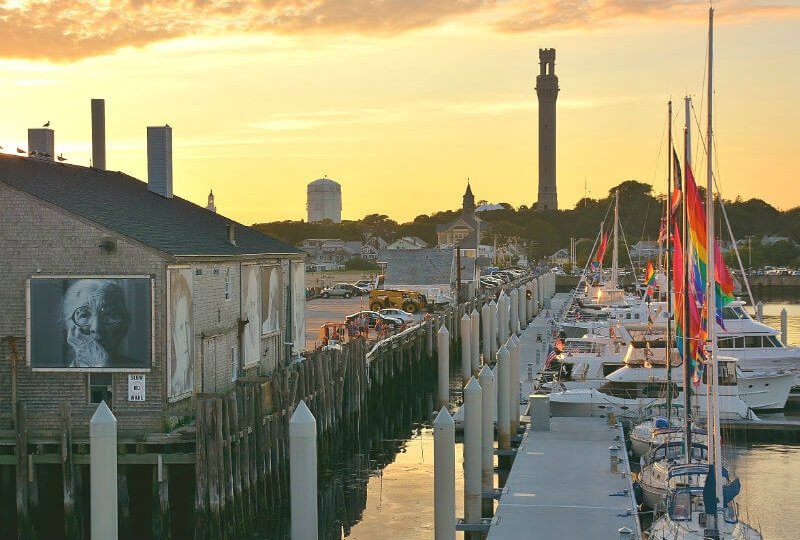 Can't deal with the crowds in New York for NYE? Head a little further north to dreamy Provincetown and enjoy a New Year's Eve celebration at a slightly slower pace. This is one of our fave LGBTQ+ New Year's destinations, and we're sure you'll feel just the same after welcoming 2023 here. Provincetown is no stranger to the LGBTQ community, and it has continued to be a heart of gay culture in the USA since the 1960s. New Year's in Provincetown lasts for more than just one night, with celebrations running from December 28 to January 1. The First Light Provincetown fireworks will take place at dusk on December 29 from Macmillan Pier, while First Light Drag Bingo will keep everyone entertained on December 30 at the Crown & Anchor hotel. 
Bonfires and fireworks in Reykjavik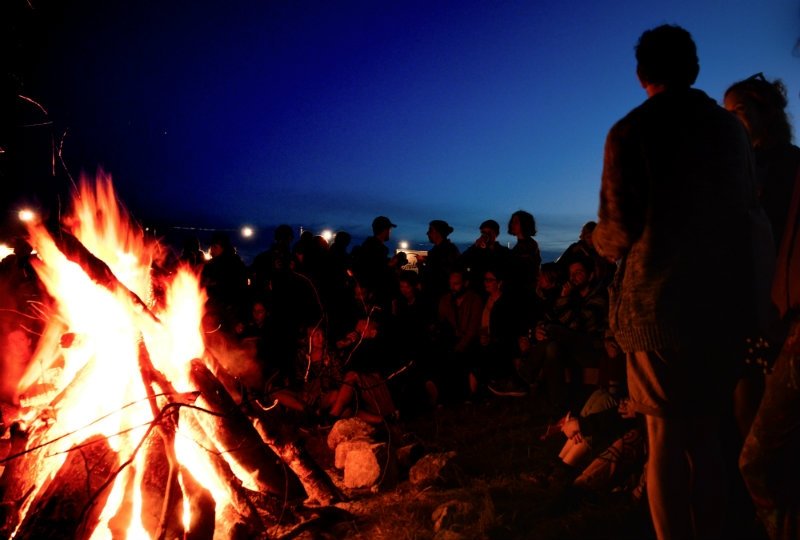 Reykjavik has long been heralded as a great destination for NYE, so if you haven't already been, now is your chance! While the thought of celebrating outside in the city's cold, snow-covered streets may seem a little unnerving to begin with, the impressive agenda that Reykjavik puts on for its annual NYE will make you forget about the chilly temperatures. If you want to celebrate the local way, start your night with an authentic dinner at one of Reykjavik's restaurants around 7pm. While there is no designated gayborhood, the city's welcoming spirit will make you feel right at home wherever you are. For NYE, large bonfires are as much a tradition as the fireworks display, so make a beeline for your nearest one, and soak up some warmth for an hour or so before the fireworks kick off at 12. 
Live music and fireworks in Cape Town
Want to welcome 2022 in a city that's actually warm? Along with Sydney and Rio, Cape Town is a sure-fire contender in terms of fab LGBTQ+ New Year's destinations in the Southern Hemisphere. Often referred to as the Mother City, Cape Town will welcome you with open arms for your gay NYE celebrations. Round up your travel companions and start the night in Cape Town's gayborhood, De Waterkant, for some cocktails and flirting. After you've met Mr. or Mrs. Right, and enjoyed a martini or two, venture down to the V&A Waterfront and appreciate an impressive New Year's Eve spectacle. We're talking live orchestral performances, parades, and a fireworks display. Whether you go home with the one or not, you'll be satisfied by everything Cape Town has to offer this New Year's.           
Hogmany Festival in Edinburgh 
While your first thoughts of Edinburgh may orient towards the castles and mystique of Harry Potter's world, Scotland's capital is also a great gay New Year's destination. At the best of times, Edinburgh is very LGBTQ-friendly and during the revelry of NYE, things reach an all-time high. Referred to locally as Hogmanay, New Year's Eve in Edinburgh will be celebrated over three days this year, and will welcome a variety of entertainment. A highlight will include a procession along Princess Street, where you'll be invited to participate and be given an LED wristband in order to create a 'collective light' as you walk together. On December 31, you can welcome the new year with some traditional dancing at Ceilidh under the Castle. This will culminate in a fabulous fireworks display at midnight.  
Rooftop cocktails and fireworks in Bangkok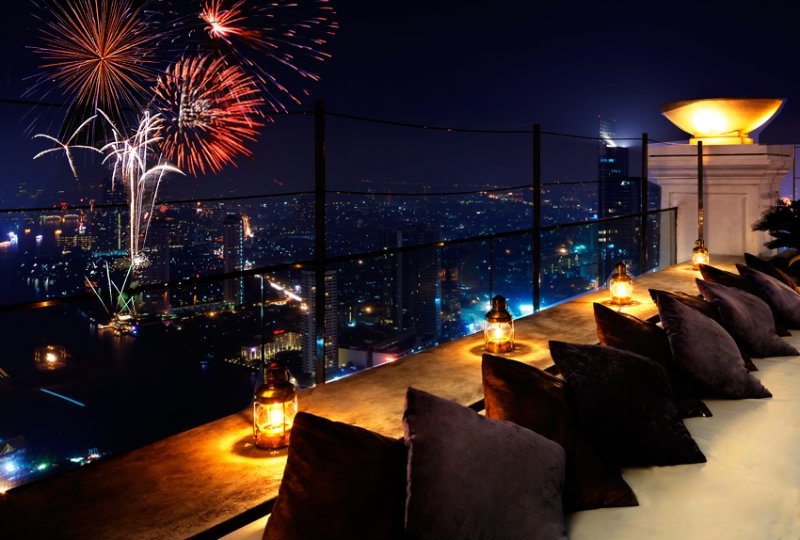 ©Facebook/Lebua Hotels and Resorts
Among all countries in Asia, Thailand is arguably the most open in terms of its LGBTQ+ acceptance, making it a popular place for gay travel. While Thai people traditionally celebrate their New Year's in April, Bangkok is still alive come December 31. The city is known for its high-risers, which also means rooftop bars are the thing here. So we suggest settling into a rooftop bar, where you will be able to enjoy the city's spectacular firework display over the river at midnight. The main gay area of Bangkok is Silom, and in its heart is the Sky Bar @ Lebua - the highest rooftop bar in the city. Things are likely to be packed come December 31, so be sure to either book or arrive early to avoid disappointment. 
A cute getaway in a misterb&b apartment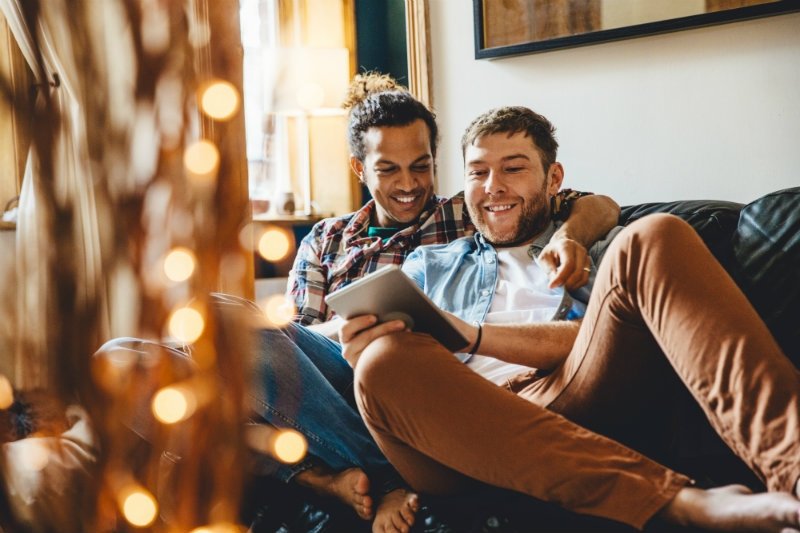 Want to keep things low-key this New Year's? Why not take yourself and your significant other on a dreamy NYE vacay somewhere fabulous, and check into a misterb&b apartment? If it's too cold outside or you want to avoid the crowds, a night in can be the perfect way to reign in the new year. What's more, most TV stations broadcast the local fireworks display, so you can still watch an impressive spectacle from the comfort of your own apartment. Pop open some bubbly, and reign in the new year your way.
Dreaming of a gorgeous hotel stay to bring in the new year? Check out our round-up of Fabulous Gay Hotels you Should have Stayed at by Now.