Holidays are different for everyone. Some seek quiet places to rest, other look for trendy places to party, others want to visit more unusual, far-away destinations. And some like their vacation on a gay nude beach, for the sense of freedom, the absence of complexities, or simply the possibility to more closely admire the male body in its most natural form.
A lot of the gay beaches in the world are nudist beaches, but it's not always obvious unless you already know where you can strip off and where you cannot. So, here are 15 of the world's best gay nudist beaches, across all continents. And if you prefer to keep your kit on, you can always check out our guide to the best clothing-friendly gay beaches. From dreamy gay nude beaches in Spain, to more remote naturist gay beaches in the USA and beyond, find the perfect place to enjoy the sand in the nude with our round-up of the best gay nude beaches in the world. 
Gay Nude Beach: Praia do Abrico: Rio de Janeiro, Brazil
Heading to Rio de Janeiro? Little "Praia do Abrico" is a gay nude beach nestled in a protected national park. The beach is amazingly beautiful and in a remote and wild environment: it's one of the very few beaches in Rio's area where naturism is allowed. A large forest separates the beach from the big city. You can stay on the beach all day long and enjoy food and drinks at the small beach café. Gay travelers flock to this beach for its relaxed, naturist-friendly environment, so find your patch of sand here and we'll meet you in the sun. 
Gay Nude Beach Black's Beach: San Diego, USA
Black's Beach is the most famous gay nude beach in the USA, and you'll find it in sunny San Diego. It stretches over several hundred meters along the Californian coast. Cliffs overlook the beach and block the wind (which is a godsend when you come out of the water naked!). A golf club is located at the top of the cliff, as well as some luxury properties... If you're looking for some natursit fun in California, Black's Best is definitely a frontrunner in terms of gay nudist beaches on the Pacific.
Gay Nude Beach Hippie Hollow: Austin, USA

With a name like Hippie Hollow, how could you resist dropping towel (and your swimmers) at this gay nude beach in the USA? There's no ocean here, but the Colorado River is a pretty great substitute. And Austin's gay crowds can be found in the park, enjoying an afternoon in the sun, naked, with music, good vibes and of course a rainbow flag. Certainly a gay nudist beach with a twist! Gay men and women flock to this beach year round for its chill, naturist vibes, so get your fave playlist ready, and we'll see you at Hippie Hollow. Beyond Hippie Hollow, Austin is also a great LGBTQ destination to visit, so be sure to add it to your travel bucket list for the year.  
Gay Nude Beach Little Beach: Maui, Hawaii

When you think of an island paradise in the sun, we imagine your first thoughts orient to exotic destinations like Hawaii. Renowned for its beaches overall, it comes as no surprise that Hawaii also has its own gay nude beach: Little Beach. The naked "Little Beach" is separated from the Big Beach by a mound that plunges into the ocean. The gay crowd can be found on the northern part of this always-packed beach. On Sunday nights at sunset, you can enjoy fire dances, music and traditional dances. With Hawaii's famed warm, sunny weather, we're sure that you'll be more than happy to go au natural at this gay nude beach! 
Gay Nude Beach Herring Cove Beach: Provincetown, USA
Provincetown is often referred to as a haven of LGBTQ culture, and while things can get a little chilly up north, we're not surprised that Provincetown has its own gay nude beach. Herrington Cove Beach is located on the Cape Cod Peninsula, just outside of Boston. It's the most popular gay nude beach in Provincetown, with three distinct parts: the mixed crowd in the southern part of the beach, the gay crowd a little further north, and the lesbian crowd in the far north. The dunes separating the sea from the road are a quiet and peaceful environment for sunbathing and other activities!
Gay Nude Beach Studland Beach: Bournemouth, United Kingdom
Looking for a popular gay nude beach in the UK? Studland Beach awaits you. Studland is located by the towns of Bournemouth and Poole, and it is in the northern part of the beach that you will find the nudists. If you are after some cruising while visiting this gay nude beach, head to the nearby sand dunes and shrubbery - chances are you won't be disappointed. While the UK may not be known for its frequent warm, sunny weather, gay naturists flock to the beach in numbers in order to soak up some rays and mingle with other LGBTQ beachgoers.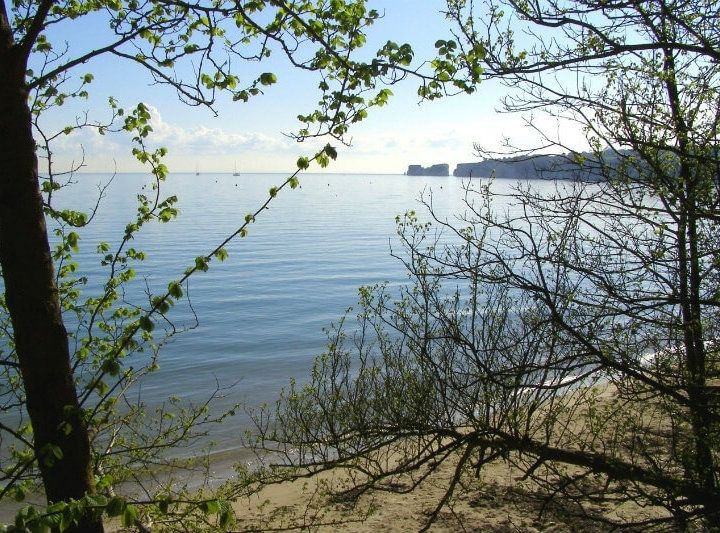 Gay Nude Beach Obelisk Beach: Mosman, Australia

Many young gay Australians enjoy Obelisk Beach, a few miles from Sydney's downtown. The beach is reached by a path, a few hundred meters through the forest. The sea has a fascinating blue-green color. One tip: be careful not to get lost in the dense forest! Despite its inner city location, this gay nude beach is relatively "remote" and there are no bars or restaurants within easy reach. We therefore recommend packing a picnic and spending your whole day enjoying this beautiful gay beach in Sydney. 
Gay Nude Beach Maspalomas Beach no.7: Maspalomas, Gran Canaria
It's old news that Gran Canaria is a top gay destination in Europe, so it comes as no surprise that the island is also home to a dreamy gay nude beach. Maspalomas Beach has a series of huts lining the shore, which offer food and beverage options and music. Hut no.7 is where the gay community gathers, with beach goers often sunbathing in the nude. To get to Maspalomas Beach, you will have to pass through a series of dunes, which are often a popular place for cruising. Once you're done with your day in the nude on this gay beach, enjoy the many LGBTQ bars, clubs, and restaurants Maspalomas has become renowned for.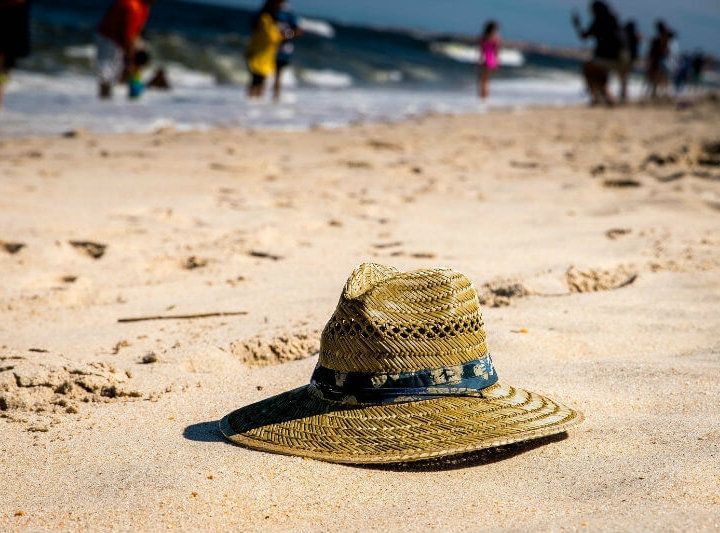 Gay nude beach Gunnison Beach: Sandy Hook, USA
Gunnison Beach runs along the coast of the Sandy Hook Peninsula in New Jersey. 55 miles from Manhattan, the beach offers a distant view of Brooklyn. This is the only nudist beach in the state, Gunnison has been a favorite destination for gay New Yorkers since the 70s. Dunes and groves separate the beach from the residential area of the island. If the hectic engery of NYC is getting too much, and you're looking for a relaxing gay nude beach where you can enjoy some sun, sand, and other LGBTQ folk, Gunnison Beach is the place for you.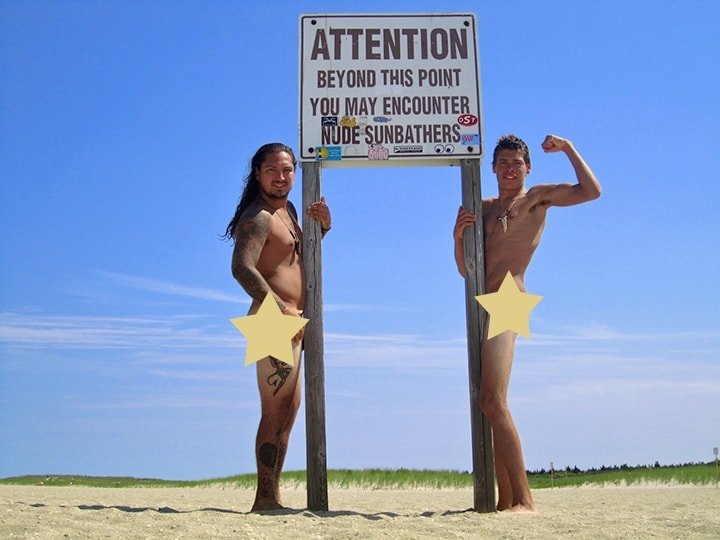 Gay Nude Beach Orient Beach: St. Martin, French West Indies

Located opposite the Club Orient naturist resort on the island of St. Martin, Orient Beach welcomes locals and visitors from around the world, gay, straight, or anywhere in between. You can enjoy the turquoise waters of the Atlantic Ocean and enjoy food and drinks as well as sun loungers and parasols. Avoid awkward tan lines, and get naked on this gay nude beach. You'll return home with sun-kissed skin that will have all your friends envious, along with some possible new LGBTQ acquaintances from the beach.  
Gay Nude Beach Playa Zipolite: San Pedro Pochutla, Mexico
This gay nude beach is located on Mexico's Pacific Coast, and is best known for its rocky mountains and turbulent surf. It is also the ideal spot to drop towel, and appreciate all there is to enjoy about a gay nude beach. As this was Mexico's first legal public nude beach, it attracted a strong hippie culture in the 1970s. Much of this vibe has been retained today, making it a popular destination for all types of people year round. It should be noted that this gay nude beach is roughly 700 kilometers from Mexico City, so you will either need to rent a car, or travel by train to reach it.     

Gay Nude Beach Praia da Caparica 19: Lisbon, Portugal

The famous beach 19 in Lisbon is the favorite gay nude beach for locals. They travel here by bus or by car (30 minutes from downtown). Naturism is allowed, but some prefer to keep their Speedos on. You can find food and drinks nearby on beach 17. For those who feel too hot, the dunes and the forest behind the beach offer up some steamy surprises! Lisbon is a very open city in terms of LGBTQ culture, and once you've enjoyed your day at this naturist-friendly beach, be sure to head to popular gayborhoods: Bairro Alto and Principe Real to mingle with the local queer culture. 
Gay Nude Beach Wreck Beach: Vancouver, Canada

Wreck Beach is located on the west side of Vancouver, overlooking the North Pacific. This sandy gay beach is littered with dead tree trunks coming from the forest behind. Swimming is not recommended because of the temperature of the water (freezing!), but many simply find other warming activities in the nearby forest. The golden stretch of sand is a great place to relax in the nude and mingle with other LGBTQ beachgoers, weather permitting of course! Canada goes from strength to strength in terms of its overall LGBTQ rights as a country, so you'll be sure to meet friendly, open-minded people here, gay, lesbian, straight, or anywhere in between.  
Gay Nude Beach Sandy Bay: Cape Town, South Africa

Sandy Bay is a beautiful white sand beach on the west coast of South Africa, 10 miles south of Cape Town. The water's a little cold – it's not the hot Indian Ocean after all – but it's one of the few gay and nudist beaches in Cape Town, even Africa! The beach is wild and the nearby forest allows some hot, post-sunbathing encounters! Cape Town is becoming increasingly progressive in terms of its LGBTQ culture, and every year, the city welcomes a vibrant and welcoming Pride. 
Gay Nude Beach Baker Beach: San Francisco, USA

You can go to Baker Beach for naked sunbathing, of course, but also for the stunning view on the Golden Gate Bridge. The beach is isolated yet still very close to downtown San Francisco. The weather in the Bay is changeable, though; often chilly, but the gay-friendly and warm atmosphere found on this gay nude beach will make you forget all about this! Enjoy a naturist day with other LGBTQ beachgoers, and marvel at the beautiful view of the Golden Gate Bridge. 
Gay Nude Beach Hanlan's Point: Toronto, Canada

Just like in Austin, there's no sea or ocean in Toronto. But Lake Ontario is still a delight for gay Canadians and Americans who share this space of water. Hanlan's Point is a long, sandy beach with direct views of Toronto's skyscrapers. Clothing and swimsuits are not common in this part of the city. Meet other gay guys and more, and enjoy the relaxed, naturist vibe of Hanlan's Point like a local. 
Gay Nude Beach Playa del Muerto: Sitges, Spain
Sitges is one of Spain's true gems in terms of gay destinations, with gay travelers flocking to this seaside town any time throughout the year. Idylically positioned on the coast, just south of Barcelona, it could only be expected that Sitges is home to plenty of gay beaches. Perhaps the most well-known gay nude beach is Playa del Muerto. There is a little bar by the beach (chiringuito) serving drinks, as well as a forest behind should you wish to try your luck cruising. Come summer, this place will be loaded with plenty of LGBTQ people who ome to enjoy its naturist vibes and warm weather. The rainbow flags losely strewn around will indicate you've hit this gay nude beach in Sitges.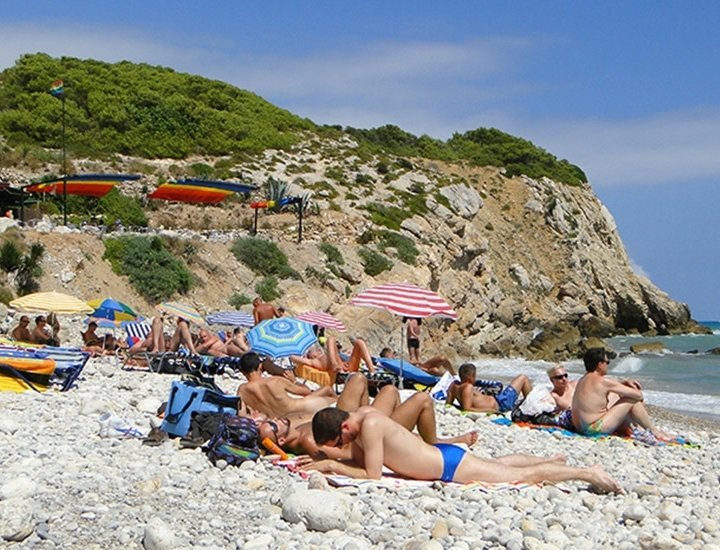 Gay Nude Beach Haulover Beach: Miami, USA

Ten miles north of South Beach, Miami, Haulover Beach is one of the few nudist beaches in Florida. It offers ocean out-of-sight for straight and gay Miami beach goers. The gay locals will mostly come on weekends, and drop towel to the north of the beach. In terms of gay culture in the US, Miami is a stronghold. Not only can you enjoy gay beaches here, but also excellent LGBTQ bars, clubs, restaurant, and a very lively Pride each year. 
Gay Nude Beach Praia Galheta: Florianópolis, Brazil
Just north of Praia Mole (the main gay beach on the island of Santa Catarina) and south of Sao Paulo, there's an even more beautiful and wild space of sand where you can step out of all your clothes, and enjoy a naturist atmosphere with other gay guys. Praia Galheta is located in Florianópolis, between a cliff and the sea, and it's a paradise for surfers and naturists alike. Pack a picnic, and make a day out of a visit to this gay nude beach in Brazil. And after all, it's a safe bet that you'll have great sunny weather when you visit Brazil.  
So which gay nude beach will we be seeing you at this season? Whether you plan to go au natural somewhere remote and naturist-friendly in the USA, or you have your sights set on nude sunbathing in Spain, feel free with a visit to one of the world's best gay nude beaches, and strip down in the sun. Even if swimming is not your thing, a nude experience on the sand will surely delight!   
Loved this? Check out our article on the Top 10 gay beaches in Europe.