It's that time of the year again: vacation! Time to lie down in the sun and discover the best gay beaches in Europe. Here is our selection of the best gay beaches for a very hot summer! (and we have more gay nude beaches around the world if you follow this link)
1) Mar Bella, Barcelona: Spain
Barcelona's most famous gay beach Mar Bella, is a long, sandy relaxtion zone filled with hot muscle guys, locals who want to sunbathe in the buff, and everyone else in between. Indeed, regulars and tourists hang out at this clothing-optional beach, especially during the weekends and during Circuit Festival in August, when it's almost impossible to lie down in the sand: it's too packed (just like the guys and the contents of their Speedos!). Arguably one of the best nude beaches in Europe, you should certainly be visiting Mar Bella this season. 
2) Playa del Muerto, Sitges: Spain
Playa del Muerto in Sitges has been a gay nude beach for decades, welcoming men since 1930! You'll find a little bar (chiringuito) next to the beach and a great forest behind, too. Getting here is a bit of a journey by foot but well worth the effort: from Sitges seafront, turn right and walk along to the end of the sidewalk. Jump down and continue to follow the coast around for 15 minutes along the train line (be careful!). When you finally reach it, you'll see why Playa el Muerto makes it on our Top 10 list of the best gay beaches in Europe!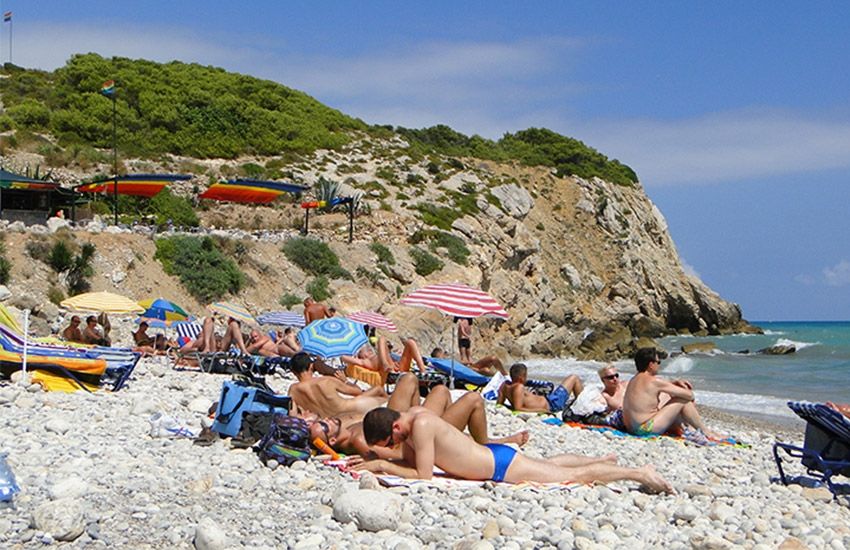 3) Costa da Caparica, beach N°19, Lisbon: Portugal
It's one of Europe's biggest gay beaches, 30 kilometers south of Lisbon. Dunes and forest border it. A lot of young urban Portuguese come here to swim and mingle. From Lisbon, you access this beach with the bus (161) or with a car. It may seem like an effort to get there, but it's certainly one of the best gay nude beaches around - so well worth the trip!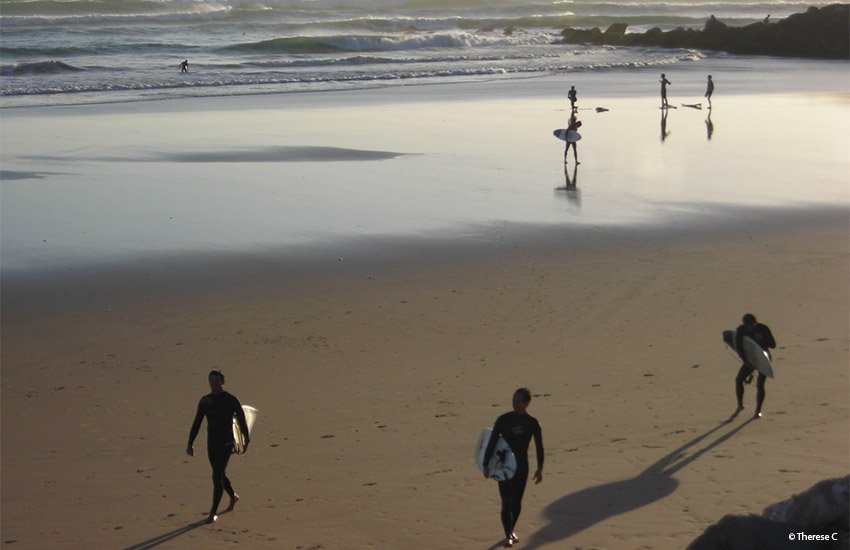 4) Elia Beach, Mykonos: Greece
Mykonos island is one of the most gay-friendly destinations in the Mediterranean Sea, a place you definitely want to be on your gay bucket list. The famous Elia beach is a true paradise with hot sand, crystal clear water and magical scenery - plus it is an excellent nude gay beach! The music isn't too loud, so you can chat with friends. Oh, and one last thing: sometimes it can get really hot (and we're not talking about the sun!). Looking for more inspo in Greece? Check out our round-up of the best gay beaches in Greece.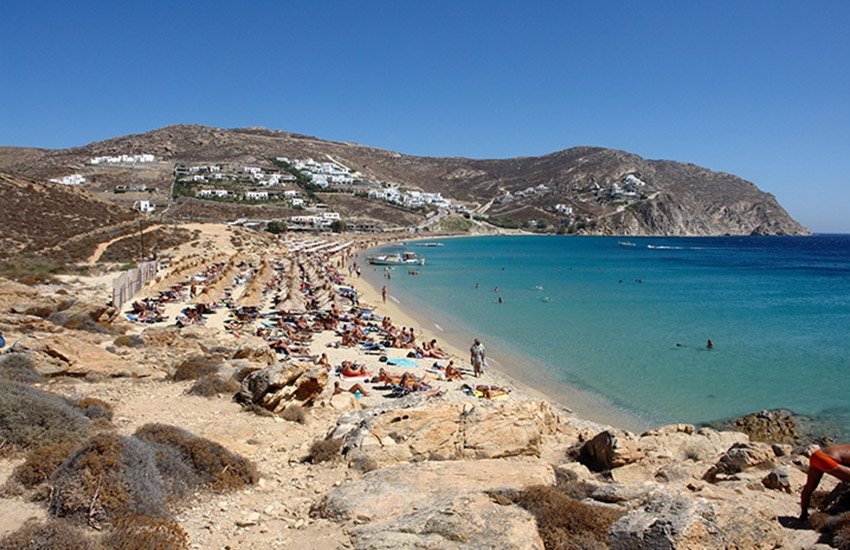 5) Studland Beach, Bournemouth: England
Located near the towns of Bournemouth and Poole, in the south of England, Studland Beach is probably the best nude gay beach in the UK, offering vast white sands to sit on. Although this is not officially a gay beach, it is regularly frequented by gay sunbathers. The northern part of the beach is where you'll find the nudists, and the nearby sand dunes and shrubs make for a popular cruise round.
6) Lokrum, Dubrovnik: Croatia
This gay beach is located on the uninhabited island of Lokrum, surrounded by a rocky coast. Ten minutes from Dubrovnik by boat, this natural area in Croatia harbors a very popular gay and nudist beach. Lokrum beach is also pretty secluded and has a private atmosphere to really help you relax and unwind. When the heat is too strong, you'll find a nice and fresh space to cool off under the forest of pine trees. For more inspo here, take a look at our guide to Gay Croatia.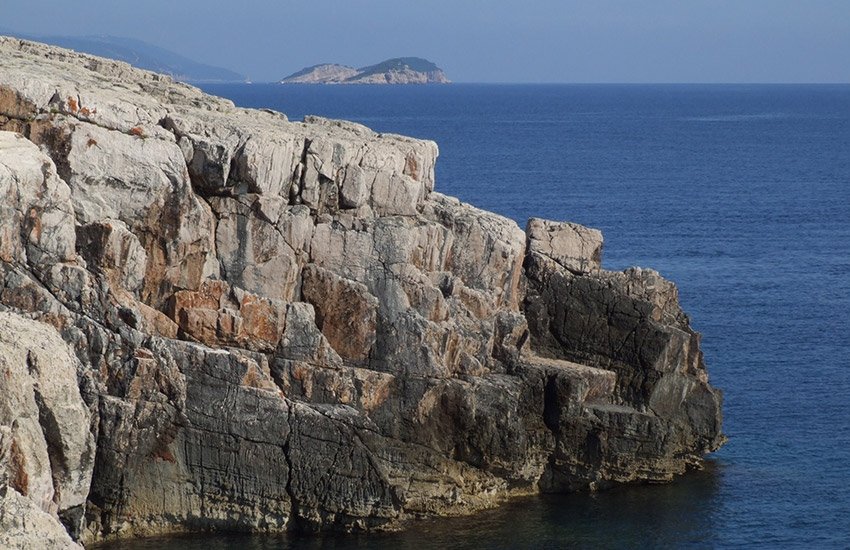 7) Beach Es Cavallet, Ibiza: Spain
The long, sandy and clothing-optional beach is located in the south of Ibiza, and is definitely one of the top nude beaches in Europe. Showers and deck chairs are provided next to the sea (that can reach almost 30°C in peak season!). Don't forget to visit the Chiringay bar for drinks or a bite to eat when all that sunbathing and splashing about gets too much!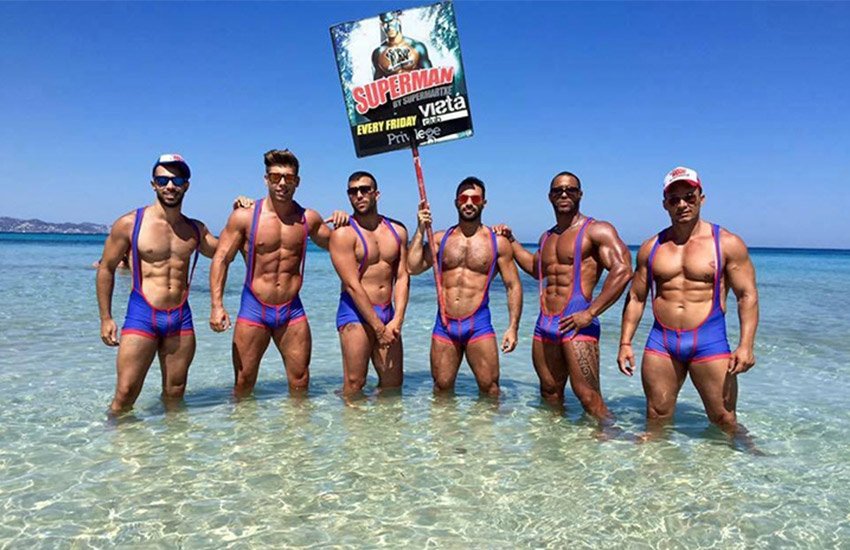 8) Mako beach: Gallipoli, Italy
Near the peaceful town of Gallipoli, in Puglia, lies the beautiful Mako beach, the only gay beach in the region. With pristine water and breathtaking scenery, this beach is the perfect spot for sunbathing and swimming. Sunsets there are truly magical. As an added reason to visit, this undiscovered gem of the Mediterranean sea welcomes a four-day gay festival every September.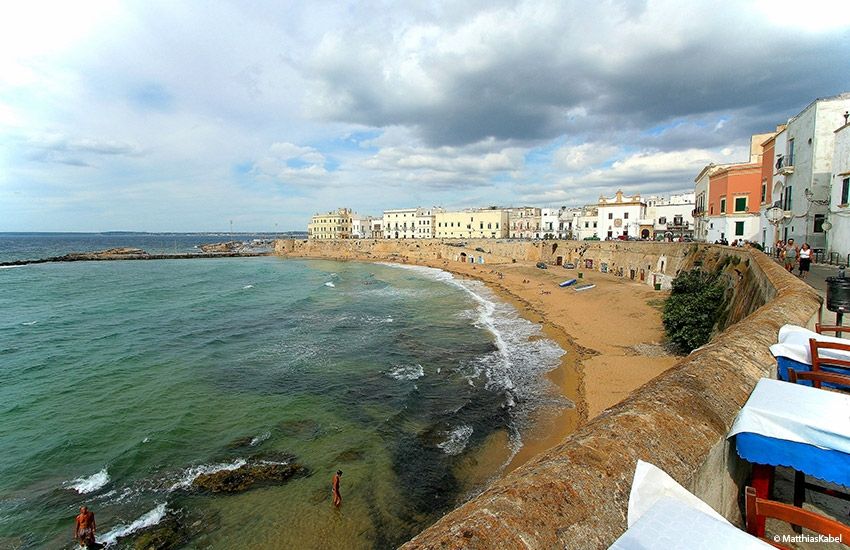 9) Maspalomas, beach N°7, Gran Canaria: Spain
The Spanish island of Gran Canaria is an expert in gay tourism. In the south of the island, Maspalomas is the gay destination that draws thousands of us from the global gay community every year. Indeed, the beach and its spectacular sand dunes attracts beautiful men from all around the world the whole year through. Gays normally gather at the clothing-optional beach N°7, which is walking distance from the world-famous Yumbo Center. Heading to the Canary Islands? Take a look at our round-up of the best gay beaches in Tenerife and around.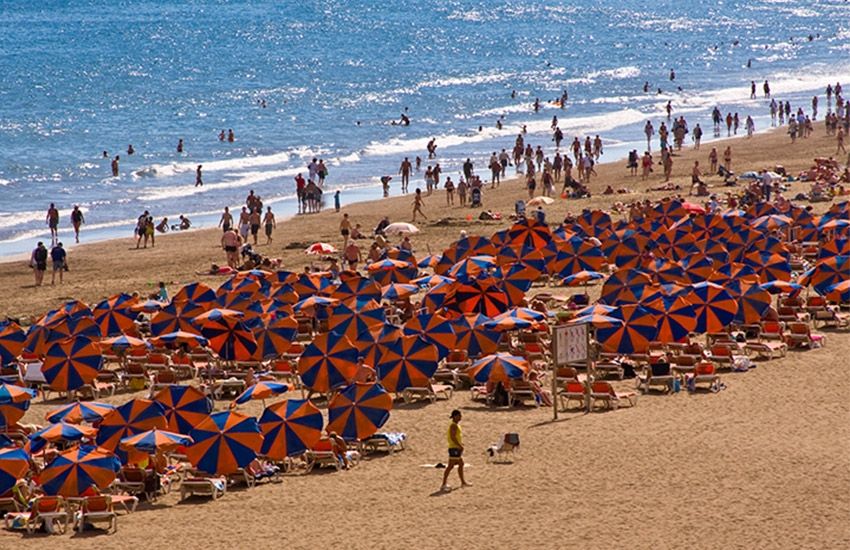 10) Grand-Travers, la Grande Motte: France
For more than 30 years, Grand-Travers beach has been an iconic spot in the Montpellier gay scene in the south of France. The sand dunes appeal to a growing number of gay beachgoers. This is the perfect place to relax but also to make new French friends!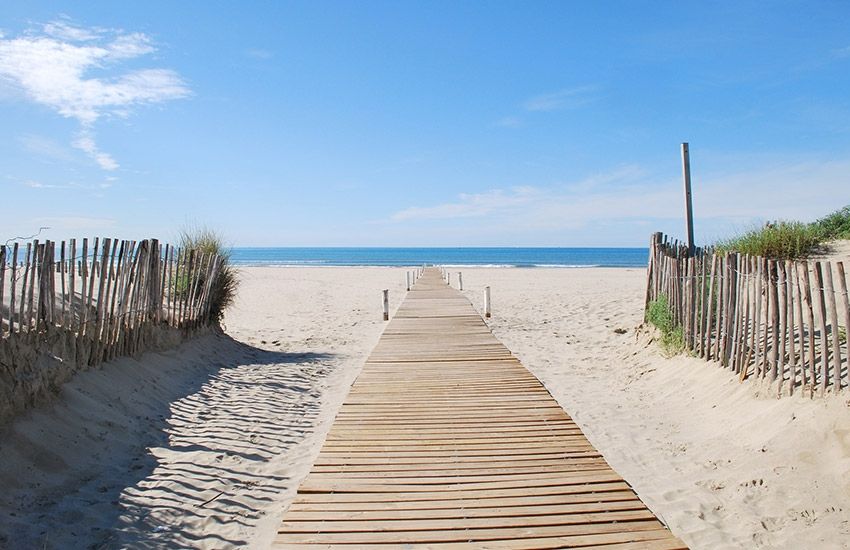 Inspired by these gay beaches? Check out our round up of the best gay nude beaches in the USA