What's it like hosting the gay community on misterb&b? Paris-based Olivier tells us in his own words: "I'm gay but it does not define me. Hosting other gay people is simply cool!" Read his full story and stay like a gay local next time you're in France's chic capital!

Hi Olivier! What's it like hosting for the global gay community? 
It feels so natural! I actually use the misterb&b platform both ways, hosting people at my Paris apartment, and staying at other people's places.
When hosting, gay guests are usually friendly and talkative and are looking for a Parisian/French experience. Some stay two nights and some stay more than a week. Also, some guests come for business, others for tourism.
Likewise, some are very busy, running after business meetings or touristic visits, other spend time relaxing at home and enjoy the apartment. misterb&b members are super-friendly, interesting and share common perspectives about life, not only gay topics.
Do you hang out much with your guests?
When hosts are willing, I think hanging out with guests is part of the deal with misterb&b when compared to a traditional hotel or apartment rental. misterb&b is more of a mindset, so, usually the connection between guests and hosts is very good. 
From my past experience, time spent together ranges from having dinner or an aperitif at home, to hanging out in restaurants or bars (gay or not) in various neighborhoods of Paris, or going shopping. I'm gay, but it does not define me.
What's been your best experience with a guest?

So far, my best experience has been with one guest when we connected really well before he'd even arrived. In fact, it felt like having a very old friend at home … despite knowing each other for a few hours! And, two months after his stay at my home, we went on holidays in the Indian Ocean together. So, thanks to misterb&b for that!
With some guests, I connected professionnaly, whether some were in the corporate world like me, some in fashion, editing, medicine, cooking, teaching or consulting. With other guests, I connect more personally, with endless discussions about our travels around the world, scubadiving, food, or just sharing the same sick sense of humour! :)
The more I host people, the more I feel like hosting in Paris and being hosted in the gay community when I travel, too! ●

Heading to Paris? Discover the best things to see and do in our City Guide and get some insider info as our members share their Local Tips! And if you want to stay with Olivier, check out his listing on misterb&b: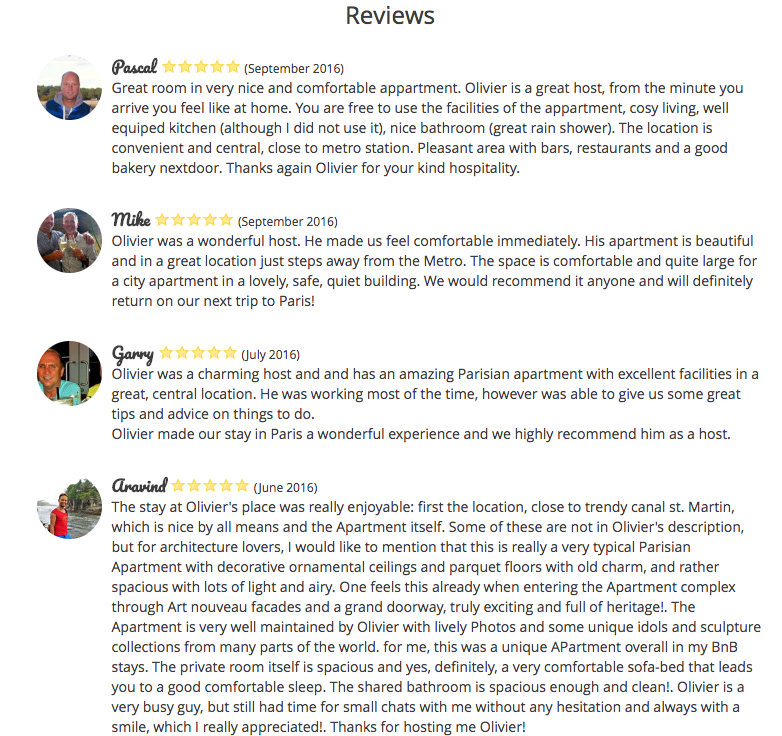 STAY SOCIAL!
Don't forget to add us on Instagram, Facebook and Twitter. Follow us for exclusive content, special offers and to share your travel pictures using the hashtag #staylikeagaylocal. We love seeing what you get up to on your misterb&b vacation and we'll share the best pics with our global LGBT travel community!