The progress of many democrat and equal rights leading countries now gives gay and lesbian couples the possibility to get married with true recognition of their same-sex relationship. Together with the right to marry also comes the great responsibility of organizing your same-sex wedding!
Like with any wedding, planning a gay wedding can be a little stressful, which is why we have asked Amir Gov, a gay wedding planner, to share some advice on how to plan your very own perfect gay wedding. Whether it is over a romantic dinner or by an airplane drawing, the proposal "Will you marry me?" is definitely one of the most exciting parts of your journey to becoming a married gay couple. But it also initiates 'the race' to the exciting wedding day, which can often be a stressful process.
After "I do" comes the scary "We do" of planning your gay wedding together. So how do you even start organizing your own wedding? Every couple has their respective wishes and dreams, but I always say to my gay or lesbian clients that the most important thing to start with is your guest list. Take some time to discuss this together, and list the people who you would like to invite to your big day when you exchange your gay wedding rings. At this stage, it is also good to decide on whether you would like a small and intimate wedding, or a big event with hundreds of guests.
Determining the number of guests to invite is key to successfully unlocking the second step: choosing the ideal location. Guest numbers will influence other aspects to follow in terms of your wedding planning, so be sure to nail this step! From catering and bar service, to printed invitations and giveaways, it all comes down to the number of guests you wish to invite.
A good, accurate list and an agreed minimum number of guests can also save you money. For example, when asking for a quote from your chosen venue and catering agency, you will soon realize that the more guests you have, the lower the price per person will be. Why? Because besides the food and service, their logistical and operational costs depend on the number of guests you plan to invite. My advice is to be careful, and reduce your minimum number of guests by 10%, just in case you have any last-minute cancellations who you would still need to pay for.
After the guest list and location have been determined, the bigger challenge of wedding planning comes: how will you personalize it, create a special experience for both you and your guests, and make it your own? Finding the right balance of tastes, wishes and preferences of the two grooms can be a challenge in itself, and compromise will be key here.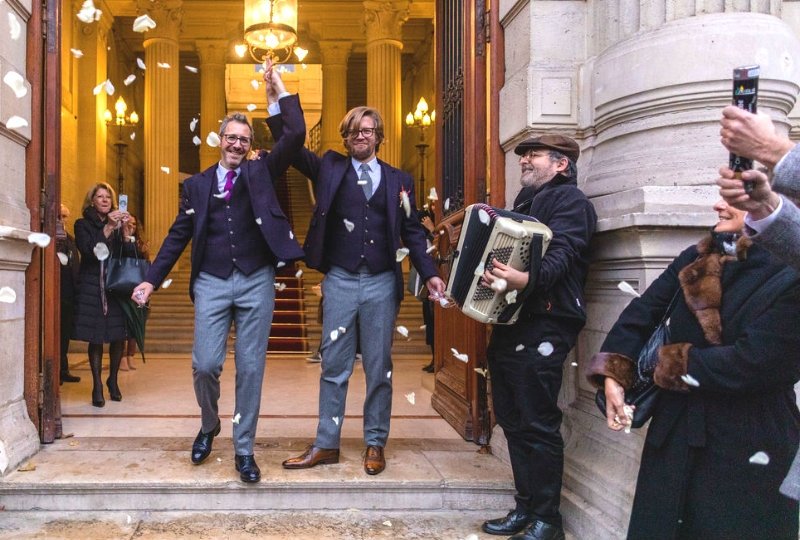 ©Jeremie Korenfeld
Since gay marriages are not recognized or obligated to any religious rules, it gives you the freedom to create any kind of event. That said, it is important to respect potentially religious guests who may attend your wedding. Starting with 'Save the Date' and invitation design, right through to the menu, service concept (buffet or sit-down dinner), decoration or live performances, listen to both your hearts and minds to draw an imaginary picture of the wedding you envisage. If you have an amazing idea, but you are not sure how to execute it, don't be afraid to speak about it and seek answers or help from professionals.
Destination Gay Wedding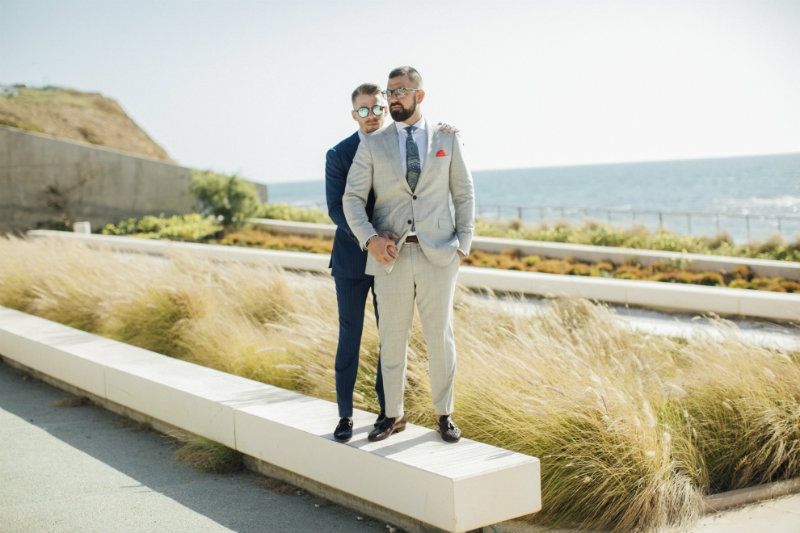 ©Dima Vazinovitch
Like migrating birds, the LGBTQ community is known for traveling a lot and relocating, which brings people from different countries and continents together. In the last few years, I have had the honor of working with many mixed same-sex couples: an Israeli with a Scottish, a Canadian with a Parisian, and of course couples who live far from their home countries. If you invite guests to join you on this very special day in a destination that is far away from their home, you need to consider organizing more than just one main wedding event. Plan some other smaller events or activities to cater to different travel schedules, guests will likely make a big effort to come and celebrate with you so give them some options.
A Romantic wedding on the Mediterranean beach(Tel Aviv) creative and event planning by Amir Gov from tomer gol on Vimeo.
It is important to send your 'Save the Date' invitation at least six months before the wedding, so guests have enough time to check their availability and reserve necessary transport and accommodation options. To give your guests a helping hand, you should provide them with a list of recommended places to stay. From gay-friendly apartments on misterb&b, to simple or luxury hotels, make things easier for your guests and offer them all the essential details they may need.
How to make your gay wedding organization easier
The wedding market is full of affordable and basic 'all-inclusive packages' that can help you save time and money if a standard wedding is fine by you. Be sure to check all suppliers' qualifications, you might want to ask for some changes. Like buying a house or performing a large-scale renovation, organizing a wedding is a demanding process that includes many different parameters and professionals you may have never heard of before. All of this requires your time, so prepare to be patient and focused.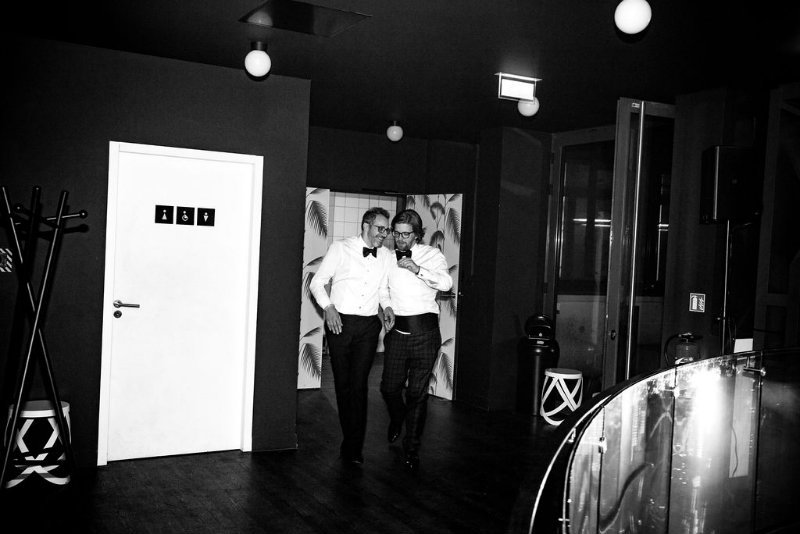 ©Jeremie Korenfeld
Working with a good, experienced wedding planner will reduce your stress and give you the opportunity to enjoy the journey to your wedding - as you should! They will even help you feel as though you are a guest at your own wedding! The wedding planner who manages the budget can also save you a lot of money due to their good work relations with vendors and their inside knowledge of the wedding market. They can not only help you find the best solutions, but also the cheapest. Like every supplier, there are different prices for wedding planners, so you must choose the one you believe you can really count on.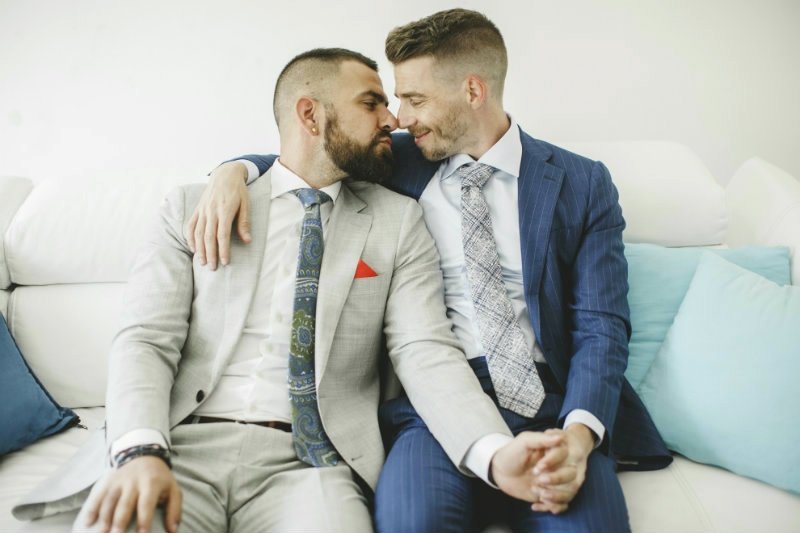 ©Dima Vazinovitch
Amongst all the professionals who will work at your wedding, the wedding planner is arguably the only one who will be truly responsible for taking care of you and your interests. They are your secret partner to the success of the wedding. From selecting the perfect location, right through to the specifications for rental equipment and the smallest details, the wedding planner is here to bring you the best solutions to your wishes and resources.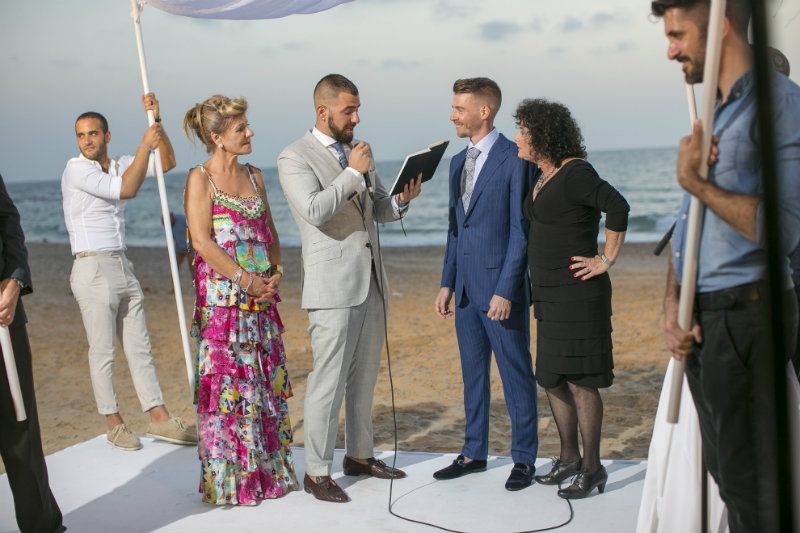 ©Dima Vazinovitch
Working with a gay wedding planner will give you the most comfortable and safe feeling so you can openly discuss everything. They will become your closest partner as they will get to know your personal life and your intimacy. Choosing an LGBTQ wedding planner will ensure you have someone who understands you and your life the best. Stress and nerves will make the process difficult and may even affect your positive relationship. Take a deep breath and commit yourself to enjoying and making the most of your new adventure: your gay wedding!
About Amir Gov
Born and raised in Tel Aviv, Israel, Amir Gov is a 38 year old with more than 14 years in production experience. He is specialized in LGBTQ weddings, destination weddings, and planning and executing big international corporate events, spanning from New York, London, Paris and Amsterdam to Tel Aviv.
Since 2016, Amir has been living in Paris, the capital of romance. His relocation to Europe created the opportunity for him to get closer to more LGBTQ couples, who were requesting his professional planning service. Amir Gov was chosen by Time Out TLV magazine as one of 10 most talented and promising people in Tel Aviv for his famous gay parties and events in Israel, including Tel Aviv Gay Pride.
Should you wish to make your gay wedding a seamless and memorable experience that will guarantee a whole lot of fun along with way too, contact Amir Gov and start planning something special together (he has a 20% discount for the misterb&b community too!).
Have you been invited to a gay wedding recently? For some inspo on the perfect gift, check out our article on the Top Gay Gifts for a Wedding.