When the warmer months hit the Iberian Coast, there's nothing better than slipping into your best pair of swimmers and lounging in a refreshing pool or the Mediterranean sea to cool off. While Spain and Portugal already have a host of amazing misterb&b apartments, there are only a select few which have the added feature of a private pool. Fortunately, we've done the hard work for you, and rounded up six of our favourites. So whether you're hoping to spend your next vacay in a gay apartment with a pool in Barcelona, or you have your eyes on Lisbon instead, here's our pick of the best gay apartments with pools in Spain and Portugal.
A gay apartment with a pool in Seville - Piergiorgio's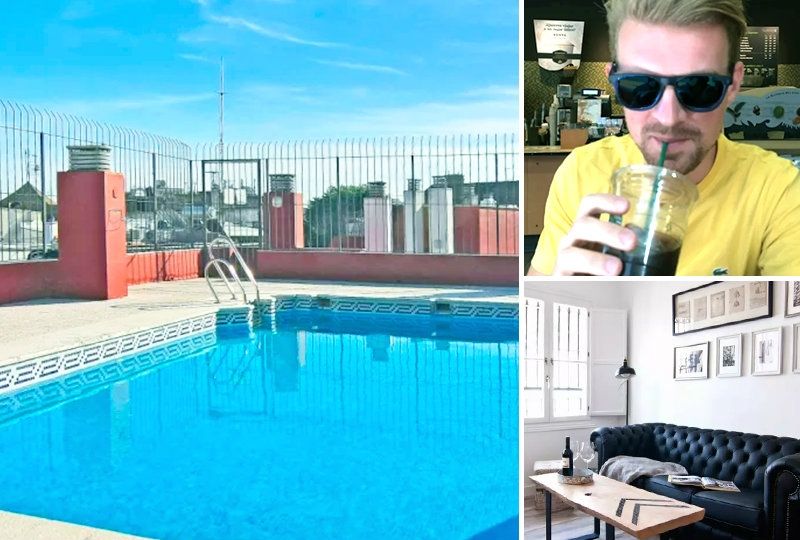 When it comes to top travel destinations in Spain, Seville is one of the country's crowning jewels. With its rich history, typical food, and exquisite architecture, this southern city is the kind of place you can settle into quite comfortably for a week or two. That said, the city is not on the coast, and can reach sweltering temperatures during the summer months. Fortunately, at Piergiorgio's place you can enjoy everything Seville has to offer with the added benefit of a rooftop pool - bliss.
The designer apartment is located in the picturesque Santa Cruz neighborhood, right in the heart of Seville's historic center. Along with air-conditioning, a designer bathroom, and a fully-equipped kitchen, you can appreciate a rooftop terrace and a glistening swimming pool to freshen up in after a busy (and hot) day sightseeing. Book your stay with Piergiorgio now, and dip into one of the city's finest pools.
A gay apartment with a pool in Lisbon - Pascal's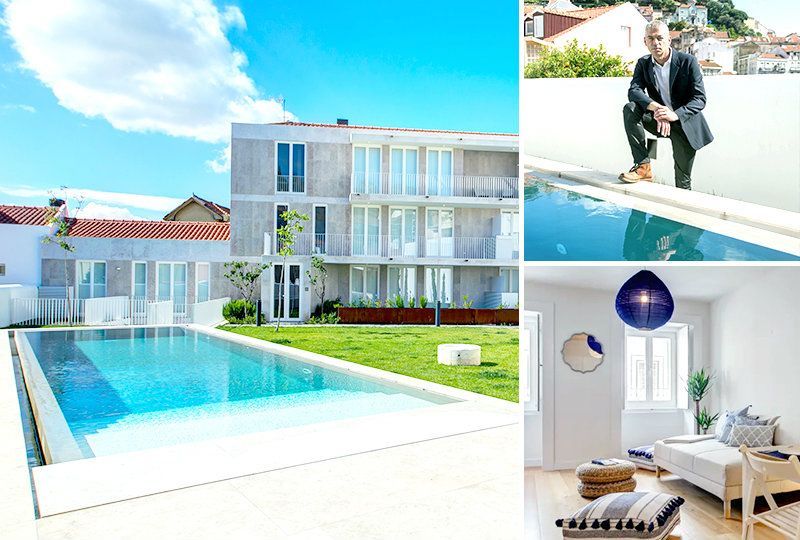 When you first think of a summer gaycation in Europe, your first thoughts will likely orient towards Lisbon. After all, Portugal's dreamy capital is conveniently located on the coast, meaning days at the beach can really be a thing! But it's not just this which makes Lisbon a solid contender for a summer vacay. The city is teeming with serene outdoor parks, plenty of al fresco restaurants, and of course plenty of places to freshen up with a beer in the afternoon.
If you like the idea of retreating to a misterb&b apartment with a pool each night, lock in a stay at Pascal's. Located in a private condominium which comes complete with a pool and garden, a stay at this apartment will be an experience in itself! Enjoy an American kitchen, open-space style living room, and a large dreamy bed to retreat to each evening. In keeping with the summer ambiance, the apartment is decorated in soft blues and pinks, giving an open, breezy feel. Book your stay at Pascal's now.
A gay apartment with a pool in Malaga - David's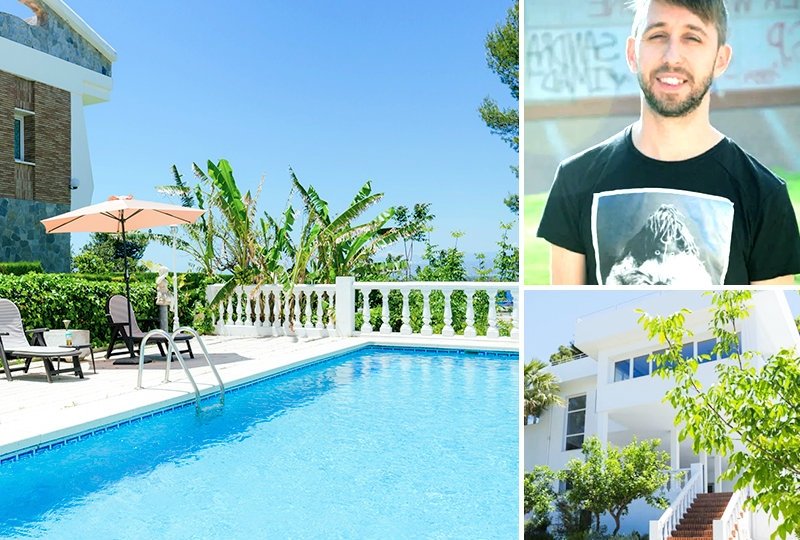 During the warmer months, many Europeans flock to the coastal city of Malaga to get their dose of sand, sun, and surf. Aside from being the birthplace of iconic painter, Pablo Picasso, Malaga has many things to be proud of. A modern skyline, year-round sunshine, and a pretty active gay scene. After a night dancing in town, you're going to need a comfortable place to crash, and when it comes to top places to stay in Malaga, you can't go past David's.
David's place goes beyond an apartment, it is in fact an entire villa that sleeps up to eight people. Situated a little out of Malaga's town center, this is the ideal place to catch up on some TLC for the summer. Along with three bathrooms, free Netflix, and a small gym, David's villa offers a sparkling outdoor swimming pool to freshen up in. Round up your mates, and book your stay with David now.
A gay apartment with a pool in Sitges - Nacho and Fran's
As far as popular gay destinations in Spain go, Sitges is one of the frontrunners. This seaside town has been at the helm of gay Spain for decades, and the annual Sitges Pride is one of the most dynamic in Europe. Just a 30-minute train ride from Barcelona, Sitges offers the best of both worlds: a relaxed coastal ambiance by day, and the possibility to head to some of Barcelona's larger gay clubs by night. If you're looking for somewhere to kick back and enjoy Sitges' summer with the added bonus of a swimming pool, lock in a stay at Nacho and Fran's place.
Just two kilometers from the Sitges town center, this apartment offers a well-appointed private room, two terraces, and a fantastic swimming pool to float in all afternoon. On top of all this, you get to appreciate the company of hosts Nacho and Fran. They are a married couple who enjoy sports and helping their guests find the right places to visit in Sitges. Book your stay with them now.
A gay apartment with a pool in Faro - Jean-Paul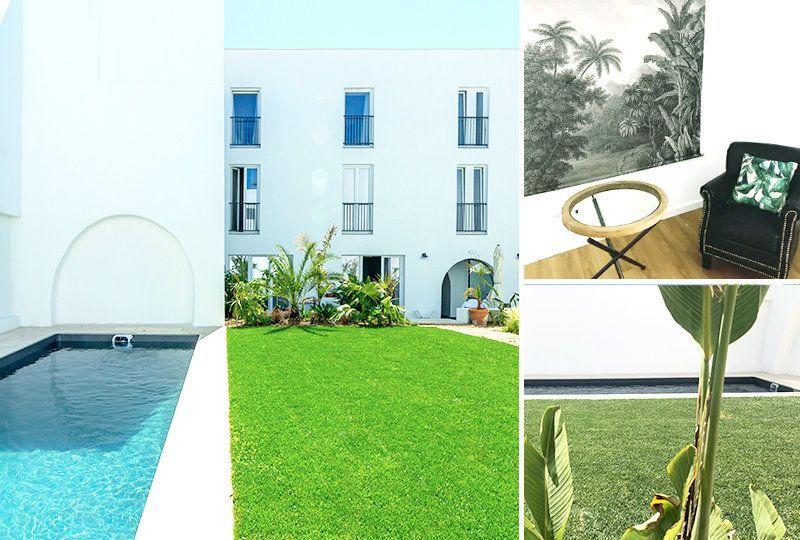 Planning to head south this summer? Why not venture to Faro in Portugal? Not only will you get to experience a walled city of charming, cobbled streets, local restaurants, and bright piazzas, but you'll also have the opportunity to stay with misterb&b host, Jean-Paul. Faro sure knows how to turn the heat up in summer, so you'll be pleased to know Jean-Paul's place comes equipped with a glistening pool to refresh in each day.
While you might plan to spend the majority of your time in the swimming pool, be sure to also appreciate other aspects of his accommodation. We're talking designer furnishings, mod cons including flat-screen TVs, and a dreamy mosaic terrace. This is a gay-friendly bed & breakfast, so you also have the occasion to mingle with other guests staying here. Book your stay at Jean-Paul's now.
A gay apartment with a pool in Barcelona - F&A's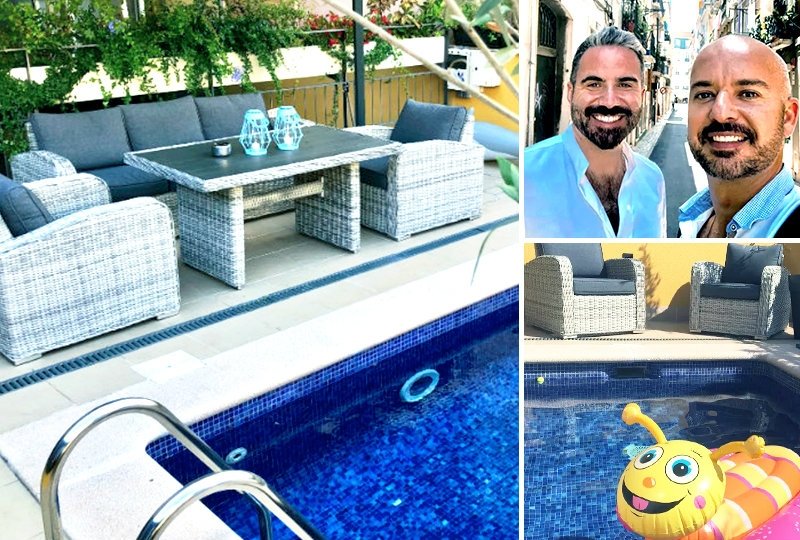 Barcelona has become synonymous with gay travel, with the city offering a host of gay life ranging from festivals, gayborhoods, bars, and clubs. Along with all of this, the city proudly has some of Europe's best beaches, and many of them are gay. If you'd prefer to beat the heat in a private pool though, you'll be pleased to know Barcelona has many misterb&b apartments with pools.
For something away from the hustle and bustle of Barcelona's downtown, we suggest a stay with F&A. Their apartment is located just three blocks from the iconic Sagrada Familia, and comes with all the necessary mod cons for a comfortable stay. We're talking WiFi, Apple TV, and LED lighting just to name a few. After a day visiting Barcelona's main sites, freshen up in the apartment's swimming pool. The pool is located within a private terrace that comes with comfortable outdoor furniture to kick your feet up on. Book your stay with F&A now.
Need some more inspo on where to travel in Europe this summer? Check out our round-up of Top Gay Destinations in Europe to Celebrate Summer.