San Francisco is arguably a heart of gay culture in the world. From the LGBTQ rights movement led by the late Harvey Milk, to the city's annual gay events including Folsom Street Fair, the queer flame of San Francisco continues to burn bright - even if recently dimmed by the influx of the tech industry. When it comes to the perfect gaycation, you will never have a shortage of things to do in San Francisco. Whether you like the idea of sunbathing at a local gay nude beach, or you'd rather stroll through the iconic rainbow-clad streets of The Castro, we've created a gay bucket list to San Francisco. Now the only question left is whether you'll be able to tick everything off for your gay travel experience here!
1) Pay tribute to the late Harvey Milk by visiting Harvey Milk Plaza in the heart of The Castro.
2) Soak up some vitamin D at popular gay nude beach, Barker's Beach. Don't venture into the waters though, things can get rough!
3) Ride one of the iconic green and yellow cable cars. It's the world's last manually-operated cable car system - so honor history with a ride!
4) Visit at the end of June, and dance through the city streets during San Francisco's annual Gay Pride - plenty of dancing a given!
5) Rent a bike, cross the Golden Gate park, then the Golden Gate bridge, until you reach Sausalito. You'll have an incredible view of the bay and the city skyline.
6) Stay with a misterb&b host in San Francisco and experience the city with locals.
7) Grab brunch at popular gay hangouts Squat & Gobble or Cafe Flore in the heart of The Castro. If you're lucky, snag a table outside so you can people-watch.
8) Scuff your new pair of shoes on the incredible dance floor at Oasis Club - it's housed in a converted gay bath house, enough said!
9) Then if you're still down for some dancing on Sunday, head to the day party at Lookout in The Castro. The wrap-around balcony provides excellent views.
10) Enjoy some Californian sun with a picnic in Dolores Park - it can be a great place to mingle with gay locals over some beer.
11) Sign up for a local experience, we've heard the Napa and Sonoma Wine Tour is a hoot.
12) Stop by Twin Peaks Tavern in The Castro for an afternoon cocktail. This was the first openly gay bar in the US, thanks to its floor-to-ceiling windows, that allowed outsiders to look in.
13) Make a beeline for Alamo Square, and enjoy the beautiful row of colored, Victorian-inspired houses. You're certain to leave wanting one for yourself.
14) Head to legendary gay bar, The Eagle, and get your leather on or enjoy a drag show with some local guys.
15) Explore your naughty side at Blow Buddies, an 'anything goes' sex club in SoMa.
16) Take a ferry out to the famous Alcatraz jail, and explore the spooky former cells.
17) Stock up on some leather gear at Mr-S-Leather, it has been selling handcrafted, locally made items since 1979, so quality is a given!
18) Speaking of leather :) if you're visiting in September, attend the Folsom Street Fair. The iconic event draws loads of leather and fetish enthusiasts to the SoMa district each year, with the action taking place on Folsom Street between 18th and 13th Streets.
19) Recharge at old-school American diner, Orphan Andy's. Expect everything American, including some epic burgers.
20) Get yourself the perfect do, and have your beard trimmed to perfection at Daddy's Barbershop. It has a great reputation, and the barbers are super friendly!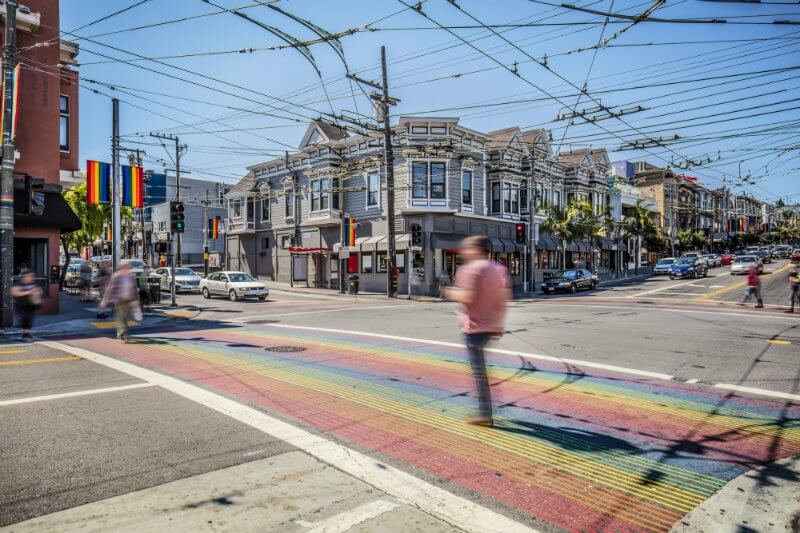 21) Settle into the outdoor terrace at Starbelly Bar, and enjoy a craft beer with the locals.
22) Cool off by the water at Fisherman's Wharf, and grab some of the best food in town. As can be expected by the name, seafood is the thing here.
23) Dress to the nines for your date with a local, and grab a winning outfit at iconic department store, Bloomingdales.
24) Venture to the Mission District, and be inspired by the Clarion Alley Mural Project - a beautiful wall of public graffiti art.
25) Take a step back in time and visit San Francisco's very first public square: Portsmouth Square. It dates back to the 1800s, and is located in what is now Chinatown.
26) Be transported to Italy, and indulge in pizza and pasta for the night in San Fran's North Beach neighborhood - aptly referred to as 'Little Italy'.
27) Attend an enjoyable queer Burlesque show on a Friday night at The Stud, which is located in the heart of SoMa.
28) Get cultured for the day with a visit to MoMA, San Fran's Museum of Modern Art. You can enjoy a great collection of paintings and photography in a building designed by Architect, Mario Botta.
29) Be transported to Mexico with tacos and tequila at Mission District institution, Loló. Margaritas are always a good way to start a night!
30) Feeling kinky in July? Head to Up Your Alley Festival. It takes place every year on the last Sunday of July, and welcomes leather and fetish fans.
31) After bar hopping through The Castro, head to biker-themed gay bar, Hole in the Wall Saloon in the SoMa neighborhood, just south of Market Street.
32) San Francisco can sure get chilly, so turn the heat up with a visit to popular gay sauna, Eros.
33) Brush up on some queer history at the GLBT Historical Society Museum, located in The Castro. It is the first standalone museum of LGBTQ history and culture in the USA.
34) Embrace your glamorous side with a stroll along Fillmore Street. The high-end selection of beauty outlets and perfumeries will leave you drooling - and your wallet potentially empty!
35) If you're in town at the right time, head to Daytime Realness - a gay party taking place on the patio of El Rio in The Mission, one Sunday afternoon per month.
36) Walk through bustling Chinatown and sample some street food. Then wander through the maze of herbal and alternative medicine shops to find your perfect potion.
37) Head to the financial district, and try your luck getting to the top floor of one of the skyscrapers. Succeed, and you'll be treated to an incredible aerial view of the city, as well as a closer look at the Transamerica Pyramid.
38) Attempt to seduce your +1 with a serving of oysters at the Anchor Oyster Bar in the heart of The Castro.
39) Stock up on some dreamy local produce at Ferry Building Marketplace, the city's largest Farmer's Market.  
40) Venture to the famous Twin Peaks at sunset and appreciate sweeping views across San Francisco. The two peaks stand at 922 feet, so prepare for a bit of altitude.
Heading to NYC any time soon? Check out our Gay Bucket List to New York and take a bite out of the Big Apple.