Just because summer may be over, it doesn't mean you should shleve your party spirits away with your shorts and tees for another year. In fact, quite the opposite. North America is host to plenty of LGBTQ+ events and parties that will keep you entertained and dancing for the next three months! So grab a pen and paper, and fill your gay events calendar with the best parties on the continent this Fall now. From Prides down south to full-scale circuit parties by the beach, find your fave parties now and keep those festive spirits alive for a little longer.
What? Folsom Street Fair 
Where? San Francisco
When? September 25
It's time to go big and bring out your best leather gear, Folsom St. Fair is kicking off this September in San Francisco. Spread across 13 city blocks, this is the world's biggest leather event. Along with more than 200 exhibitor booths of fetish gear and toys, you can expect one whole day of indie, electronic, and alternative music acts, live fetish performances, and top international DJs. Oh and did we mention the entire event is clothing optional? Ooh la la! 
What? Red Dress Party
Where? San Diego   
When? October 1
©FB/Red Dress Party
The Red Dress Party in lively San Diego is one incredible gay party you should absolutely be attending this Fall. The event calls for everyone to wear a red dress, regardless of gender or orientation. While music and dancing are a highlight, the main purpose of the Red Dress Party is to raise funds and awareness for organizations that support the local HIV/AIDS community. We hope you're ready to paint the town red this October and do your bit for the community.
What? Orlando Pride 
Where? Orlando
When? October 10-16
How about coming out in color this October in Orlando? More than 100 groups and 2,000 individuals are expected to take part in the Orlando Pride Parade, as they march from the Lake Eola to downtown Orlando, along a one-mile path. The parade will transpire on Saturday, October 15, with all the action kicking off at 12pm. In addition to the parade, you can look forward to comedy nights, film screenings, and of course the Orlando Pride Festival, which will be hosting a large-scale dance party at H20 club.
What? Black & Blue Festival 
Where? Montreal
When? October 6-10   
©FB/Black & Blue
Taking place over Canada's festive Thanksgiving and Colombus weekend, Black & Blue Festival is one of North America's largest gay-benefit dance festivals. The event is organized by Bad Boy Club Montreal, with proceeds going to support the local gay community living with HIV/AIDS. For 2022, the them of Black & Blue Festival is 360°, and will transpire in the form of a multidisciplinary concept, with guest DJs and electronic beats. While black and blue will be the standard dress code, the theme prompts party-goers to grab their sassiest, most burlesque-inspired mask. So what face will you be showing at this year's festival? Along with the official Black & Blue Ball, you can enjoy a series of different events, including the Neighborhood Party at Club Soda and the Sparkling Party. We'll see you there! 
What? Philadelphia OutFest
Where? Philadelphia
When? October 7-11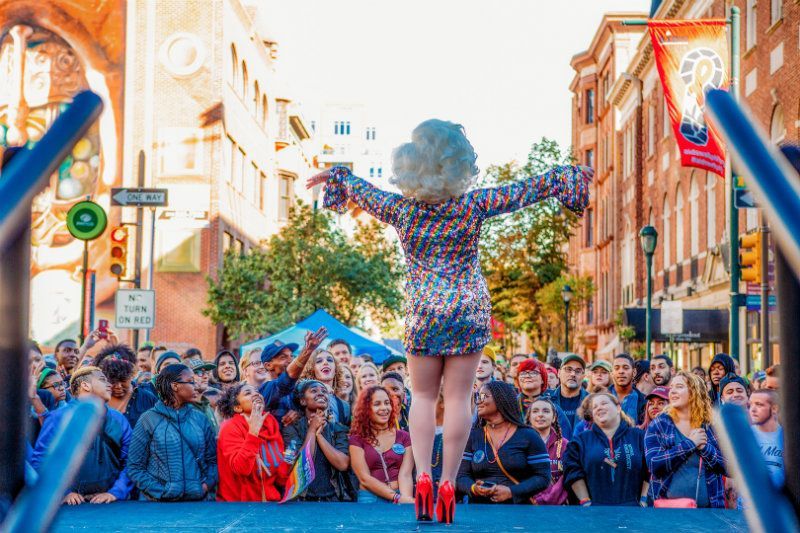 ©J. Fusco for VISIT PHILADLEPHIA®
In the lead up to National Coming Out Day on October 11, Philadelphia OutFest will be putting on a fab show to make you truly feel out, proud, and fabulous. OutFest proudly claims to be the largest National Coming Out Day Festival in the world, which celebrates Philadelphia's LGBTQ history and LGBTQ+ community. Taking place in the heart of Phily's gayborhood, Midtown, you can look forward to a series of block-style parties, which will include drag shows, high-heel races, games, and plenty of music. The main stage will be located at the crossroads of 13th and Locust Streets, and will welcome loads of entertainment including an awards ceremony.    
What? Halloween on Church
Where? Toronto
When? October 31
©Flickr/Jason Paris
Ready to get your freak on? Toronto's annual Gay Halloween Party calls for all local queer kids to come out in their most gruesome attire for one spellbinding evening of horror - in the good sense of course! Festivities kick off around 6:30pm, and take place over three pedestrianized blocks in the Gay Village. Most of the action, however, transpires along Church Street. People come in a range of clothing, and despite the chilly Toronto temperatures, the clothing can sometimes be very little! Along with this, the city will also be putting on a series of LGBTQ+ Halloween themed events, including Drag Royal Tea Brunch at Son of a Bean and Haunted Hunhouse at El Mocambo.  
What? Greater Palm Springs Pride
Where? Palm Springs
When? November 4-6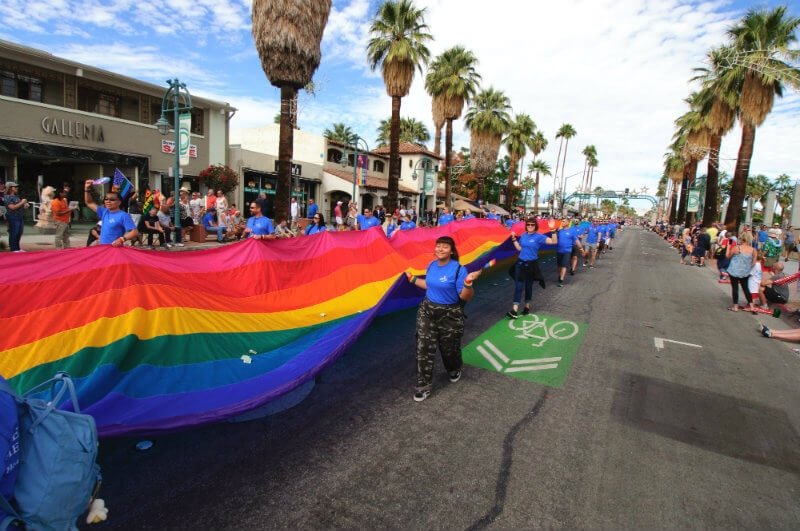 When it comes to LGBTQ hotspots in North America, Palm Springs is one of the frontrunners. It comes as little surprise then that its annual Greater Palm Springs Pride is an absolute hoot. While it may take place in Fall, there's nothing cold about this pride. Expect loads of artists, DJs, musicians, activists, and dancers. 2022 marks the 35th edition of the popular pride, and as per usual, the key themes and messages will be of strength, equality and self-determination.  
What? Urge Festival Miami
Where? Miami
When? November 25-28 
©FB/Urge Miami
Got the urge to party this November? You need to get yourself down to Miami for one of the world's largest gay events - Urge Festival. Taking place over Thanksgiving weekend, the four-day festival promises non-stop partying with three incredible day time events and three wild night time events, along with the classic pool and beach parties - it is Miami after all! DJs and an official program are still TBD, so stay tuned for updates. Just be sure to have your fave pair of Speedos at the ready!  
Heading to Europe any time soon? Get some inspiration from the Best gay events in Europe this Autumn
Cover photo: ©J. Fusco for VISIT PHILADLEPHIA®