There may be only 70 kilometers between Scotland's two biggest cities, but they couldn't be further apart in terms of style and substance. Edinburgh, the capital, is elegant, enchanting and pretty damn posh. Glasgow, on the other hand, is its shady sister: industrial, edgier, and more than a wee bit naughty.

Of course, being only a 50-minute, £15 train ride from each other, factoring in a stay at these polar cities makes sense if you're planning a gay Scotland getaway. However, if you've only time for a mini break, which place gets your pick: Glasgow or Edinburgh? We've peeked up the kilts of both cities to help you make up your mind…


Best for a romantic getaway: Edinburgh

The Scottish capital is the obvious winner in the romance stakes. Its postcard-perfect scenery makes it one of Europe's most beautiful cities, and it's ideal for strolling arm-in-arm together to take in the many sights (and to keep warm, of course). Edinburgh's charming old town is listed as a UNESCO World Heritage area and is packed full of cobbled, narrow and winding streets – and amazing pubs – that hide treasures around every corner: great for discovering with your other half. As are the views from the top of Edinburgh Castle. Walk up the Royal Mile before sharing a smooch at the top, while taking in the views below.

Alternatively, a quiet stroll along the Water of Leith and through the beautiful Dean Village will be less energetic yet just as romantic. Boasting plenty of historical monuments for you and your mister to discover together, this city isn't nicknamed the Athens of the north for nothing.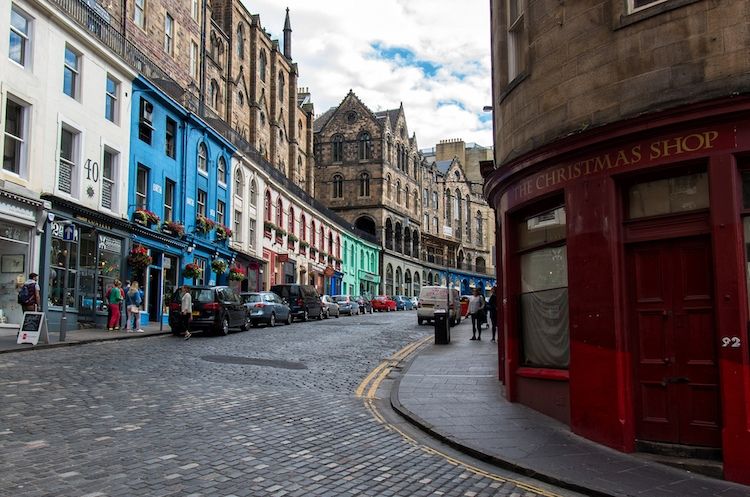 Victoria Street in Edinburgh's Old Town. © flickr/Raphael Chekroun


Best for partying: Glasgow

With its Victorian-industrial landscape playing host to large queer, student and artistic communities, going out gay in Glasgow offers much more variety than its friendly rival, Edinburgh. Close to the River Clyde, the intimate, two-room Poetry Club is one of gay Glasgow's most popular venues. Although it's not a full-time LGBTQ+ venue, it hosts two of the best monthly queer parties in town: DILF and Hot Mess. DILF is a cruisy gay dance party for daddies, cubs, bears and other hirsute hunks, while Hot Mess is more alternative; a disco/house/techno dance party for queer types and their best buds (all welcome).

Back in the centre of town, in the Merchant City hood, lies the city's more traditional queer scene. The iconic Delmonica's is the heart of the Glasgow gay community and a sure cert for a warm-up bevy or three. You won't have to stumble far to your next venue: the adjacent Riding Room is a class cabaret bar with a 1940s deco and great cocktail list. When it's time to dance, nearby AXM is a Twink's pop paradise that also holds regular drag nights. Glaswegians are some of the friendliest Scots, so you'll be in great company for any big night out.
Best for culture: Edinburgh

Culture vultures are spoilt for choice in both of these Scottish cities but Edinburgh just pips Glasgow in this battle – the fact that it holds the world's largest arts festival in the world gives it the edge. The Edinburgh International Festival and its sister Fringe Festival (running August 2-22 this year) attracts creative talent from around the world to celebrate comedy, theater, dance and music… and that's just the tip of the iceberg.

Art-lovers will adore Edinburgh (which actually feels like a museum in its own right). The Scottish National Gallery of Modern Art boasts two expansive venues located opposite each other and set within lush greenery. Queer arts fans should head straight for Modern Two, currently host to a wide selection of Andy Warhol works (including some rare drawings) and collages by his predecessor, Pop-pioneer and locally-born Eduardo Paolozzi. The dual show 'I Want To Be a Machine' runs until June 2 and admission is free.

Ditto Edinburgh Pride, being held this year on Saturday, June 15. Expect plenty of parties, picnics and Pimms (drink it on The Meadows). Size queens may however prefer to book a misterb&b for Glasgow Pride instead, as it's actually Scotland's largest LGBTI+ festival (2019 dates TBC), attracting some 50,000 visitors from the country and beyond.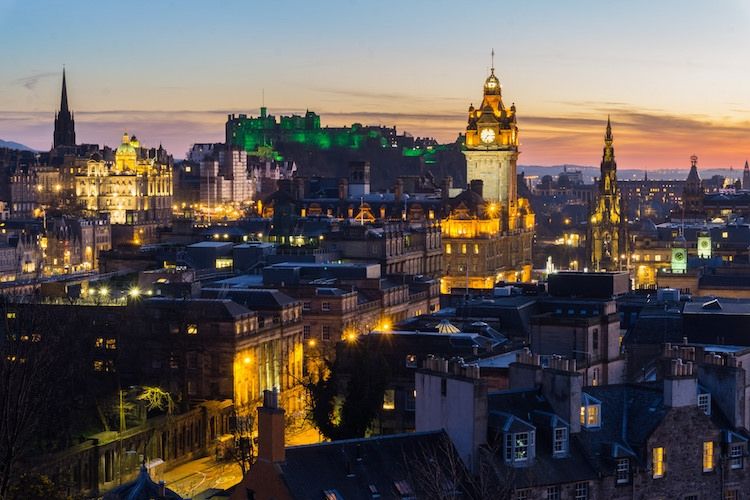 Edinburgh and its hilltop castle © flickr/barnyz


Best for shopping:  Glasgow

Gay Glasgow wins this one hands down: the city has one of the biggest shopping hubs outside the capital. Indeed, the 'Style Mile' as it's known is a square mile encompassing the largest retail centre in the UK outside London, with hundreds of flagship stores, independent boutiques and designer outlets. The main artery of the city's shopping centre is Buchanan Street, a pedestrian walkway lined with architectural gems, busking bagpipers and big-name boutiques. Label lovers should make a beeline to the Princes Square shopping center, which includes the likes of Vivienne Westwood, Kurt Geiger, COS, Reiss, and Ted Baker.

If vintage is more your thing, browse around Dowanside and Ruthven Lanes, to find an Aladdin's cave of retro clothing and antiques. Meanwhile, Luke + Jack is your go-to gay shop, selling toys, lubes and all other sorts of sex accessories if you're feeling frisky. Arts-wise, the recently opened Category Is Books is an independent LGBTQIA+ bookshop in the southside of Glasgow stocking a fab range of books, magazines, comics, zines and films - go support them and pick up some great gifts and goodies at the same time!


Best for sightseeing: draw!

Both of these Scottish cities offer up so many visual delights that walking around is a feast for the eyes. While the Victorian-Industrial landscape of Glasgow may not immediately scream beauty, seek and ye shall find! The architecture around Kelvinbridge area is stunning and leads up to Kelvingrove Park, a delightful green spot with great views of the University of Glasgow (well worth a visit itself, especially to the Cloisters).

Meanwhile, across town, the Necropolis is a hilltop Victorian-era cemetery featuring the graves and mausoleums of prominent Glaswegians of the day. It may sound morbid, but you can catch some beautiful sunsets from here.
Kelvinbridge architecture © Calvin Holbrook
Harry Potter fans will think Edinburgh is simply magic, as the city provides many visual snippets from the wizard's world. JK Rowling wrote much of her best-selling series here, finding inspiration from the beautiful Greyfriars Kirkyard cemetery (hunt for character names on the tombs) and based the design of Hogwarts on nearby George Heriot's School.

Aside from Edinburgh's stunning old town, the other jewel in the city's crown is its castle, where, in fact you can see, er, a crown — Scotland's Crown Jewels in fact. Perched atop an extinct volcano, inside you can explore some of the oldest and most important buildings of the city. 



But, in fact, Edinburgh boasts not one but two extinct volcanoes. The other is Arthur's Seat, visible from much of the center. Sitting on the edge of the city, make the hike to the top and be rewarded with unparalleled views of the city skyline. If you're nursing a sorehead from the night before, nearby Carlton Hill, which offers neoclassical monuments, is a good compromise. Whichever option you choose, both show why Edinburgh is great for sightseeing.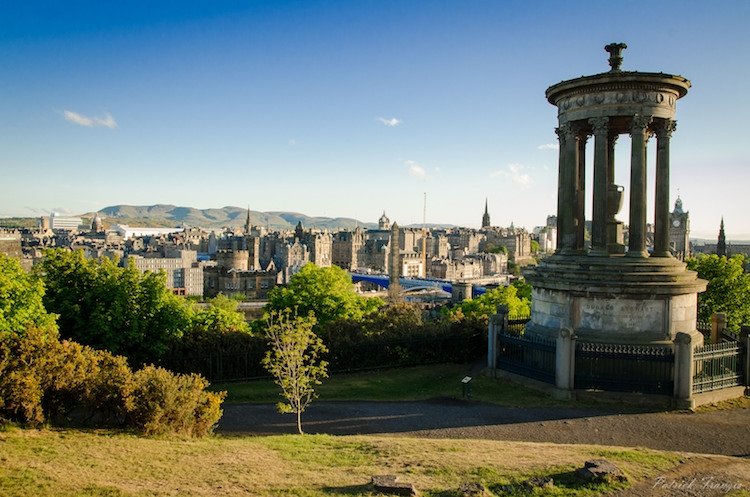 Carlton Hill © flickr/Patrick Franzis
So, there you have it. Two very different cities that showcase the best of gay Scotland. Which one will it be: Edinburgh, Glasgow or both? Whichever you choose, these super LGBTQ+ friendly cities will make you feel welcome and at home. ●

Main image: flickr/Markus Trienke