No matter where you live in the world, there are some hotel pools that just make you stop and look twice. These top 10 extraordinary hotel pools will make you want to strip down and jump right in after just one look. For sure, there are some pools out there that look like nothing else you have ever seen before. Whether it's a rooftop pool that offers amazing views of the city below, or a heated pool that washes away all your stress, you'll find one that puts you in the perfect state of mind for a great LGBTQ vacation.
Our top 10 extraordinary hotel pools are just a sample of the many amazing pools out there. From lavish rooftop swimming pools overlooking fast-paced cities below, to dreamy infinity pools that meld into the ocean behind, our round-up of the world's most extraordinary hotel pools will leave you awe-inspired for your next vacation abroad. Reaching from Europe and Mexico, to Africa and Australia, discover your dream hotel pool now, and splash to it.
No other hotel in the Netherlands offer views quite like those found at the swish W Amsterdam. Its large swimming pool sits atop the roof, and offers amazing views of the city skyline both as the sun rises and sets every day.
Sabi Sand - South Africa
When your vacation takes you to South Africa, book a room in the unique Sabi Sand. The Leopard Hills Lodge's swimming pool lets you get closer to nature than you ever expected. Animals and nature will completely surround you, creating the perfect moment.
Though Santorini travelers often swim in the southern Aegean Sea, you may prefer taking a dip in the pool at the Grace Hotel. This large pool features stunning landscaping around all its sides and offers a fantastic view of the glistening sea.
COMO Point Yamu - Phuket
Phuket, Thailand is home to COMO Point Yuma, which has one of the most gorgeous swimming pools you will ever see on site. With ocean views, nature and beautiful landscaping abound, this is the perfect place to watch the sunset in one the most gay-friendly destinations of Asia.
Castell son Claret - Majorca
Though Spain offers a number of great places to visit, try planning a trip to Mallorca. Castell son Claret's swimming pool will make you feel comfortable and right at home, with rolling green hills and nature so close that you can almost reach out and touch it.
The Yeatman - Porto
The Yeatman in Porto, Portugal is home to a small swimming pool that almost feels like its own little city. This pint-size pool offers unparalleled city views, and you can see the ocean, the river, and Porto's iconic bridge while taking a dip. The perfect spot to refresh after a day exploring the sights of Porto.
Bliss Ubud Spa Resort - Bali
When it comes to apt hotel names, Bliss Ubud Spa Resort has nailed it, as you're bound to enter a state of bliss the minute you enter this place. The dreamy swimming pool is surrounded by lush rice paddies typical of Ubud, creating a truly authentic and relaxing experience for your stay.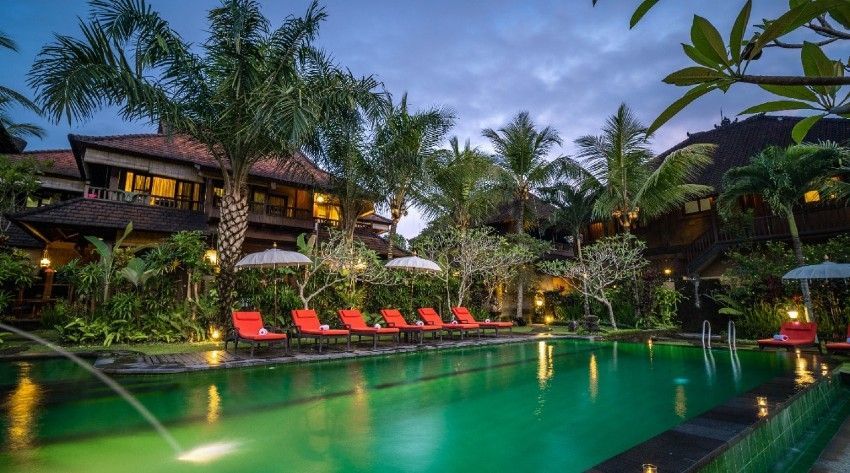 ©Facebook/Bliss Ubud Spa Resort 
Park Hyatt - Sydney 
What's better than a rooftop swimming pool? A rooftop swimming pool that overlooks one of the most beautiful harbors of the world of course! If you think this is only what dreams are made of, think again. Park Hyatt Sydney turns this fantasy into a reality, offering a stunning pool with sweeping panoramic views of Sydney's iconic bridge and opera house. 
The swimming pool at The Cambrian in Adelboden is open during warmer and cooler seasons. If you want to stay in the center of the Alps and enjoy the gorgeous scenery and snowy weather while swimming, now is your chance.
Viceroy Los Cabos - Mexico
Looking for a wow-factor pool in Mexico? We've found it at Viceroy Los Cabos, the Viceroy Hotel chain's latest forway into Mexico. Self-proclaimed as a place like no other on earth, the dreamy hotel boats five restaurants and lounges, along with a beautiful rooftop bar and wellness center. For us, one of the crowning glories is arguably the glistening swimming pool, which seamlessly melds into the ocean backdrop behind. Find your inner Zen now, and book a place at Viceroy Los Cabos now.

Loved this? Why not get inspired by our round-up of The World's Most Unique LGBTQ-Friendly Hotels? Wow-factor guaranteed!