Across the globe, society is changing. Countries worldwide are adapting their laws to recognize LGBTQ rights: we can now add both Austria and Australia to the list, as they are now countries where same-sex marriage is legal. And hopefully with time, areas where gay people are treated as second-class citizens will also change. So, where are the best places to live or visit if you're LGBTQ?

When it comes to the most gay-friendly countries in the world, the list continues to grow. But what is the gayest country in the world? Fortunately today, there is no one gayest country of the world, but many across Europe and beyond. There are now several countries where gay marriage is legal, and LGBTQ people can enjoy the same rights as every other citizen within a range of areas including employment, housing, health, and gay adoption.

While worldwide trends point towards an increasing acceptance of homosexuality, there are still certain countries that hold restrictive laws that limit the rights of LGBTQ individuals. However, the countries that advocate strongly for LGBTQ rights are, at times, a surprise. In our list of the top 10 most gay-friendly countries, some of the more conservative offerings may come as a surprise. From the Netherlands to Australia, we bring you a comprehensive list of the 'gayest' countries of the world, so you can truly experience your pride for your next gaycation abroad.
1: Spain Welcomes You!
Spain is one of the most welcoming and relaxed nations in Europe, and arguably one of the best lgbt countries in the world. Some may even argue that it is the gayest country of the world. The country's laid-back lifestyle and fantastic travel destinations should give the country a top spot on every gay traveler's list of must-see places. The overwhelming majority of residents in Spain are advocates of LGBTQ rights; a whopping 87 percent think their country is a good place for gay and lesbian people to settle down. According to ILGA-Europe, Spain has a rating of 60% in terms of overall LGBTQ rights, putting it above other countries in Europe such as Germany and Italy.
Additionally, 88 percent of Spanish residents support same-sex marriage. Throughout Spain, you'll find plenty of welcoming and cool gay events and places of interest. Some of the most popular gay events in Spain include Madrid Gay Pride and Circuit Festival in Barcelona. Outside of these events, the country is home to plenty of cities that celebrate LGBTQ life any time of the year, including Barcelona, Madrid, Torremolinos, and Sitges. Should you plan to visit Spain, be sure to enjoy some sangria in Madrid's gay area, Chueca, which is a centrally located neighborhood brimming with loads of gay bars, restaurants, and clubs. So could this be the gayest country in the world? We'll let you be the judge.
2: The Liberal Netherlands!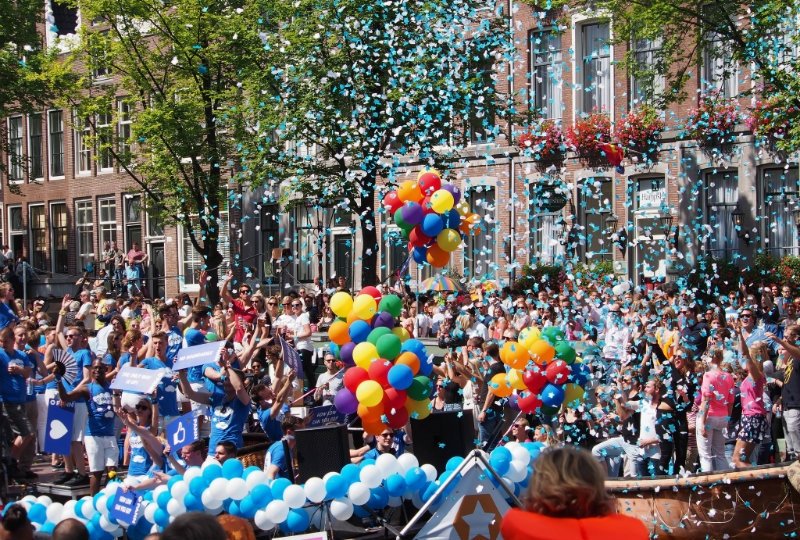 The Netherlands is known for more than just its windmills and tulips! This incredibly liberal country is also famous for the fantastic lifestyle if offers to LGBTQ residents. As the first country in the world to legalize gay marriage, it's no surprise that the Netherlands is home to a bustling gay and lesbian scene that includes an amazing nightlife and many gay-friendly businesses. Of course, the capital of the Netherlands, Amsterdam, is one of the most liberal, easy, and gay places on Earth! Every year in August, Amsterdam comes alive for its annual pride, in which colorful floats travel down the city's network of canals, with spectators cheering on from the sidelines in pride revelry. Along with festive prides in Rotterdam, and other cities of The Netherlands, pride season shows that this is truly one of the gayest countries in the world.
As a whole, The Netherlands is incredibly gay-friendly, with data from ILGA-Europe, revealing that the country has a rating of 62% in terms of its overall LGBTQ rights, putting it in position 10 among 49 countries of Europe. Once you've explored the gay area of Amsterdam, Reguliersdwarsstraat, venture outside of Amsterdam to other popular cities of The Netherlands, including Utrecht and Rotterdam. In keeping with the country's gay-friendliness, you can enjoy liberal attitudes in these cities and experience your pride the Dutch way! Find a place to stay, and experience of the most lgbt-friendly countries of the globe.

3: Oh, Canada!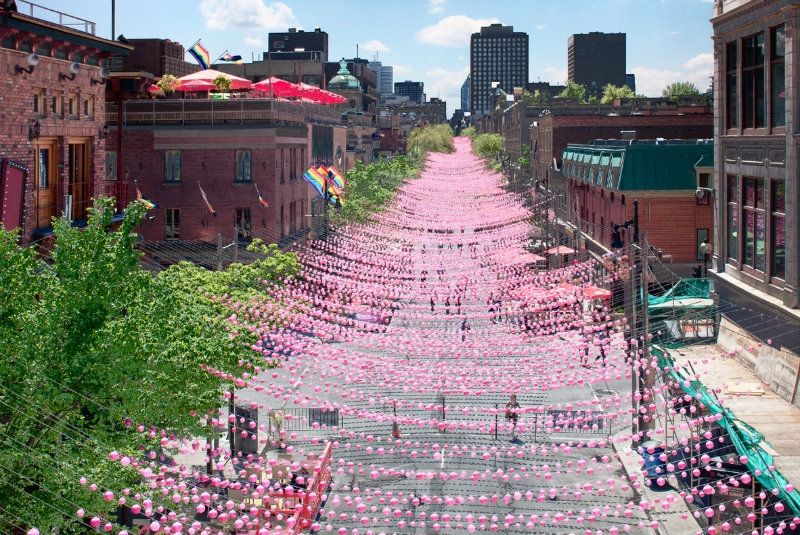 Yep, Canada is one of the most gay-friendly countries in the world. In fact, Canadians support gay rights in an overwhelming majority, more than 84 percent of the population think that their country is a great place for gay and lesbian people to live. In fact, on July 20, 2005, Canada became the first country outside of Europe to legalize same sex-marriage. According to Equaldex, Canada enjoys a host of liberties for LGBTQ people, included legal gender changes, legal adoption, and illegal discrimination in housing and employment, setting the benchmark high in terms of LGBTQ-friendly countries in the world.
Today, Canada is one of the leading countries for advancing gay rights throughout the world. Canadians proudly participate in, and host a number of gay pride events and festivals throughout the year, such as Toronto Pride, Montreal Pride, and Vancouver Pride. Even when pride is not happening, Canada is hands down one of the gayest countries in the world, with LGBTQ scenes larger than life in many of the main cities such as Vancouver, Toronto, and Montreal. Grab a pint of beer in the iconic Woody's Bar in Toronto's gay area, Church and Wellesley, then stop by the iconic Village in Montreal, and dance the night away with locals.
4: Belgian Pride!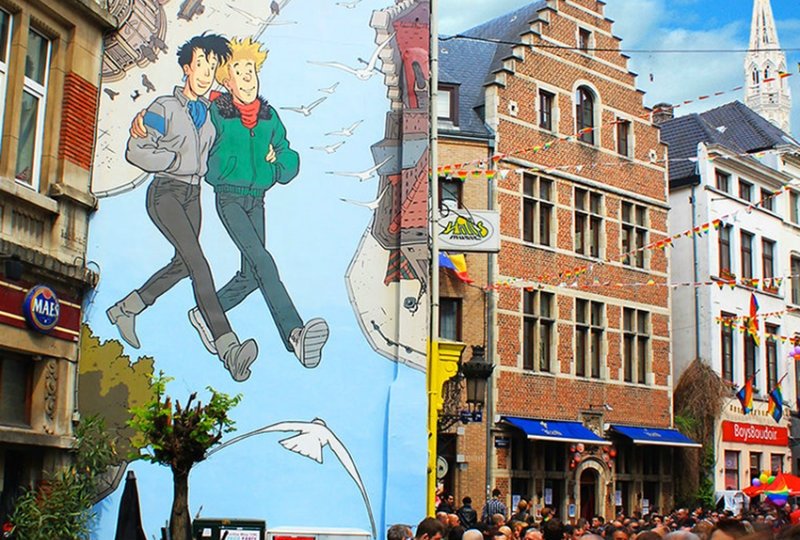 Belgium may be small, but its overall impact on progressing gay rights is far from small. In fact, Belgium leads the charge on LGBTQ friendliness with 82 percent of its population agreeing that the small European nation is a wonderful place for gay residents. In 2003, Belgium was the second country to legalize same-sex marriage, and in 2006 the Belgian Parliament voted to grant homosexual couples the right to adopt children. While its capital, Brussels, may be best known for being the home of European Parliament, it is also home to a lively LGBTQ scene which is scattered across a series of streets behind the Grand Place, include Rue du Marché au Chabron. According to ILGA-Europe, Belgium ranks in position 2 among 49 European countries in terms of its overall LGBTQ rights, with an impressive score of 73%.
Additionally, Belgium is known for its fantastic international gay parties like La Démence. If Belgium is on your itinerary, make it a point to visit gay Brussels and experience the city's gay festivals and nightlife. Visitors to Belgium in the spring should make it a point to be there for Belgian Pride. Beyond Brussles, enjoy LGBTQ life in Belgium's other cities including Ghent and Bruges. The convenient and well-connected location of Belgium means you have no excuse not to be penciling in this gay-friendly country for your next holiday in Europe.
5: Feeling Proud in Portugal!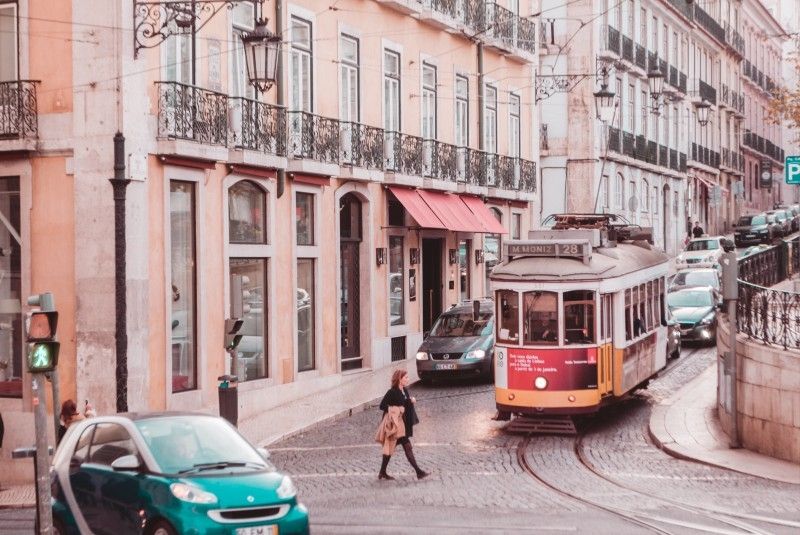 Home to colorful Lisbon, hilly Porto, and incredible pride celebrations in each, Portugal is an LGBTQ haven. When Portugal legalized gay marriage in 2010, it became the sixth country in Europe to do so, cementing its position as a gay-friendly place for LGBTQ travelers. While Portugal is in the main considered a conservative, relgious country, the relaxed and open-minded spirit of the people means LGBTQ people can feel more than comfortable while visiting. Statistics from ILGA-Europe report an overall rating of 66% in terms of LGBTQ rights in Portugal, putting the country in 7th position among 49 countries in Europe.
The largest LGBTQ community in Portugal is found in Lisbon, the country's charming capital. Lisbon Pride takes place in June, and is a two-week celebration that comprises a pride parade and a pride festival. The on-street revelry and shared pride proves that Portugal truly deserves a place in the list of gayest countries in the world. Once you've had your Lisbon fix, be sure to head north to the authentic and charming Porto, where you can indulge in some of the finest seafood and port wine around.
6: Norway Welcomes LGBTQ Friends!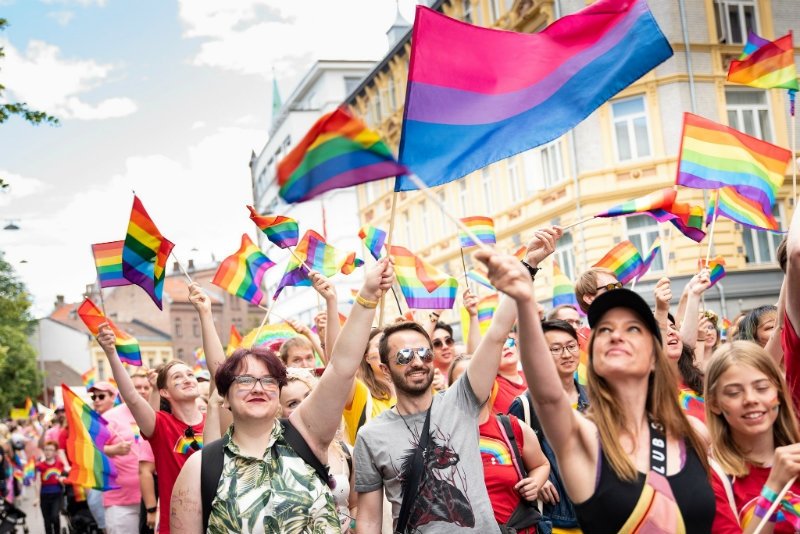 ©Facebook/Martin Fjellanger/Oslo Pride
Norway was one of the first countries in the world to give equal rights to all its citizens, and in 2008, the country adopted laws in favor of same-sex marriage. Norwegians are well-known for their liberal attitudes, and more than 80 percent of Norway's residents think their country is a great place for LGBTQ people to call home. Norway also scores exceptionally in terms of its LGBTQ rights, with ILGA-Europe reporting 68%, positioning it 6th among 49 European countries. Norweigans enjoy a range of liberties including legal gay adoption, equal age of consent, and laws in place to prevent discrimination in terms of housing and employment. From recent articles and studies, many would claim that Norway was the most gay-friendly country in the world.
Throughout the year, Norway is home to a number of LGBTQ cultural events, parades and even gay skiing festivals. The biggest LGBTQ event is arguably Oslo Pride. The massive yearly event attracts thousands of people to celebrate and support LGBTQ causes and rights through culture, art, politics and parties. Once you've explored Norway's charming capital, be sure to visit many of Norway's other diverse cities, including Kristiansand, Bergen, and Stavanger.
7: Australia Supports LGBTQ Rights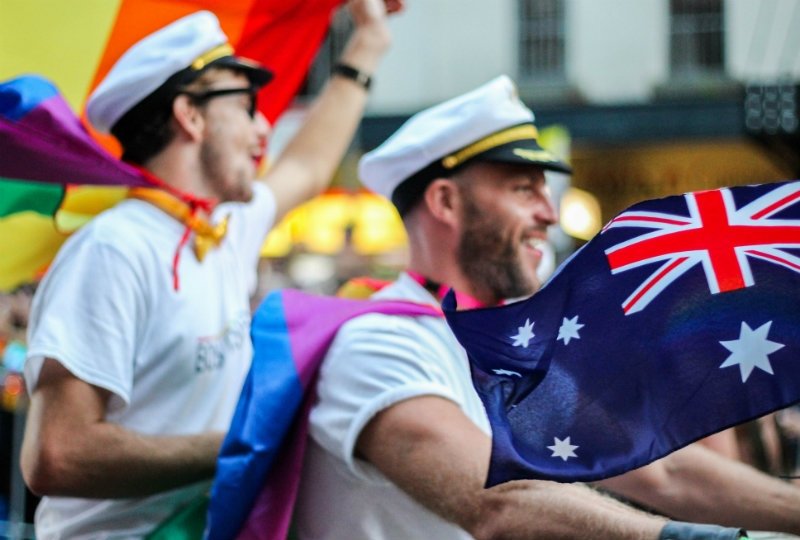 They may be Down Under, but the people of Australia can now claim to be on top when it comes to the list of LGBTQ-friendly countries! As of November 2017, the vast majority of Australians - 61.6 percent - voted in favor of same-sex marriage, which significantly boosted its status concerning its LGBTQ friendliness. There are many Federal legal protections for LGBTQ people in Australia, including the right for same-sex adoption, the right to serve in the military, and the recognition of non-binary genders in all states, except Queensland. Additionally the relatively liberal and open-minded spirit of the people in Australia, means you'll be able to enjoy your gaycation down under hassle-free.
Indeed, the Australian city of Sydney is among the most gay-friendly cities in the world: the sprawling metropolis is also home to one of the country's most popular gay events, Gay Mardi Gras. Sydney is a vast city on the harbor, however, most LGBTQ life is concentrated to the Darlinghurst and Paddington areas, in the city's inner east. Oxford Street is home to plenty of gay bars and clubs, while local restaurants keep the pride flowing during the day. Meanwhile, Melbourne offers up more when it comes to the alternative gay side of life.
8: France is a Great Gay-Friendly Destination!
©Henri Garat, Mairie de Paris
France is one of the most popular tourist destinations in the world and rightly so; the country has everything. France boasts a wealth of culture and arts, great skiing in the Alps, and the sunny Atlantic and Mediterranean coastlines. It also has an incredible gastronomic scene, so be sure to pack that slightly larger pair of jeans for your trip - you'll need them! For LGBTQ visitors, France, and its beautiful capital, Paris, is a wonderful place to visit.
The gay-friendly country legalized same-sex marriage in 2013, and it was the first country ever to decriminalize homosexuality... way back in 1791! While in Paris, you can find the majority of local gay life in the charming inner city arrondisement, Le Marais. Full of gay bars, restaurants, and clubs Le Marais alone proves that France is one of the gayest countries in the world. In fact, according to statistics from ILGA-Europe, France outperformed other countries of Europe such as Spain and Germany in terms of overal LGBTQ rights, scoring 63%. More specific gay rights in France are also prevalent, with Equaldex showing that same-sex adoption is legal, along with serving in the military.
9: New Zealand is more than the land of the long white cloud
New Zealand may be geographically far from the rest of the world, but in terms of its political and social framework, it is a frontrunner. This island nation to the east of Australia was the first country in the world to allow women to vote as far back as 1893, and it legalized gay marriage in 2013. According to Equaldex, New Zealand ranks highly concerning LGBTQ rights, with gay adoption and gender reassingment legal, and LGBTQ people being allowed to serve in the military. Any form of descrimination in the housing and employment spheres are also illegal.
Auckland and Wellington are the two main cities of New Zealand, with both organizing colorful pride events during the height of their summer in late February. Outside of Pride, you'll find a lively LGBTQ scene in both cities, and other parts of the country as well. After all, the country's extremely liberal and open attitude is just made for it! If you find yourself in Auckland, be sure to stop by the city's gay strip, Karangahape Road, which is affectionately shortened to K Road. Drink a cocktail at Eagle Bar, then unveil your finest dance moves at Auckland's (and arguably New Zealand's) best gay club, Family Bar.
10: Iceland Warmly Embraces LGBTQ Visitors!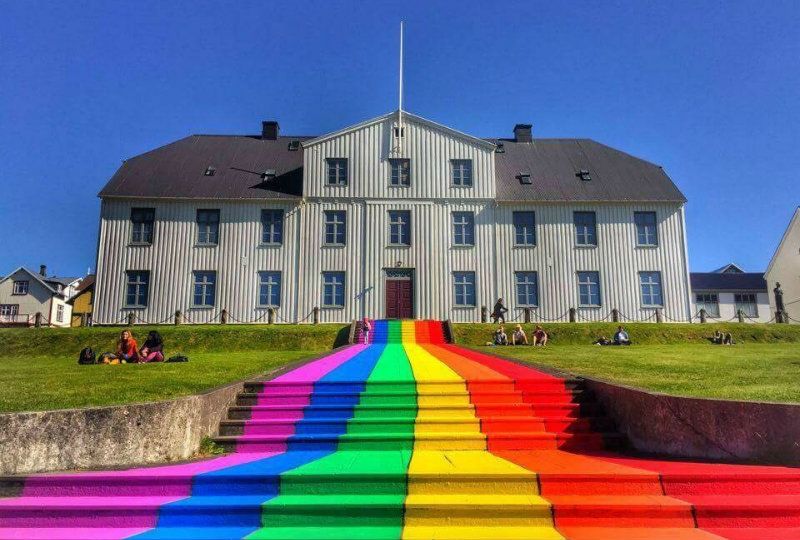 Iceland offers a small but very active and open gay scene. The liberal country of Iceland is home to the world's first openly gay head of state. Former Prime Minister, Jóhanna Sigurðardóttir, took office in 2009, and in 2010 same-sex marriage was legalized in Iceland. Today, Iceland welcomes gay and lesbian visitors with open arms. The country's most active gay scenes are located in the capital Reykjavík, and in the growing community of Akureyri. While Reykjavík does not have a gay area per se, it's open-minded attitude means LGBTQ travelers will feel welcome throughout the city.
As with any gay-friendly country, Iceland's capital has a lively Pride, Reykjavík Pride, which takes place every year, usually in August. The very first pride here took place in 1999, showing the country's longstanding open attitude towards LGBTQ people. Statistics from ILGA-Europe show that Iceland lags just a little behind some of its other European counterparts in terms of overall LGBTQ rights, generating a score of 47%. This puts it in position 19 among 49 European countries. With its beautiful landscapes, thermal springs, and open attitude towards gay and lesbian travelers, Iceland will be sure to enchant.
Want some travel inspiration for the year? Check out our Gay Bucket List on 50 Things to Do in 2020.


STAY SOCIAL!
Don't forget to add us on Instagram, Facebook and Twitter. Follow us for exclusive content, special offers and to share your travel pictures using the hashtag #staylikeagaylocal. We love seeing what you get up to on your misterb&b vacation and we'll share the best pics with our global LGBT travel community!
SHARE YOUR STORY
We want to hear all about your adventures on misterb&b, too! Share your own travel/host story with us or share your Local Tips about where to go and what to do in the city you host in. Want to make a video to promote your listing? Then just mail us at stories@misterbandb.com and we'll get back to you.