Uninhibited, liberal, and incomparable to any other city in Europe, there simply aren't enough adjectives to describe Berlin. Once divided physically and ideologically, the city has well and truly shaken off its once bleak jacket, and is now united over its live and let live maxim to life. Germany's capital is also at the forefront of top gay destinations to visit in Europe, offering a host of gay clubs, parties, and gayborhoods catered to the community. However, Berlin's size and neverending options can be a little overwhelming for the first time visitor. So to simplify things, we've created the gay bucket list of top things to do in Berlin for your next gay travel experience here. We'll see you at Berghain... 
1) Get your fix of local beer at one of the corner shops (Trinkhalle) for a mere 1 euro! 
2) Leave your inhibitions at the door of KitKat Club, and prepare for a loose night of clubbing - most probably in the nude. 
3) Stop for a 5am kebab on your way home from a party. It will probably be one of the cheapest and best kebabs you've ever eaten.
4) Head to East Side Gallery, an open-air gallery of colorful murals painted on the 1316-meter remains of the Berlin Wall. 
5) Hang with the hipsters in Mauerpark on a Sunday afternoon, and catch one of the impressive busking shows.
6) Spend hours waiting for entry into world-famous techno club, Berghain. They say you have more chances of getting in if you don't talk in the queue! 
7) Grab a morning Flat White at cool coffee joint, Silo, which is located in one of Berlin's hippest districts, Friedrichshain. 
8) Pay a visit to Berlin's oldest and most iconic, gayborhood, Schöneberg, and mingle with the locals over some beer. 
9) Head to Kreuzberg kitsch venue, Roses, and find out just why they liken this bar to 'being inside the womb of a gay muppet'. 
10) Stop by Checkpoint Charlie, the former Berlin Wall crossing point between East Berlin and West Berlin during the Cold War, and brush up on some history.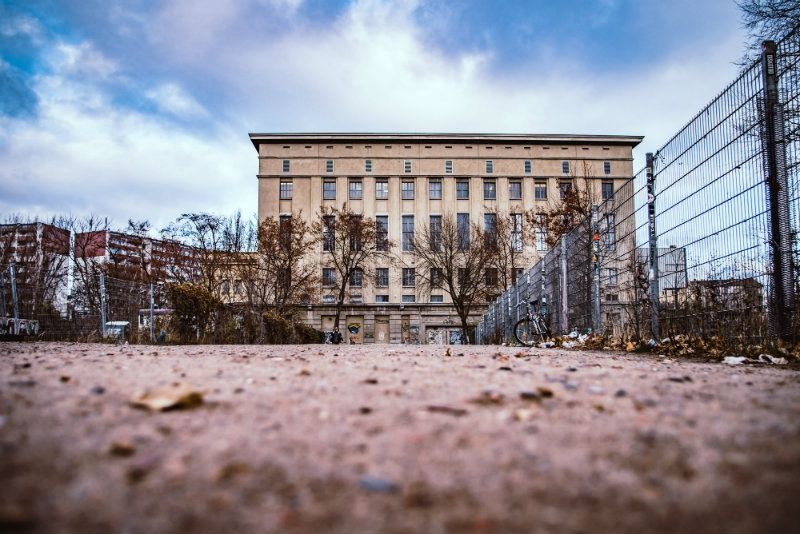 Berghain Club
11) Experience some drag at Chantal's House of Shame at iconic venue, Suicide Circus. 
12) Nurse a potential hangover at cool brunch venue, Selig, in Neuköln. The glass ceiling and walls will give you the perfect view to relax over. 
13) After, walk through nearby former airport, Tempelhof, and traverse the original tarmacs without a plane in sight.    
14) Ride the ring S Bahn and open up your favorite gay dating app to see just how gay Berlin really is. 
15) Honor history with a visit to Berlin's first alternative gay club, SchwuZ, which is set within a former factory in Neuköln.   
16) Get steamy for the afternoon and stop by one of Europe's most visited gay bath houses, Der Boiler. 
17) Head to concrete jungle Alexanderplatz (the former center of East Berlin) and get a glimpse into communist-inspired architecture. 
18) Take your selfie in front of the majestic Brandenburg Gate, so all your friends know you really were in Berlin.
19) Get your fetish fix at Boxer Berlin, a clothing shop selling anything from leather and rubber to skin.
20) Visit Berlin on the first weekend of the month, and hit up Cocktail d'Amore, a monthly gay party set beside a canal in Griessmühle Club. Prepare to queue though!
21) Find hidden treasure in RAW Gelände, a cultural center in Friedrichshain, offering a series of graffiti-covered buildings housing pop-up shops, coffee stands, and music.  
22) Get cultured for the day with a trip to Museum Island, a tip on the Spree Island which offers five UNESCO heritage museums.
23) Take a ride up the iconic Berlin Tower, Fernsehturn, and appreciate 360° views of the sprawling city. 
24) Recharge with a currywurst at popular Curry 36, a cult venue that many believe serves the best currywurst in town.
25) Grab a beer at lively gay and lesbian bar, Südblock, in Kreuzberg. If the weather permits, snag a seat outside and people-watch.  
26) Sign up for a Queer Tour, and explore a different side to Berlin.
27) Get your art fix from Schwules Museum, a space dedicated to LGBTQ history and queer artwork. 
28) Brave the crowds, and line up for an incredible burger at Burgermeister. The restaurant's location under a train track is worth a visit in itself. 
29) Get lost in the maze of different rooms in super hip club, Salon zur wilden Renate. It's housed in a former mansion on the river, and includes a large garden area. 
30) Head to beautiful Markthalle Neun (Market Hall Nine) and work your way through the series of food and beverage stalls. We've heard Italian bakery, Sironi, is heavenly.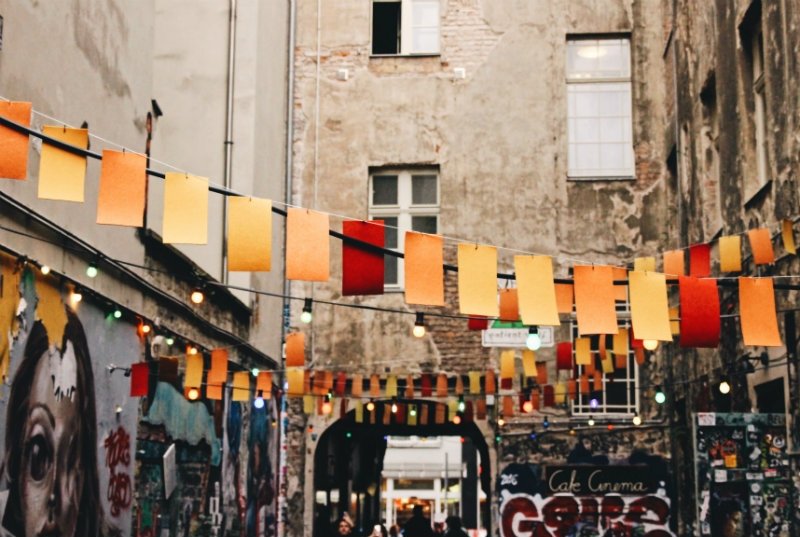 31) Unveil your inner popstar with a queer karaoke session at Monster Ronson's. Private cabins are also available to hire. 
32) Find you romeo for the day at cute queer cafe, Romeo und Romeo, on the fringe of Schöneburg. Go for the cake, stay for the boy. 
33) Get lost in the Tiergarten, Berlin's largest park in the middle of the city. Pack some beers and make a day of it. If the sun's out, get your buns out too; many people use this space for naked sunbathing.
34) If you visit in the warmer months, cool off at the Badeschiff, an outdoor public bath that is suspended in the River Spree.  
35) Drink Polish beer and Russian vodka at cult gay bar, Möbel-Olfe, which is hidden in a 1960s housing complex. Could things get any more hipster? 
36) See things like you've never seen them before at infamous sex club, Lab.oratory, located just a swing-ride away from Berghain.
37) Visit the impressive glass dome of Germany's Federal Parliament, Deutscher Bundestag; maybe you'll even spot Angela Merkel.  
38) Stop by the poignant LGBT Memorial in the heart of Tiergarten, which honors all members of the LGBT community who were persecuted under the Nazi regime.  
39) Take a splash at one of Berlin's unique beaches. Strandbar Mitte is an artificially sanded beach along the Spree, which tends to attract a gay crowd. 
40) Stay with a misterb&b host in Berlin and make a new local friend who you can come back to visit for your next gaycation to the German capital.
Are we missing any must-sees in Berlin? Send us your suggestions at stories@misterbandb.com 
Loved this bucket list article? Check out our Gay Bucket List to Rome and Gay Bucket List to Lisbon